World of Warcraft Visionen von N'Zoth Update kommt heute an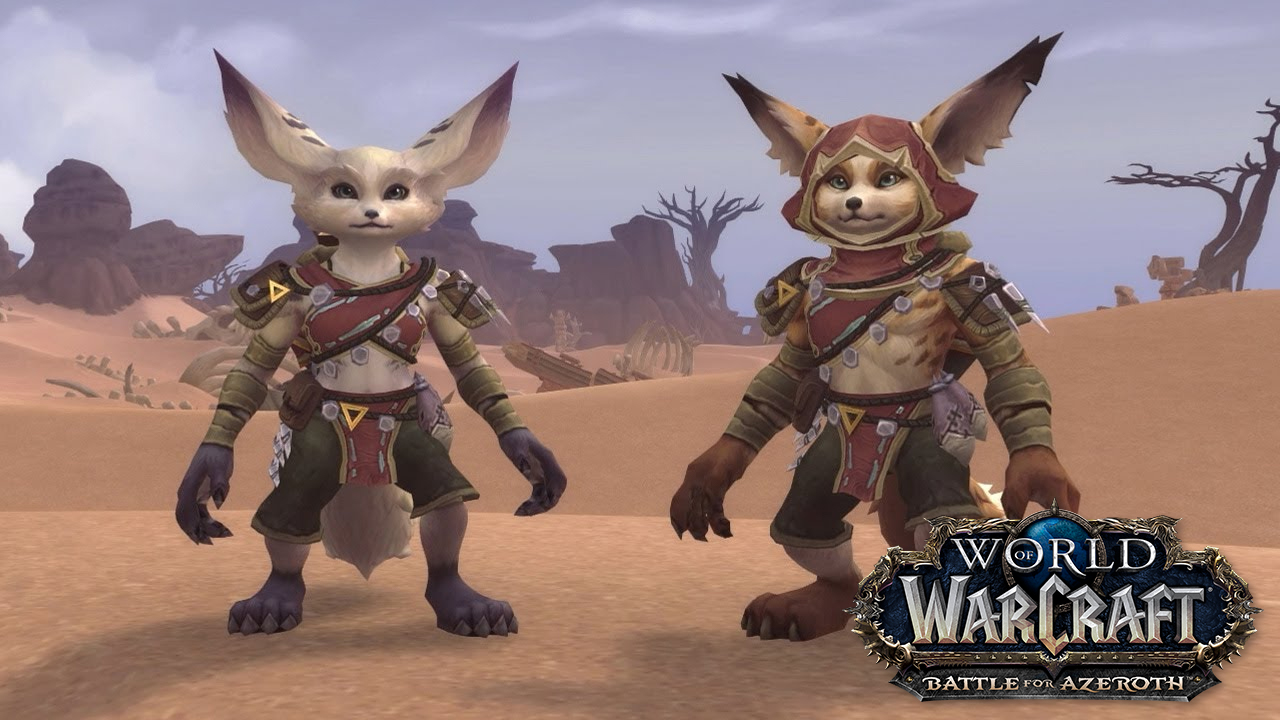 Blizzard wird heute das letzte große Inhalts-Update für die Schlacht von Azeroth veröffentlichen. Als Visions of N'Zoth synchronisiert, wird es eine Menge neuer Storyinhalte und Features für World of Warcraft-Spieler bringen.
---
---
Die Niederlage von Königin Azshara hat den alten Gott N'zoth befreit, der seine Legion von schattenhaften Kreaturen entfesselt hat, um Azeroth anzugreifen. Damit sind die neuen Quests und Endspielinhalte, die mit dem Update einhergehen, festgelegt. Ihr könnt eine Vorschau auf das, was Visions of N'zoth bringen wird, im offiziellen Video des Survival Guides unten sehen:
Hier ist ein Überblick darüber, was Ihr von dem Update erwarten könnt:
---
NEUE RENNEN
Zwei neue Rassen wurden dem Kampf hinzugefügt – die Vulpera und die Mechagnome. Die Spieler der Horde müssen die Geschichte der Vol'dun mit einem höheren Level abschließen, um die Vulpera freizuschalten, während die Spieler der Allianz den Widerstand gegen den Rostblitz erhöhen und die Geschichte des Mechagons abgeschlossen haben müssen, um die Quest freizuschalten, die es ihnen erlaubt, ihr eigenes Mechagnom zu erschaffen.
Das Freischalten jeder der neuen Rassen wird die Spieler mit einem neuen einzigartigen Reittier belohnen. Wenn ihr eure Vulpera oder euren Mechagnom von 20 auf 110 erhebt, könnt ihr außerdem ein spezielles Set zur Verwandlung der Rüstung freischalten.
NEUE ANGRIFFE AUF TITAN-EINRICHTUNGEN
Endspieler finden in Uldum und im Tal der ewigen Blüten neue Einrichtungen für Angriffe auf die Titanen. Spieler, die sich diesen neuen Herausforderungen stellen, müssen bestimmte Ziele erreichen und sich dann mit einem mächtigen Leutnant auseinandersetzen, der eine mächtige Ausrüstung und ein Schiff mit schrecklichen Visionen abwirft.
GRAUENHAFTE VISIONEN
Jedes Schiff der Horrific Visions, das nach Abschluss der neuen Einrichtungen für Angriffe auf die Titanen verdient wird, ermöglicht den Spielern den Zugang zu einer Horrific Vision, also Instanzinhalte für 1 bis 5 Spieler mit spezieller Mechanik. Die Spieler werden es mit zunehmender Schwierigkeit mit verschiedenen Gegnern aufnehmen müssen, die es ihnen ermöglichen, Fragmente der Korruption von N'zoth zu verdienen. Diese können an MUTTER und Magni in Slithus im Austausch gegen größere Belohnungen gegeben werden.
Horrific Visions haben auch Bonusbereiche, in denen Spieler gesichtslose Masken finden können. Das Tragen dieser Masken wird den Schwierigkeitsgrad von Horrific Visions weiter erhöhen und stärkere Gegenstände als Belohnung gewähren.
WRATHION KEHRT ZURÜCK
Wrathion wird mit dem neuen Update zurückkehren und den Spielern dabei helfen, einen neuen, aufrüstbaren, legendären Umhang herzustellen. Die Uhr beginnt auf Rang 1 auf Gegenstandsstufe 470, und die Aufwertung wird die Werte erhöhen und neue, einzigartige Effekte hinzufügen. Spieler können diesen Umhang nutzen, um noch tiefer in Horrific Visions einzutauchen und noch größere Belohnungen zu erhalten.
NEUE GEAR-STATISTIKEN UND ESSENZEN
Einige der neuen Ausrüstungsgegenstände, die ihr als Belohnung erhaltet, während ihr die neuen Inhalte in Angriff nehmt, können eine neue Statistik namens Korruption enthalten. Dies sind mächtige Ausrüstungsgegenstände, die Stapeleffekte verursachen, je höher die Gesamtkorruptionsstatistik wird. Die Effekte reichen von der Verlangsamung beim Einnehmen von Schaden bis hin zu Monstern aus der Leere, die Euch scheinbar zufällig angreifen. Die Spieler können den neuen legendären Umhang und die neuen Essenzen verwenden, um diesen negativen Effekten entgegenzuwirken. Diese neuen Essenzen fallen aus den neuen Angriffen, den Schreckensvisionen und dem Ny'alotha-Schlachtzug.
WEITERE ÄNDERUNGEN UND NEUE INHALTE
Wie erwartet werden neue Quests in der Geschichte hinzugefügt, bei denen die Allianz und die Horde versuchen werden, einen Friedensvertrag zu schließen, während beide Seiten die Bedrohung durch N'zoths Streitkräfte auf sich nehmen. Das Schlachtfeld der Schlucht des tiefen Windes wird auch ein visuelles Update und ein neues Design erhalten. Spieler, die die Schattenländer vorbestellt haben, werden auch in der Lage sein, Todesritter aus freigeschalteten verbündeten Völkern und Pandaren zu erschaffen. Oh, und das Auktionshaus wurde neu aufgebaut.
---
Es gibt viel vom neuen Update zu lernen, aber Blizzard ist noch nicht einmal fertig. In den kommenden Tagen werden sie neue Informationen über die neue PVP-Saison und die Mythischen Keystone Dungeons, den neuen 12-Boss-Schlachtzug "Ny'alotha Die Wache Stadt" und vieles mehr veröffentlichen.
Erwartet, dass das World of Warcraft-Update für Visions of N'Zoth noch in diesem Tag erscheinen wird.
---
AUCH AUF KEYFORSTEAM NEWS
---
| | |
| --- | --- |
| | Blizzard hat die nächste Erweiterung für World of Warcraft angekündigt – Schattenländer. Schaut euch die Trailer und andere Details hier an. |
---