Wie man einen Thief CD Key kauft
Du möchtest einen Thief CD Key kaufen, doch Du weisst nicht wie?
Es ist total einfach und KeyForSteam ist hier und macht es Dir leicht. Du möchtest also eine Menge Geld sparen, indem Du immer den niedrigsten Preis eines Games findest.  Dank unseres Preisvergleich Tools ist das möglich.
Der Kauf eines CD Keys ist wie, als wenn Du in ein Einzelhandelsgeschäft gehst und das Spiel aus dem Regal greifst, aber mit einem enormen Unterschied…
Du musst nicht aus dem Haus gehen und Du sparst Geld!
Zuerst gehst Du auf die Thief Spiele Seite und wählst den Store, der Deinen Anforderungen entspricht. Lieferzeit, Zahlungsweise, Preis, Land und die Art des Stores…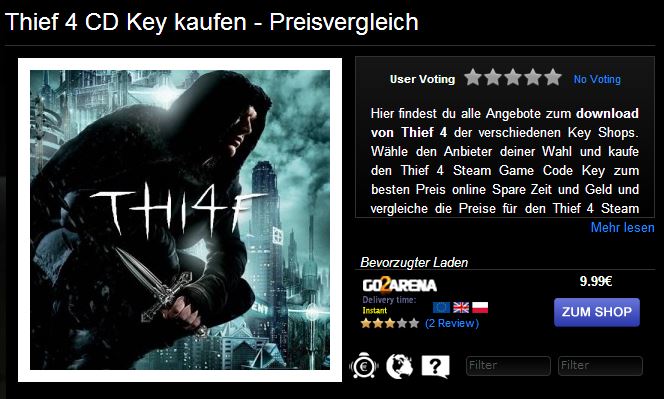 Klick auf "zum Shop". Du wirst auf die Seite des ausgewählten Stores geleitet und kannst ganz sicher einen Thief CD Key kaufen.
Die meisten Stores verlangen eine Registrierung bei einer Bestellung. Meistens kannst Du mit Deiner Facebook oder Gmail Adresse schneller vorgehen. Nachdem Du Dich registriert hast, erhältst Du eine Email um Deinen Account zu prüfen. Klick auf den "Bestätigungs Link" in der Email um Deinen Account zu aktivieren.
Von dort aus, kannst Du das Game in Deinen Einkaufskorb legen und gehe zum Kauf vor, wie aus einem beliebigen Web Store. Vergiss bitte nicht, den Gutschein-Code einzusetzen, falls dort einer vorhanden ist. Diese werden in der Liste der Preise neben den Games angezeigt.
Bestätige und verwende zum zahlen Deine gewünschte Zahlungsart, für gewöhnlich Kredit Karte oder PayPal.
Es ist vollbracht!
---
Bitte beachte, dass einige Stores einige Nachweise bei Deiner ersten Bestellung benötigen um Deine Identität zu prüfen.
Zum Beispiel eine Kopie/ ein Bild Deines Ausweises oder einen SMS Code. Du kannst zur Sicherheit die Nummer Deines Ausweises unerkenntlich machen, falls Du möchtest.
Jeder Store hat seine eigenen Lieferzeiten. Einige Stores liefern unverzüglich, wie Kinguin, G2A… Andere benötigen bis zu acht Stunden. Bitte check in der Preisliste die üblichen Lieferzeiten des ausgewählten Stores.
Bitte keine Panik, falls Du Deinen CD Key nicht unverzüglich erhältst. Check Deinen Spam Ordner, da es passieren kann, dass der CD Key dort landet. Warte die üblichen Lieferzeiten ab und wenn die Zeit abgelaufen ist und Du nichts erhalten hast, kontaktiere den Support des Stores. Du wirst aber in der Regel keine Probleme haben, da die meisten Stores Ihr bestmögliches geben, damit das Spiel schnellstens bei Dir landet um Dich glücklich zu machen, bei einer Bestellung über ihre Webseite.
Wenn Du Deine Email mit dem CD Key erhalten hast, kannst Du mit der Aktivierung auf der digitalen Plattform des Games fortfahren, gewöhnlich Steam, Uplay, Origin oder Battle.net.
Du kannst unseren Aktivierungs Guide für die grössten digitalten Plattformen auf dem Markt unter den folgendenen Links lesen:
Aktiviere einen CD Key auf Steam
---
Wie aktiviert man einen russischen CD Key auf Steam
Einige Games sind sind für einen viel niedrigeren Preis als russische Version verfügbar. Du kannst sie aktivieren und spielen als eine russische Thief Steam CD Key Version. Doch Du musst folgendes dabei beachten:
Verwende eine VPN zum aktivieren einer russischen Version auf Thief on Steam.
Download das Game mit dieser VPN.
Sobald der Download abgeschlossen ist, startest Du das Game, änderst die Spracheinstellung und beendest es wieder. Anschliessend startest Du das Game erneut.
Du kannst jetzt das Game und die VPN schliessen.
Du musst dann einen Trick anwenden, um das Game direkt von der Festplatte aus starten zu können, ohne mit einer VPN zu spielen. Alle Stores verkaufen russische CD Keys, es wird eine komplette Anleitung mit den auszuführenden Schritten geben.
Wir haben drei Stores mit russischen Versionen Thief Steam CD Keys mit wirklich niedrigen Preisen ausgewählt.
Mygamekeys.net aktueller Preis: 14,49 €
Sprache: Multi
Mygamekeys hat eine Step by Step Anleitung zum aktivieren, downloaden und spielen unter dem folgenden Link: http://www.mygamekeys.net/content/2-vpn-activation-guide Wir haben diese Methode jetzt noch nicht getestet, aber der Store ist sicher und sie geben ihr Bestes um Euch zu assistieren.
Gamekeys4u aktueller Preis: 14,49 €
Sprache: Multi
Gamekeys4u hat auch einen guten Guide, ähnlich wie bei Mygamekeys unter dem folgenden Link: Spiele Thief ohne einer VPN.
Buygamecode aktueller Preis: 14,48 €
Sprache: Englisch
Dieser Store hat scheinbar keinen Guide, vielleicht senden sie diesen nach dem Kauf eines Games. Sie beraten Käufer, damit sie wissen was sie machen müssen, um eine russische Version zu kaufen: Das Game kann Bereichs gesperrt werden, Sprachen können geändert werden, sie sind nicht verantwortlich für die Nutzung des Games, sie geben keine Rückerstattung. Es muss Euch bewusst sein, dass der Kauf dieses Produktes, eigens Risiko ist.
---
WIE MAN DEN BESTEN PREIS FÜR THIEF FINDET
Wir haben tolle Features auf unseren Seiten eingesetzt, Du kannst hier Stores nach Sprachen filtern, erhältst schnellen Zugang zu unseren FAQ`s und hast die Möglichkeit den Preisalarm für ein beliebiges Spiel zu aktivieren.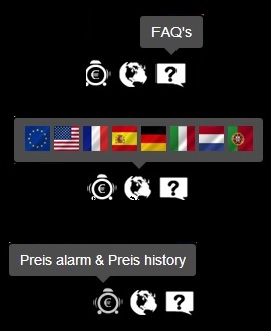 Zahlungsmethoden: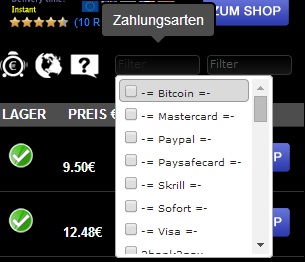 Du kannst ausserdem jetzt wählen, ob Du einen offiziellen Store oder einen CD Key Store möchtest:
 Der Unterschied zwischen einem CD Key Store und einem offiziellen Store ist, dass der CD Key Store keinen offiziellen Link mit dem Verleger des Games hat. Kleines Business hat dies für gewöhnlich nicht. Es kann von Vorteil oder ein Nachteil sein. Offizielle Stores können direkt liefern. CD Key Stores haben die niedrigeren Preise.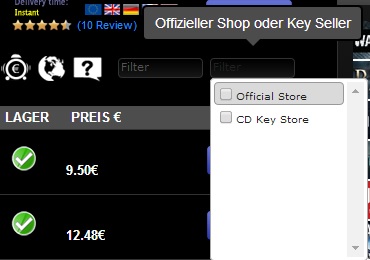 Preisalarm
:  Wenn Du warten möchtest, bis der Preis von South Park: The Stick of Truth runter geht, kannst Du den Preis Alarm aktivieren. Du erhältst eine Email, wenn das Game den Preis erzielt, welchen Du ausgewählt hast. Du kannst auch den Preis Trend der vergangenen Tage ganz einfach nachverfolgen.

Die FAQ`s:
 Wenn Du noch Fragen dazu oder zu anderen Themen hast, findest Du hier in unseren FAQ`s die passenden Antworten dazu.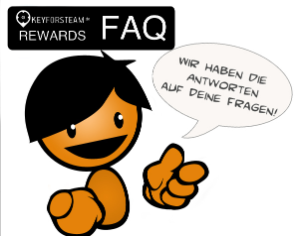 Wir hoffen, dass Dir dieser Blog Post nützlich war und es Dir dabei hilft einen CD Key für das Spiel Thief zu kaufen.
Happy Gaming!