Allgemeine Keyforsteam FAQ`s
FAQ`s –
Häufig gestellte Anfragen auf Keyforsteam
Was ist Keyforsteam?
Alles wissenswerte zu Keyforsteam jetzt auch auf Video und in einem gelungenen Artikel!
Keyforsteam ist die meist komplettierte Preis Vergleichsseite für Video Games.Über 2.500 Produkte sind hier als Preisvergleich gelistet und über 50 Stores spezialisiert in der Video Spiele Industrie wie Steam, Origin, Amazon, GreenManGaming, Uplay, Battle.net und viele mehr. Keyforsteam bietet den grössten Katalog an Preisen für Video Games unter den Stores, getestet und genehmigt von unserem Team. Wenn Du nach dem niedrigsten Preis für ein Video Game suchst, ist es definitiv bei Keyforsteam gelistet. Das Ziel unseres Vergleichssystems ist es, den besten Preis für Spieler zu finden. Diese Seite wurde von Spielern für Spieler gemacht. Allerdings haben wir in unserem Team auch Welt Klasse Spieler von Games wie Quake 3, Starcraft 1/2, Unreal Tournament, World of Warcraft, CounterStrike … Sie haben bereits in Korea, in Europa und in den US teilgenommen und haben
World Cyber Games
(WCG),
CyberAthlete Professional League
(CPL)… World Of Warcraft for first Kills in Europe and Arena/Battleground champions. The famous
War Legend
Guild in Guild Wars 2,
WildStar
and
The Elder Scroll Online
…
Wie werden die Stores auf Keyforsteam ausgewählt ?
Auf Keyforsteam werden alle Stores von unserem Team vorab getestet. Jeder Store muss eine Menge von Tests durchlaufen. Auch lesen wir alle Bewertungen um sicher zu gehen, dass sie schnell und sicher sind bevor wir den Store in unser Preisvergleichsystem aufnehmen. Dies ermöglicht uns unseren Benutzern die beste Einkaufserfahrung zu garantieren. Wir verhandeln auch Rabatt Codes (Gutschein Codes) und sichern uns somit 5% des regulären Shop Preises, damit Du Dein Game zu einem niedrigeren Preis kaufen kannst.Kaufe das Spiel, wenn Du den Store mit dem besten Preisangebot gefunden hast, einfach auf das Icon klicken:

Du wirst automatisch auf die Seite des Stores geleitet, dessen Game Du auswählst. Für gewöhnlich musst Du Dir einen Account anlegen und eine Zahlungsmethode auswählen, falls Du diesen Store das erste Mal besuchst. Deinen CD Key erhältst Du per Email, somit brauchst Du diesen nur noch über die Plattform im Store zu aktivieren.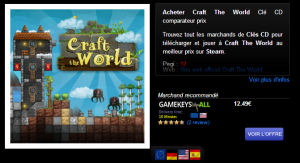 Du kannst eine Bewertung im Store abgeben. Denk daran, dass Du Dein Feedback über den Verkäufer abgibst und verteile Noten. Das hilft uns und zukünftigen Käufern beim auswählen der Stores.
Warum sind die Preise so niedrig auf Keyforsteam?
Das hat verschiedene Gründe: Stores die diese Spiele anbieten, haben keinen Betriebs Vertrag mit den Verlegern, das erlaubt ihnen keine Mindestkappe auf den Preis. Die Spiele erfordern keine physikalischen Boxen für den Verkauf und es ist keine Verpackung oder Transport erforderlich.Spiele Verkauf sind kein Gegenstand des gesetzlichen MwSt System und können somit viel günstiger verkauft werden. Stores die diese Spiele verkaufen, haben viel geringere Betriebskosten als z.B. gegenüber Steam oder Originalen, welche es ihnen erlauben diesen Spielraum zu nutzen um die Preise ihrer Produkte noch attraktiver zu gestalten.
Ist es sicher ein Spiel in diesen Stores zu kaufen?
Alle Stores die auf unserer Seite aufgeführt werden, wurden regelmäßig anonym durch unser Team getestet. Du kannst die Stores auch überprüfen, oder Bewertungen anderer Benutzer in unserer Liste der Stores lesen. Wenn ein Store zu viele negative Bemerkungen hat, wird er einer Untersuchung ausgesetzt.Wir sind stolz auf die Sicherheit und Qualität unserer Dienstleistung der Stores auf die wir verweisen. Einige Stores sind nicht in unserer Vergleichsliste, da diese nicht ausreichend Sicherheit bieten, einen schlechten Support anbieten, oder sie haben manchmal riessige Verzögerungen in der Lieferung. Das ist unakzeptabel und diese Stores entsprechen einfach nicht unseren Qualitäts Standards den wir unseren Usern anbieten. Haltet Abstand von Seiten, die seltsame Deals oder sagenhafte Preise anbieten. Es ist nicht ungewöhnlich, dass Leute über Einkäufe klagen, weil sie getäuscht wurden. Deshalb empfehlen wir unser Preisvergleich Tool zu nutzen. Um sicher zu gehen, dass diese Probleme Euch nicht passieren, haben wir einige Schritte unternommen. Im schlimmsten Fall können wir Euch unterstützen, um sicher zu gehen, dass die Probleme schnellstmöglich behoben werden. Wir berücksichtigen Eure persönlichen Interessen, bevor die des Stores.
CD Keys, wie funktionieren sie?
Ein Kauf ist sehr einfach, nach dem Kauf, erhältst Du den Key in einer eMail. Trage den Key einfach auf der Plattform ein wo dies gehostet wird (gewöhnlich Steam, Origin, Uplay oder auf der Verleger Seite). Hier sind die Logos die wir nutzen, für mehr Informationen über die Plattformen, oder den Type des CD Keys welchen Du auf unseren Webseiten findest.



















Wie aktiviere ich meinen CD Key?
Wenn Du den Game Code in Deinem eMail Posteingang erhältst, einfach auf die dementsprechende Plattform (Steam, Origin, Uplay …) gehen. Du kannst auch unsere Tutorials einsehen, um den CD-Key auf den verschiedenen Plattformen zu aktivieren.
Aktiviert den CD Key auf Steam. Aktiviert den CD Key auf Origin. Aktiviert den CD Key auf Uplay.
Du bist ein Store und möchtest wissen, wie Du aufgenommen werden kannst?
Kontaktiere uns unter der folgenden Email Adresse: contact@keyforsteam.de, wir werden uns um Dein Anliegen bemühen. Wir behalten uns das Recht vor, Shops zu aktivieren oder abzulehnen, wenn es nicht unseren Kriterien der Sicherheit und Qualität und unserem Ruf entsprechen.