Trails of Mana Day One Update fügt neue schneidige Methoden hinzu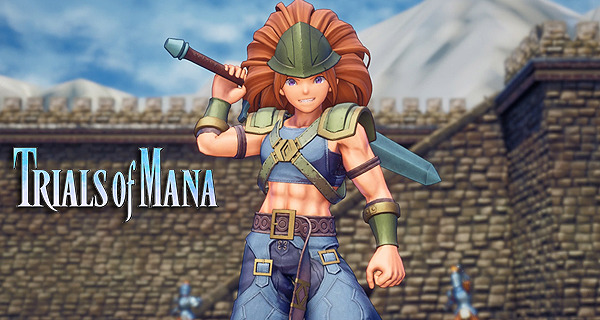 Hier ist das Trails of Mana Day One Update! Schauen Sie es sich an!
---
Square Enix 'Trials of Mana, das 3D-Remake des klassischen Rollenspiels von 1995, Seiken Densetsu 3, erhält einen Patch für DayOne, der weitere Dash-Optionen enthält.
---
---
In einem Posting auf Twitter kündigte Square Enix das Trials of Mana Day One 1.01 Update an, das die Optionen enthüllt.
Die Option "Strichelmethode" hinzugefügt – Damit können Sie eine der folgenden drei Strichelmethoden wählen:

Normal

– Drücken Sie die Strich-Schaltfläche, um in den Strich-Zustand zu gelangen. Um zur normalen Geschwindigkeit zurückzukehren, drücken Sie entweder die Taste erneut, hören Sie auf, sich zu bewegen, oder treten Sie in den Kampf ein.

Kontinuierlich

– Drücken Sie die Strich-Taste, um in den Strich-Zustand zu gelangen. Die Rückkehr zur normalen Geschwindigkeit ist nur durch erneutes Drücken der Taste möglich. Andernfalls bleiben Sie auch nach einem erneuten Anhalten und Bewegen oder nach dem Ende eines Kampfes im Strichzustand.

Automatisch

– Geht nach einer Bewegungssekunde automatisch in den Strichelzustand über.

Kleinere Fehlerbehebungen, etc.

(Die PC-Version enthält dieses Update nicht im Basisprodukt. Sie müssen das Update nach der Installation des Basisprodukts trotzdem herunterladen und anwenden)
Das Spiel spielt in einer Fantasy-Welt und folgt Helden, die versuchen, das legendäre Mana-Schwert für sich zu beanspruchen und die Benevodens, Monster der Zerstörung, daran zu hindern, entfesselt zu werden und die Welt zu zerstören.
Das Spiel bietet viele Verbesserungen gegenüber dem Original, einschließlich grafischer Verbesserungen, Unterstützung für Charakter-Stimmen, eine neue Klasse mit einem neuen Charakter-Leveling-System und eine neue Episode, die nach dem Ende verfügbar ist.
Für diejenigen, die das Spiel vor der Veröffentlichung ausprobieren möchten, können die Trials of Mana-Demo jetzt noch bis zum 27. Mai in die Hände bekommen. Sie können Ihre Demodaten beim Kauf auf das vollständige Spiel übertragen, d.h. Sie verlieren Ihren Fortschritt nicht und können die Geschichte dort fortsetzen, wo Sie aufgehört haben.
Die Trails of Mana wird am 24. April 2020 für PC, Nintendo Switch und PlayStation 4 veröffentlicht. Die Demo ist ebenfalls für alle Plattformen verfügbar.
AUCH AUF KEYFORSTEAM NEWS
---
| | |
| --- | --- |
| | Trials of Mana, das 3D-Remake des dritten Spiels der Mana-Reihe, steht kurz vor der Veröffentlichung, und seine Entwickler haben kürzlich erklärt, warum Co-op aus dem Spiel herausgenommen wurde. |
---