Spiele Release im Oktober 2017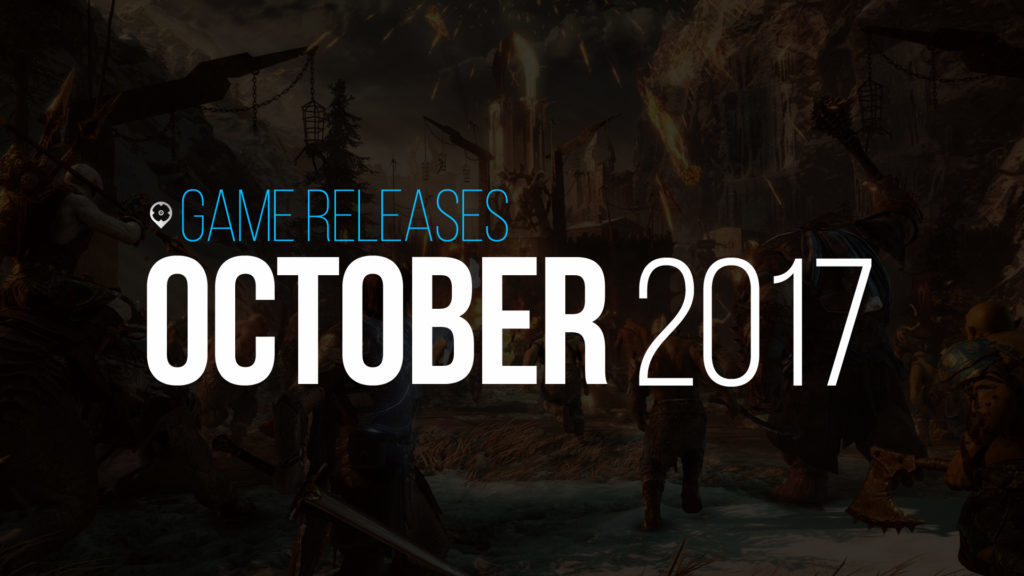 Die Zeit verfliegt so schnell! Hier sind wir schon mit unseren Oktober 2017 Spielversionen!
---
Dieser Monat scheint wie aus Sequel-ville, wie wir gesehen haben, denn es gibt eine Reihe von Fortsetzungen, die  veröffentlicht werden, wie The Evil Within 2 und Spintires MudRunner. Ebenso kommen auch einige mit Spannung erwartete Spiele in diesem Monat, wie Middle Earth Shadow of War und Assassin's Creed Origins.
Schaut euch  unsere Liste der Oktober 2017 Spiel-Releases unten an! Lasst uns auch in den Kommentaren wissen, welche dieser Spiele euch begeistern!
---
Oktober 2017 Game Releases
---
Forza Motorsport 7
Release Datum: 3. Oktober 2017
---
---
Forza Motorsport 7 ist das neueste Rennspiel von Turn 10 Studios und Microsoft Studios. In diesem Jahr wird das Spiel mit mehr als 700 Autos, über 200 verschiedenen Konfigurationen und 32 Standorten am Starttag kommen. Es wurden auch Locations von Forza Motorsport 6 aufgenommen, sowie einige Tracks von Forza 4. Fans der Franchise erleben jetzt das neue dynamische Wettersystem des Spiels (das erste für den Motorsport-Titel, der zuvor in den Horizon-Titeln gesehen wurde) sowie benutzerfreundliche Fahrer.
---
Battle Chasers Nightwar
Release Datum: 3. Oktober 2017
---
---
Battle Chasers Nightwar ist ein Rollenspiel, dass einen rundenbasierten Kampf und eine reiche Story-getriebene tiefe Dungeon-Erforschung kennzeichnet. Der Kampf des Spiels selbst wurde von einigen der größten Konsolen-RPGs mit einem einzigartigen Mana-System und Battle Bursts hinzugefügt. Das Spiel enthält auch zufällig erzeugte Dungeons, die mit Fallen, Puzzles, Beute und Geheimnisse gefüllt sind. Du wirst auch zufällig auftauchende Freunde und Feinde erleben, sowie seltenen Bossen begegnen. Es gibt sechs spielbare Helden im Spiel (aus der epischen Battle Chasers Comic-Serie!). Jeder Held im Spiel kommt mit seinen eigenen einzigartigen Dungeon-Fähigkeiten ausgestattet, sowie Vergünstigungen, Gegenstände und Fähigkeiten.
---
Raiden 5 Director's Cut
Release Datum: 6. Oktober 2017
---
---
Einfach zu erlernen, schwer zu meistern – dafür ist die Raiden-Serie bekannt. Jetzt kommt auf dem PC, Raiden 5 Director's Cut und bringt das actiongeladene Arcade-Spiel mit einigen coolen Features. Zu den Features gehören die Voice Acting (die erste in der Serie), die exklusiven Director's Cut Levels, drei verschiedene Schiffe mit Subwaffen und verschiedene Defence und Mobility, drei Spielmodi (Story Mode, Boss Mission und Gallery), ein neues Schiffsschadensystem, und die 2-Spieler-Offline-Unterstützung.
---
Middle Earth Shadow of War
Release Datum: 10. Oktober 2017
---
---
Die Fortsetzung des hochgelobten Middle Earth Shadow of Mordor kommt endlich in diesem Monat! Middle Earth Shadow of War folgt noch dem Protagonisten Talion, der vom Geist des Elfenherrn Celebrimbor besessen ist. Auch ein Comeback gibt es für das Nemesis-System, für das das erste Spiel bekannt war, aber jetzt wurde es um Nemesis Fortresses erweitert. Eine andere Sache, auf die man sich freuen kann, ist die neue Wraith Fähigkeiten und Fähigkeiten, die mit Boni freigeschaltet und modifiziert werden können.
---
Dungeons 3
Release Datum: 13. Oktober 2017
---
---
Der Dungeon Lord kehrt in Dungeons 3 zurück! Der Dungeon Lord hat seine bösen Kräfte erfolgreich vereint und sogar die Wurzeln des dunklen Reiches gegründet. Jetzt konzentriert er sich auf sein nächstes Ziel: Expansion! Mit der Hilfe der dunklen Elfpriesterin Thalya und der vereinigten bösen Kräfte.  Also nutze jeden Trick, den du kannst, um in der Überwelt mehr Böses zu tun!
---
The Evil Within 2
Release Datum: 13. Oktober 2017
---
---
Eine weitere Fortsetzung, die in diesem Monat kommt, ist The Evil Within  2. Eingestellt, drei Jahre nach dem ersten Spiel, findet der Protagonist Sebastian Castellanos selbst zurück in die Stadt der Union. Seine Tochter Lily, die er für tot hielt, ist anscheinend noch am Leben, und er geht zurück in STEM, um sie zu retten. Kannst du das Böse bekämpfen, dass darin liegt?
---
ELEX
Release Datum: 17. Oktober 2017
---
---
ELEX ist ein Action-RPG auf einem fiktiven Planeten namens Magalan. Ein Meteor hat auf dem Planeten eine gewaltige Zerstörung verursacht und gleichzeitig ein neues, geheimnisvolles Element namens ELEX gebracht. Dieses Element / die Substanz, die die Bewohner entdeckten, ist in der Lage, Maschinen zu messen, das Leben in neue oder verschiedene Formen zu retten und sogar magische Kräfte zu geben. Du wirst als ehemaliges Mitglied der Albs spielen, eine der Fraktionen im Spiel. Die Albs gebrauchen ELEX, um sich von Emotionen zu befreien. Der Protagonist findet sich später von seiner Fraktion getrennt und dem ELEX nach dem Überleben eines Segelflugzeug-Crashs wieder. Dies führt dazu, dass er den Rückzug aus der Substanz erlebte und schließlich zum ersten Mal Emotionen spürt. Wie werden die Alben ihn behandeln? Wie beschäftigt er sich mit den Emotionen, die er jetzt fühlt?
---
South Park The Fractured But Whole
Release Datum: 17. Oktober 2017
---
---
Die unglaublich witzigen Superheld-Possen der South-Park-Bande wird dich sicherlich noch einmal in South Park The Fractured But Whole fesseln. Das Spiel bringt dich zurück zum Anfang, die Zeit, wo ein Superheld in der Regel "geboren" wird – mit nichts. Das Spiel lässt dich dein eigenes einzigartiges Kostüm, dein Handwerk und deine ganz eigene Herkunftsgeschichte wählen, und dich deine eigenen einzigartigen Supermächte aufbauen, um gegen die bösen Jungs der Stadt zu kämpfen. Aber natürlich musst du dich nicht alleine rumschlagen, da du bis zu 12 Mitglieder in deine Superheld-Gruppe rekrutieren kannst!
---
Rogue Trooper Redux
Release Datum: 17. Oktober 2017
---
---
Rogue Trooper Redux ist die remastered Version der Comicbook Anpassung, Rogue Trooper. Dieser Drittanbieter kommt nun in High Definition. Das Spiel kommt mit einer Mischung aus Stealth und Action in seinem Gameplay, zusammen mit einem Cover-basierten Kampf. Auch in seinen Features enthalten ist sein Online-Co-op für bis zu vier Spieler, 13 expansive Missionen in seiner Kampagne und verbesserte Charakterfähigkeiten.
---
Destiny 2
Release Datum: 24. Oktober 2017
---
---
Fans des ersten Destiny Spiels haben so lange gewartet, um es auf dem PC zu spielen, und jetzt kommt Destiny 2 endlich in diesem Monat! Dieser Action-Shooter bringt ein hervorragendes Spielerlebnis mit seiner epischen Kampagne, ein 3-Spieler-Co-op, 4v4 Competitive Multiplayer und vieles mehr!
---
Assassin's Creed Origins
Release Datum: 27. Oktober 2017
---
---
Nach einer Verzögerung auf seine Freilassung, sind wir endlich im Begriff, unsere Hände auf Assassin's Creed Origins in diesem Monat zu bekommen. Im alten Ägypten, speziell während der Ptolemäerzeit, erzählt Origine die Geschichte des Konflikts zwischen der Bruderschaft der Assassinen, den Vorläufern des Templerordens. Wie bei früheren Assassin's Creed Spielen, Origins lassen Sie komplette Quests, und diesmal in den Schuhen des Protagonisten Bayek. Das Spiel ist auch in einer riesigen offenen Welt gesetzt, so wird es Tonnen von Exploration zu tun. Das Spiel wird das neue Arena-basierte Kampfsystem vorstellen, dass dich herausfordern wird, da du immer mit den schwierigeren Feinden umgehen wirst, die später in einem Chefkampf gipfeln.
---
Wolfenstein 2 The New Colossus
Release Datum: 27. Oktober 2017
---
---
V
Die Nazis haben Amerika übernommen! Wolfenstein 2 The  New Colossus wird im Jahre 1961 eingestellt und du spielst als BJ Blazkowicz, alias "Terror-Billy", ein Mitglied des Widerstandes. Die Nazis sind im zweiten Weltkrieg siegreich geworden, und jetzt musst du Amerika von ihrer Herrschaft befreien. Um dir zu helfen, mit der Resistance der Ursache fertig zu werden, wirst du die Hilfe von deinen Freunden und anderen Freiheitskämpfern benötigen, um zu gewinnen. Du wirst dich auch mit Hightech- und futuristischen Waffen ausrüsten. Deine einzige Mission: töte jeden Nazi, den du siehst! Also, lass das Chaos beginnen!
---
Nights of Azure 2 Bride of the New Moon
Release Datum: 27. Oktober 2017
---
---
V
Nights of Azure 2 Bride of the New Moon ist die Fortsetzung von Nights of Azure von Koei Tecmo und GUST Studios. Diese Fortsetzung bringt eine ganz neue Besetzung und steht in einer dämonisierten Welt. Das Spiel verspricht eine sehr immersive Geschichte, die sich um einen Ritterschutz namens Alushe und das Geheimnis hinter der Königin des Mondes dreht.
---
Spintires MudRunner
Release Datum: 31. Oktober 2017
---
---
Fans des Spiels Spintires kommen um eine Behandlung mit Spintires MudRunner nicht herum, welches sich in diesem Monat in den Regalen wiederfinden lässt! Dieses Spiel rühmt sich als eine erweiterte Auflage des ersten Spiels. Was es größer , als das erste Spiel macht, ist die Einführung der neuen Sandbox Map, die eine komplette Grafik-Überholung bekommen hat. Zusätzlich kommt die Ergänzung des neuen Challenge-Modus mit 9 neuen Karten, 13 neue Fahrzeugen und Tonnen von anderen kombiniert Verbesserungen!
---
Damit ist unsere Liste für den Oktober vollständig. Was sagst du dazu? Gibt es ein Spiel oder vielleicht mehrere, auf die du gespannt bist? Lass es uns in den Kommentaren unten wissen.
---