PC GAME KEY | RELEASE APRIL 2015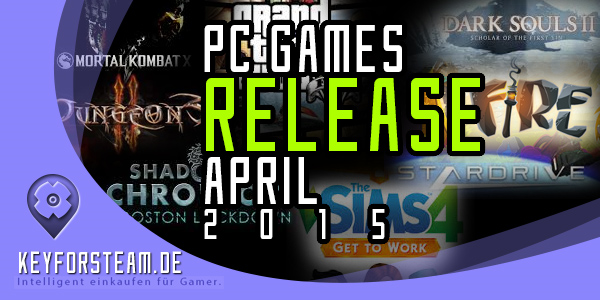 ---
Dark Souls II: Scholar of the First Sin   
Bandai Namco Games   
Release: 07.04.2015
PC,  PS 3, PS 4, Xbox 360, Xbox One
DARK SOULS 2: SCHOLAR OF THE FIRST SIN| PREISVERGLEICH
DARK SOULS II: Scholar of the First Sin ist ein Spielepaket der Extraklasse. Es präsentiert einen neuen Helden, eine neue Geschichte und eine noch unbekannte Welt.  Im Spiel  enthalten sind die DLC-Kapitel (Crown Of The Sunken King, Crown Of The Old Iron King sowie Crown Of The Ivory King), sowie weitere brandneue Inhalte wie:  Ingame-Events, zusätzliche Nicht-Spieler-Charaktere, neue tödliche Gegner und Gameplay-Verbesserungen. In dieser Welt geht es ums pure Überleben. Epische Schlachten gegen brutale Feinde, sowie blutrünstige Bosse warten in Dark Souls verwüsteten Welt. Tod und Verzweiflung gegen Mut und Willensstärke.
Wer wird die Oberhand gewinnen?
---
Fire
KOEI Co Ltd
Release: 09.04.2015
Genre: Abenteuerspiel
PC
In "Fire" schlüpfen wir in die Rolle eines Neandertalers, dessen einzige Verantwortung die Neuentfachung des Feuers seines Stammes ist.  Das ist alles? Denkt ihr. Ist es nicht. Die Steinzeit hält allerlei Rätsel bereit. Und um das Feuer immer wieder zu entfachen, gibt es zumeist auf der humorvollen Nutzung allerlei prähistorischer Tiere sowie Geschick und Timing seitens des Spielers basierende Rätsel, die zu lösen die Aufgabe ist.  "Fire" ist ein Spiel, welches komplett auf Text oder Sprachausgabe verzichtet und dennoch durch Bilder und Geräusche überzeugt.
---
StarDrive 2   
Iceberg Interactive   
Release: 09.04.2015
Die 4X-Weltraum-Saga heißt euch: Willkommen zu StarDrive 2!
Als großer  Science Fiction Fan darfst du den Weltraum erforschen und dein Galaxie-Reich erweitern. In faszinierenden Echtzeit-Kämpfen gegen Aliens, Piraten und anderen Allbewohnern entdeckst du jede Menge Mythen und Geschichten auf und baust dir Schritt für Schritt so ein Imperium inmitten einer lebhaften Galaxie auf.  Doch es sind nicht alle deine Gegner – Entscheide Du! Man kann mit den Aliens auch diplomatische Bündnisse schließen, Handel treiben oder je nach Bedarf auch ausspionieren. Sei der Held deiner Galaxie, regiere deine eroberten Reiche und führe die Flotten in heroische Schlachten. Dabei werden die Schiffe nach deinen Vorstellungen zusammengestellt. Ein spannendes, episches Echtzeit – Abenteuerspiel der besonderen Art!
---
Mortal Kombat X 
Warner Bros. Interactive Entertainment
Release: 14.04. 2015
PlayStation 3, PlayStation 4, Xbox 360, Xbox One
MORTAL KOMBAT X | PREISVERGLEICH
Wo gibt es schon so was? Detaillierte Gewaltdarstellung inklusive Prügelaction in Reinkultur. Im neuen "Mortal Kombat 10". Diesmal wird ein harter Online –Wettbewerb um die Weltherrschaft ausbrechen, denn die Spieler haben ganz exklusiv die Möglichkeit, bei ihren Kämpfen aus verschiedenen Kampfstilen und Strategien zu wählen. Ihr trefft auf alte Bekannte wie Sub Zero und es erwarten euch auch ganz neue Charaktere. – Ein Spiel, bei dem jeder Kampf und vor Allem JEDER SIEG zählt!
---
Grand Theft Auto V PC
Rockstar Games
Release : 14.04.2015
PlayStation 3, PlayStation 4, Xbox 360, Xbox One
"Grand Theft Auto 5" Darauf haben wir schon so lange gewartet…  Wähle aus drei Charakteren und die damit verbundenen unterschiedlichen Handlungsstränge. Ob  Michael, Trevor oder Franklin, jeder möchte sich in der Stadt Los Santos neben einer Menge Geld verdienen auch ganz persönliche Ziele erreichen. Jedes rumstehende Fahrzeug läd zu einer Spritztour ein.  Dazu zählen neben Autos auch Motorräder, Boote oder Fluggeräte. In dieser offenen Spielwelt warten jede Menge Aufgaben und Herausforderungen auf dich. Die dafür benötigten Waffen findest du im Spielverlauf. Wilde Verfolgungsjagden quer durch die Stadt. – Lass dich nicht erwischen!
---
Dungeons 2 PC
Publisher: Kalypso
Release: 24. 04. 2015
In Dungeons 2 geht es heiß her. Von einer wunderschönen animierten Märchenwelt – in ein dunkles Höllenreich.  Der Ork Krumbaak – purzelt überraschend in die düsteren Höhlenverliese und versucht diese erst einmal etwas aufzuhübschen. Das bedeutet viel Arbeit. Und sobald etwas Langeweile bei dem kleinen Kerl aufkommt, verprügelt er seine Hilfsarbeiter…. Die armen  Schnodderlinge! Ob die sich das bieten lassen? Finde es heraus!
---
Shadowrun Chronicles – Boston Lockdown
Broadsword Interactive
Release: 28.04.2015
SHADOWRUN CHRONICLES | PREISVERGLEICH
Shadowrun spielt in den 2070er Jahren.  Eine düstere, fiktive  Zukunft erwartet uns, in der Mega-Konzerne  zu unabhängigen Staaten geworden sind und mehr Macht und  Einfluss haben, als die Regierung. Auf deren Gehaltslisten unlängst Politiker und Polizisten stehen… Auch die Umwelt hat sich angepasst und radikale Veränderungen  dazu geführt, dass bereits ausgestorbene Lebewesen wie Zwerge, Elfen, Trolle, Orks und sogar Drachen wieder zum Leben erwacht sind. Verrückt diese Welt!
---
The Sims 4: Get to Work
Electronic Arts
Release: 30.04. 2015
THE SIMS 4 GET TO WORK | PREISVERGLEICH
Und wieder gibt es von den Sims?4 ein Erweiterungspack. An die Arbeit! Du bist im Arbeitsleben der Boss. Du gibst den Ton an und bestimmst, ob sie fleißig auf die große Beförderung hinarbeiten oder zum Faulpelz der Nation werden. Dabei warten aufregende Berufe auf dich. Als Doktor eilst du zur Hilfe und rettest Leben – als wissenschaftler tyrannisierst du deine Nachbarn und bist eine echte Gefahr oder sei der Held als Polizist und löse große Fälle. Wenn das alles nix für dich ist, dann werde Manager deiner eigenen Erfolgsidee. Erstelle, verwalte und gestalte dein eigenes Business und werde Simoleonär! Du allein entscheidest, was deine Sims bei der Arbeit machen.