Nicht gesponserter iDom erhält Capcom Cup 2019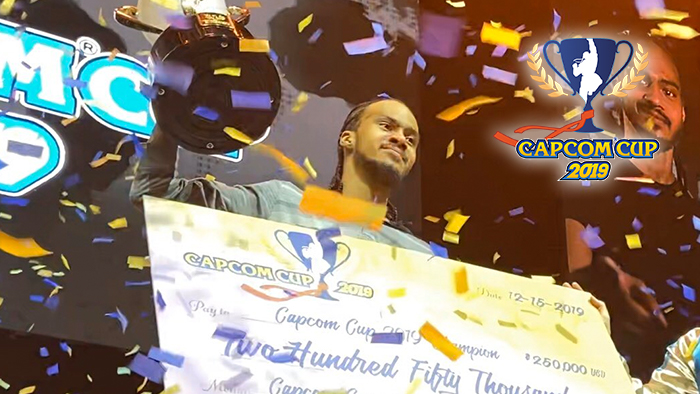 Es war ein aufregendes Wochenende im Novo Theater in Los Angeles, Kalifornien, wo 32 der besten Street Fighter 5 Spieler der Welt Blut, Schweiß und Tränen vergießen und hofften, den möglicherweise lebensverändernden Hauptpreis von 250.000 US-Dollar mit nach Hause zu nehmen.
---
---
Vor Beginn des Hauptturniers fand ein Last Chance Qualifier (LCQ) statt, um festzustellen, wer den Capcom Cup 2019 absolvieren würde. Nach mehreren spannenden Spielen fanden sich der Japaner Moke und der US-Commander Jesse im Großen Finale des LCQ gegeneinander wieder. Moke fegte Commander Jesse 3-0 weg und marschierte weiter durch zum Hauptturnier.
Der Capcom Cup 2019 könnte das bisher aufregendste Street Fighter 5 Event sein. Der Weg zum Großen Finale war voller Überraschungen, denn die Spieler, die mit 2:0 in der Tabellenführung lagen, wurden rückwärts geschleudert und einige Favoriten schafften es nicht einmal in die Top 16 (darunter Capcom Cup 2019 Meister Gachikun). Am Ende stand der topgesetzte Punk von Capcom Pro Tour in einem rein amerikanischen Grand Finale dem ungesponserten und relativ unbekannten iDom gegenüber.
Die Dinge sahen für iDom schon früh düster aus, als Punk zwei Spiele in Folge mit Cammy of the bat gewann. iDom blieb bei seiner Laura und änderte den Schwung, um das nächste Spiel zu gewinnen. Punk wechselte dann zu Karin, verlor aber schließlich noch zwei weitere Spiele, ermöglichte iDom die Brackets zurücksetzen.
Mit beiden in der Verliererklasse würde der erste Spieler, der drei Spiele gewinnt, zum Champion gekrönt. iDom übertrug seinen Schwung auf den Reset und gewann zwei Spiele in Folge. Punk schien zu kämpfen, schaffte es aber, das nächste Spiel zu gewinnen. Da Punk keine Chance hat, den Charakter zu wechseln, wechselt iDom zu Poison und beendet das Turnier mit einem 3:1-Sieg.
Wenn dieses Ereignis einem Street Fighter 5 Fan eine Lektion erteilen würde, wäre es, dass der Kampf nicht vorbei ist, bis er vorbei ist. Damit fallen die Vorhänge auf den Capcom Cup 2019 mit einem ungesponserten, aber sehr verdienten Champion an der Spitze – Derek 'iDom' Ruffin.
---
AUCH AUF KEYFORSTEAM NEWS
---
| | |
| --- | --- |
| | Die Tekken World Tour 2019 ist zu Ende gegangen und kürt einen neuen Champion. Schauen Sie sich die körnigen Details hier an. |
---