Die besten Freispiele des Tages (15. Juli 2020)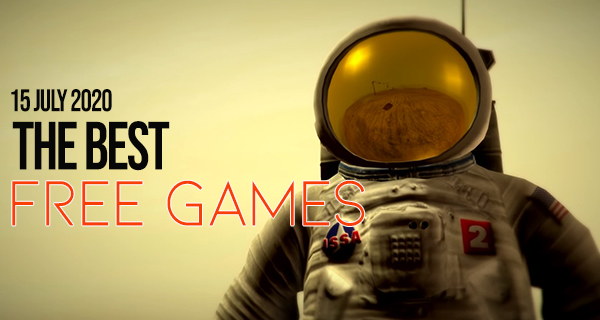 Freie Spiele? Wir haben es gleich hier! Die heutige Liste der Gratis-Spiele enthält Spiele aus den Genres Strategie, Puzzle, Plattform und FPS. Schauen Sie sich jedes einzelne an, und vergessen Sie nicht, sie zu besorgen, solange Sie können!
Wollen Sie mehr? Schauen Sie sich alle Gratis-Spiele an, die in unseren DAILY DEALS verfügbar sind!
---
Die besten Gratisspiele des Tages (15. Juli 2020)
The Escapists 2

Der ultimative Gefängnis-Sandkasten ist hier, um Sie zu einem Gefängnisausbruch herauszufordern! Die Escapists 2 fordern Sie auf, aus den härtesten Gefängnissen der Welt auszubrechen. Planen Sie Ihre Flucht mit drei anderen Freunden, aber stellen Sie sicher, dass niemand Ihnen gegenüber misstrauisch wird!
Da Ihnen nur wenige Werkzeuge zur Verfügung stehen, sind Sie gezwungen, Alltagsgegenstände zu kombinieren, um das perfekte Fluchtwerkzeug herzustellen. Die Gefängnisse werden mit fortschreitender Zeit immer schwieriger, so dass Sie bei Ihren Fluchtplänen kreativer werden müssen.
Enthält 11 Gefängnisse, aus denen Sie ausbrechen können, mehr als 300 Anpassungsoptionen für Ihren Gefangenen, mehrstöckige Gefängnisse sowie Koop- und Gegen-Mehrspieler-Modus.
---
Lifeless Planet

Inspiriert von Science-Fiction-Geschichten aus der Zeit des Kalten Krieges versetzt Sie Lifeless Planet in die Lage eines Astronauten, der auf eine Mission zu einem Planeten geschickt wurde, auf dem früher Menschen lebten. Ausgestattet nur mit Ihrem beschränkt einsetzbaren Jet-Pack und einem mobilen Roboterarm, werden Sie mit Ihren Fähigkeiten Rätsel lösen müssen.
Tun Sie alles, was Sie können, um auf dem Planeten zu überleben, decken Sie die Geheimnisse derer auf, die ihn einst bewohnten.
---
Killing Floor 2

Killing Floor 2 bringt Ihnen Chaos. Bekämpfen Sie den von Horzine Biotech verursachten Ausbruch, indem Sie Horden von Zeds vernichten. Spielen Sie allein oder im 6-Spieler-Koop-Modus, oder nehmen Sie es im Versus-Modus sogar mit Ihren Freunden auf, da jeder von Ihnen als Zeds spielen kann.
Mit Tonnen von Waffen zu Ihrer Verfügung wird Ihnen Killing Floor 2 sicherlich all die Action bringen, nach der Sie sich sehnen!
---
The Cycle

Free-to-play Multiplayer FPS The Cycle ist hier, um Sie herauszufordern, gegen andere Spieler als Sieger hervorzugehen!
Das Spiel rühmt sich einer einzigartigen Mischung aus PvP- und PvE-Elementen, da Sie es nicht nur mit anderen Spielern, sondern auch mit wilden Bestien in der Wildnis aufnehmen!
Überlisten Sie Ihre Feinde, erfüllen Sie die meisten Aufträge und entkommen Sie, bevor Sie der gefährliche Sturm namens "Der Zyklus" trifft!