Call of Duty: Warzone Rumble Mode kommt in Staffel 4 an!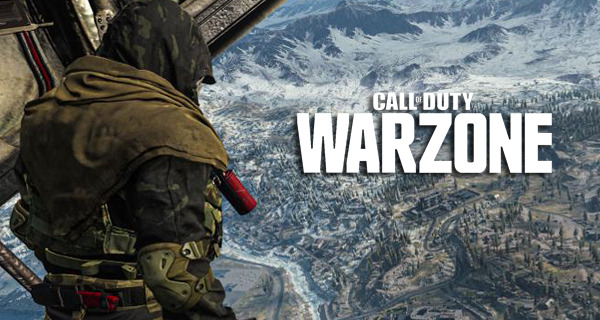 Infinity Ward
kündigte den
Call of Duty Warzone Rumble-Modus
an, der mit der
4. Saison
des Spiels kommt. Der Modus wird ausdrücklich "
Warzone Rumble
" genannt.
---
---
Dieser neue Modus wird laut den Patch-Notizen "zwei Teams von 50 Spielern mit dem Fallschirm abspringen und in verschiedenen Gebieten rund um Verdansk gegeneinander antreten". Dieser Modus ist sehr actionreich mit benutzerdefinierten Beladungen, Fahrzeugen und schnellen Respawns".
Wenn Ihnen die Formulierung "verschiedene Gebiete um Verdansk" auffällt, könnte dies bedeuten, dass die gesamte Karte für diesen Modus nicht verfügbar ist.
Zusätzlich zum neuen Modus spricht Infinity Ward in seinem Beitrag zu Staffel 4 auch über neue Ereignisse im Spiel, die jederzeit ohne vorherige Ankündigung stattfinden können. Diese Ereignisse werden mitten im Spiel stattfinden. Bitte beachten Sie auch, dass nur ein Ereignis pro Spiel stattfinden kann. Die drei vorerst verfügbaren Veranstaltungen sind Jailbreak, Fire Sale und Supply Center.
Hier ist die Erklärung von Infinity Ward zu jedem Ereignis:
Wenn ein 'Jailbreak' stattfindet, werden alle Spieler, die ausgeschieden sind, wieder in das Spiel entlassen. Egal, ob Sie im Gulag auf Ihr 1:1 gewartet haben oder ob Sie zu einem Zuschauer abgestiegen sind, jetzt haben Sie wieder eine Chance. Sie erhalten eine einminütige Benachrichtigung, bevor ein Jailbreak-Ereignis stattfindet, um zusätzliche Panzerung zu finden oder eine Waffe für Ihre zurückkehrenden Teamkollegen zu sichern. Jailbreak-Ereignisse können jederzeit während des Mittelspiels eines Battle Royale-Spiels auftreten, so dass es sich für alle Fälle lohnen kann, zuzuschauen. Denken Sie daran, dass bei einem Jailbreak nicht nur Ihre Teamkollegen zurückkehren, sondern auch viele weitere Gegner.

Ein "Feuerverkauf" ist ein Ereignis im Spiel, bei dem die meisten Gegenstände an einer Einkaufsstation vorübergehend bis zu 80% Rabatt erhalten oder sogar völlig kostenlos ausgegeben werden. Ein "Fire Sale" ist der perfekte Zeitpunkt, um ein UAV, eine Panzerkiste für Ihre Truppe oder sogar eine tödliche Killstreak abzuholen. Bei einem Fire Sale ist der Rückkauf eines gefallenen Teamkollegen völlig kostenlos. Wenn Sie zu wenig Bargeld haben, könnte ein Firesale die beste Gelegenheit sein, einen Teamkollegen wieder einzusetzen. Beachten Sie, dass selbst während eines Fire Sale keine Nachlässe auf Loadout-Drops gewährt werden. Feuerverkäufe dauern nur sechzig Sekunden. Rechnen Sie also damit, dass die Kaufstationen überfüllt sind und bereiten Sie sich auf einen Kampf vor.

Eine Veranstaltung mit "Nachschub-Hubschraubern" bringt einen nicht tödlichen, aber schwer gepanzerten Hubschrauber nach Verdansk. Der Hubschrauber wird sehr gesund sein, und es werden ein paar Runden Kugeln und vielleicht ein oder zwei Raketen benötigt, um ihn zum Absturz zu bringen. Der Hubschrauber wird nicht auf Sie schießen, aber stellen Sie sicher, dass feindliche Teams, während Sie abgelenkt sind, keinen Vorteil daraus ziehen. Sobald Sie den Nachschubhubschrauber zerstört haben, wird er hochwertige Beute abwerfen, die die Spieler aufheben können. Diese Beute umfasst mindestens drei UAVS, zwei Panzerkisten und Munitionskisten, eine Gasmaske, einen Granatwerfer und Tonnen von Bargeld. Die Nachschubhubschrauber starten nach einer bestimmten Zeit, wenn Sie also einen herausnehmen wollen, fangen Sie sofort mit dem Schießen an. Denken Sie daran, dass Sie nach dem Abschuss eines Nachschubhubschraubers die Beute einsammeln müssen. Achten Sie auf feindliche Teams, die versuchen könnten, Sie während des Einsammelns auszuschalten oder Ihre hart verdienten Belohnungen zu stehlen.
Die Wiedergabeliste der 4. Staffel von Warzone ist jetzt aufgeführt als: Quads, Trios, Duos, Solos, Blutgeld und Warzone Rumble.
Warzone Rumble wird mit Season 4 auf allen Plattformen des Spiels aktualisiert.
Call of Duty Warzone ist derzeit für PC, PlayStation 4 und Xbox One verfügbar.
AUCH AUF KEYFORSTEAM NEWS
---
| | |
| --- | --- |
| | Infinity Ward hat Trios wieder in Call of Duty: Warzone aufgenommen, weil die Spielerbasis wegen der Entfernung zugunsten von Quads auf Gegenreaktion reagierte. |
---