Call of Duty Warzone ist frei spielbar und frei für jeden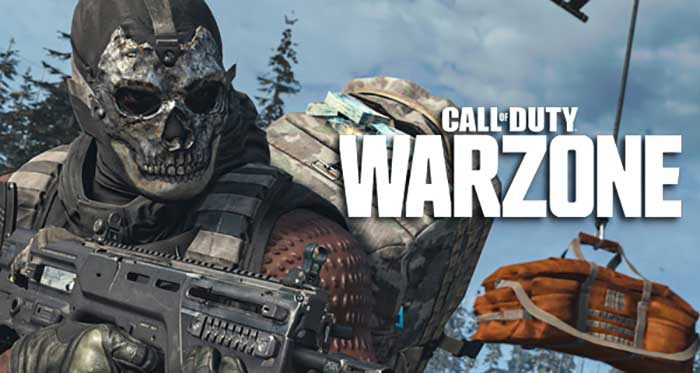 Call of Duty Warzone ist eine massive neue Kampferfahrung aus dem Franchise und es ist sowohl frei spielbar als auch frei für jedermann.
Das Spiel ist jetzt live und kann auf zwei verschiedene Arten abgerufen werden. Wenn Sie Call of Duty Modern Warfare besitzen, können Sie Warzone im Hauptmenü sehen, wo sich einst das Classified-Panel befand. Wenn Sie die neuesten Titel-Updates für Modern Warfare haben, beträgt Ihr Download für Warzone nur 18-22 GB. Nach dem Download können Sie die Lobby betreten und spielen.
---
---
Für Nicht-Besitzer von Call of Duty Modern Warfare können Sie über die First-Party-Shops auf Warzone zugreifen. Sie müssen nur Call of Duty Warzone auswählen und herunterladen und dann herunterladen. Dies wird etwa 83-101 GB betragen, was je nach Bandbreite wahrscheinlich mehrere Stunden dauern würde, um es herunterzuladen.
Warzone bietet zwei Spielmodi an, nämlich Battle Royale und Plunder. In Battle Royale kämpfen die Spieler gegen 150 Spieler und sind das letzte Team, das noch steht, während sich ein tödliches Gas nähert. In Plunder rennen die Spieler um das meiste Geld, das im Spiel ist. Dies kann durch Plündern, Ausschalten von Gegnern und Stehlen ihres Geldes sowie durch das Abschließen von Spielverträgen geschehen.
Bei beiden Modi werden die Spieler in Trios antreten. Dies kann mit Ihren Freunden über PC (Battle.net), PlayStation 4 und Xbox One gespielt werden.
Warzone spielt in Verdansk, einer riesigen Stadt mit mehreren Zonen mit etwa 300 Points of Interest. Jede Zone hat ihre eigenen Sehenswürdigkeiten und Umgebungstypen.
Im Spiel sind auch Fahrzeuge wie ATV, Tactical Rover, SUV, Cargo Truck und Hubschrauber verfügbar. Jedes dieser Fahrzeuge bietet unterschiedliche Schutzniveaus, Geländekapazitäten, Sitzplätze und Geschwindigkeiten. Außerdem wird jedes Fahrzeug über einen Gesundheitsmesser verfügen. Sobald der Gesundheitszustand Null erreicht, wird das Fahrzeug explodieren.
Einige einzigartige Mechanismen wurden dem Spiel hinzugefügt, wie der Gulag im Battle Royale Modus. Bei dieser Mechanik werden Sie als "Gefangener des Kriegsgebiets" in den Gulag geworfen. Sie müssen sich in einer 1v1-Schlacht mit einem einzigen Gegner messen, um für die Neuverlegung belohnt zu werden, damit Sie nach Verdnask zurückkehren können.
Ein weiterer Mechanismus sind die Verträge, die man in ganz Verdnask finden kann. Wenn Sie diese Verträge abschließen, werden Sie sowohl mit Bargeld als auch mit Beutegegenständen belohnt. Das Geld aus dem Spiel kann dazu verwendet werden, einen Squadmates, der als Kriegsgefangener in der Kriegszone gefangen genommen wurde, umzuverteilen. Es gibt verschiedene Arten von Verträgen, einige würden Ihnen sogar besondere Belohnungen geben.
Call of Duty Warzone ist jetzt für PC, PlayStation 4 und Xbox One erhältlich.
AUCH AUF KEYFORSTEAM NEWS
---
| | |
| --- | --- |
| | Erinnern Sie sich an das Erfolgsspiel aus den 90er Jahren, das Tamagochi? Nun, eine vereinfachte Version davon kommt zu Call of Duty Modern Warfare namens Tomogunchi! Sehen Sie sich an, was es hier bietet! |
---