August 2017 Spiele Release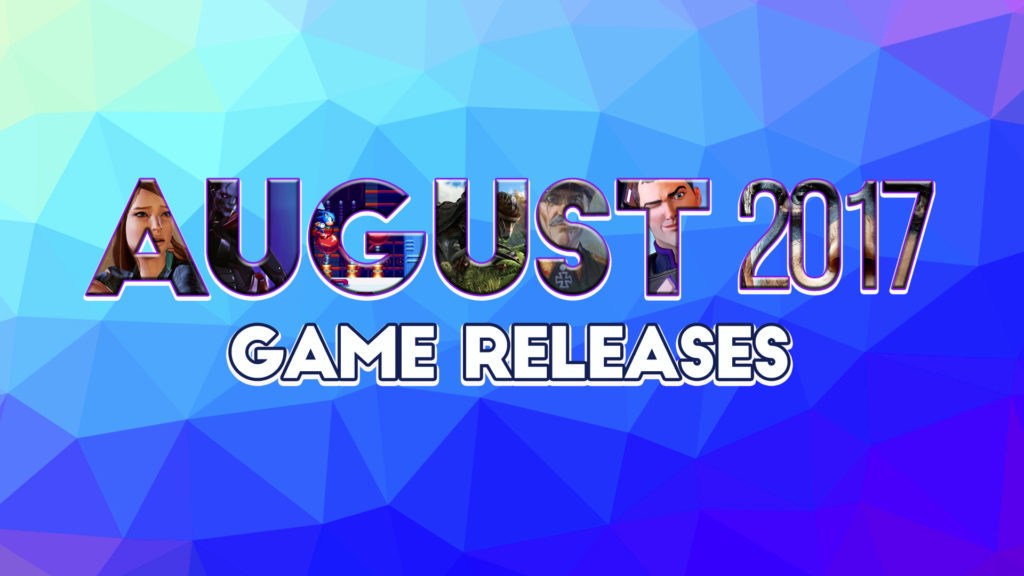 ---
August 2017 Game Release
---
Auf der Suche nach neuen Spielen, um sie im  August zu spielen? Schau dir unsere August 2017 Game Release an! Welches dieser Spiele interessiert dich am Meisten? Sag es  uns in den Kommentaren unten!
---
Hellblade Senua's Sacrifice
Release Datum: 8. August 2017
---
---
Hellblade Senuas Sacrifice ist das neueste Spiel von den Machern von Devil May Cry. Das Spiel lässt dich dem weiblichen Protagonisten Senua folgen, der an verschiedenen psychischen Störungen leidet. Senua ist eine keltische Kriegerin, und sie ist auf der Suche nach der Seele ihres Liebhabers, der gestorben ist und sie wird dafür kämpfen. Die Entwickler arbeiteten mit Neurowissenschaftlern und Leuten zusammen, die Psychose erlebt haben, um ein Spiel heraus zu bringen, dass dich tief in den Geist von jemandem graben lässt, der an Geisteskrankheiten leidet.
---
Sudden Strike 4
Release Datum: 11.  August 2017
---
---
Sudden Strike kommt dieses Jahr mit Sudden Strike 4 zu uns! Dieses Echtzeit-Strategiespiel verspricht ein realistisches Gameplay mit taktischer Tiefe und historischem Ambiente. Das Spiel bietet auch mehr als 20 Missionen in drei Kampagnen, über 100 authentische Einheiten, einen Multiplayer-Modus und Mod-Support durch den Steam Workshop.
---
Sonic Mania
Release Datum: 15.  August 2017
---
---
Ein ganz neues Abenteuer erwartet dich in  Sonic Mania! Das geliebte 2D-Plattform-Spiel ist zurück, und du wirst auf jeden Fall die Nostalgie mit seinen ganz neuen Zonen und neu vorgestellten Klassikern fühlen! Spiele als Sonic, Knuckles und Tails und begib dich durch eine Ebene nach der anderen! Während du fortfährst, wirst du aufregende Überraschungen und mächtige Bosse mit nie zuvor gesehenen Wegen und Geheimnissen begegnen!
---
Agents of Mayhem
Release Datum: 18.  August 2017
---
Overwatch
Steam
—
8,89€
GTA 5
Steam
14,00€
-43%
8,00€
Doom 4
Steam
19,00€
-77%
4,45€
Battlefield 1
Steam
39,00€
-91%
3,45€
Project Cars 2
Steam
59,00€
-91%
5,02€
Destiny 2
Steam
—
Kostenfrei
Star Wars Battlefront 2
Steam
—
6,58€
INSIDE
Steam
19,00€
-80%
3,86€
Ori and the Blind Forest
Steam
4,00€
-27%
2,92€
Stardew Valley
Steam
13,00€
-45%
7,15€
NieR Automata
Steam
39,00€
-51%
19,07€
---
Agents of Mayhem ist ein Open-World-Action-Abenteuer-Spiel im Saint-Row-Universum. Mit dem Spiel kannst du drei der zwölf spielbaren Agenten spielen. Jeder der Agenten hat einen eigenen Blick, Persönlichkeit, Fähigkeiten und Waffen. Diese Agenten schwärmen aus, um Missionen in der futuristischen Version von Seoul gegen eine Schurken-Organisation namens LEGION zu führen, und seine geheimnisvollen Führer Morningstar auszuschalten.
---
F1 2017
Release Datum: 25.  August 2017
---
---
Spüre den Nervenkitzel bei der Weltmeisterschaft 2017 in F1 2017! Die diesjährige Tranche aus der F1-Videospiel-Franchise verfügt über ikonische Oldtimer mit anderen tollen Features wie einem 10-jährigen Karrieremodus, dem neuen Championship-Modus und noch mehr Features!
---
XCOM 2 War of the Chosen
Release Datum: 29.  August 2017
---
---
War of the Chosen ist die Erweiterung des hochgelobten Strategiespiels XCOM 2. Die Erweiterung fügt neue Fraktionen und Heldenklassen (Reaper, Skirmishers und Templars), neue Feinde (The Chosen), neue Bedrohungen, Umgebungen und Missionsziele hinzu.
---
Ark Survival Evolved
Release Datum: 29.  August 2017
---
---
Ark Survival Evolved ist endlich offiziell gestartet, nachdem es sich im Early Access seit 2015 befindet. Hol sie dir, um sie zu zähmen, zu trainieren, zu züchten und Dinosaurier in einer Welt zu reiten, wo dein Überleben das Ziel des Spiels ist. Baue Strukturen auf, züchte dein eigenes Essen, und am wichtigsten, erkunde die riesige Welt des Spiels!
---
Life is Strange Before the Storm
Release Datum:  31.  August 2017
---
---
Life is Strange Before the Storm ist ein eigenständiges Spiel, dass drei Jahre vor den Ereignissen in LIFE ist Strange gesetzt ist. Du wirst als Chloe Price spielen und das Spiel konzentriert sich auf ihre unwahrscheinliche Freundschaft mit der beliebten Rachel Amber. Das Spiel bietet eine Auswahl und Konsequenz an Erzählung, um die Ergebnisse zu mehreren Endungen zu bringen, die aus den Entscheidungen resultieren, die du während des Spiels triffst.
---