10 beliebte Puzzle-Spiele, die Deinen Kopf heraufordern
---
Top 10 PC- Puzzle-Spiele
---
Supraland
Steam
19,00€
-94%
1,08€
Portal 2
Steam
8,00€
-3%
7,73€
Human Fall Flat
Steam
14,00€
-84%
2,22€
The Witness
Steam
39,00€
-90%
3,73€
The Talos Principle
Steam
39,00€
-90%
3,94€
RiME
Steam
29,00€
-91%
2,49€
Poly Bridge
Steam
8,00€
-31%
5,55€
The Tiny Bang Story
Steam
1,00€
-3%
0,97€
Scribblenauts Unlimited
Steam
19,00€
-90%
1,83€
Baba Is You
Steam
12,00€
-81%
2,31€
---
---
---
Scribblenauts Unlimited ist ein erstaunliches Puzzlespiel, dass von 5th Cell Media entwickelt wurde. Es wird aus einer ganzen  Reihe von Gründen von vielen Spielern gut angenommen. Einer dieser Gründe ist, dass es ein breites Publikum anspricht, das es neuen Spielern und Veteranen gleichermaßen zugänglich macht. Es tut dies, indem es Kreativität belohnt, und nur wenigen fehlt die  Fantasie. Vor allem aus diesem Grund sind die Bewertungen auf Steam sehr positiv. Es schadet auch nicht, dass das Spiel von einem preisgekrönten Franchise entwickelt wurde.
---
---
---
The Tiny Bang Story von Colibri Games ist ein wirklich erstaunliches Puzzlespiel, dass sich im Grunde selbst vermarktet, da seine Funktionen so gut sind. Das Gameplay findet auf einem Planeten statt, der kürzlich von einem Meteoriten getroffen wurde, und gewährt dir die Ehre, der Retter eines ansonsten verdammten Planeten zu werden. Was dieses Unterfangen wirklich lustig und aufregend macht, ist deine Vorstellungskraft, Kreativität und Witz beim Abschuß deines  Arsenals. Das Spiel erhält auch eine Menge cooler Punkte für seine Zugänglichkeit, da absolut kein Text vorhanden ist.
---
---
---
Am 12. Juli 2016 lieferte Dry Cactus den Spielern ein spannendes und neues Brückensimulatorspiel namens Poly Bridge. Seitdem hat das Spiel Scharen von Fans gesammelt, die ihre Sucht in den Tausenden von sehr positiven Bewertungen dokumentieren, die auf der Steam-Seite hinterlassen wurden. Der Hauptköder sind die auf Physik basierenden Kampagnenebenen mit Puzzle-Lösung. Für andere ist es der Sandbox-Modus, in dem die Spieler die kreative Freiheit haben, jede Art von Brücke zu bauen, die ihr Herz errichten will.
---
---
---
Das Abenteuer-Puzzle-Spiel RiME von Tequila Works ist seit seiner Veröffentlichung im Mai 2017 einer der berühmtesten Titel des Genres. Im Spiel können die Spieler die schöne und raue Welt erkunden, in der ihr Witz ihr wertvollstes Gut ist . Durch effektives und konsequentes Anwenden dieses Vermögens werden die Spieler einige der unentdecktesten Geheimnisse des Spiels enthüllen. Die Entwickler müssen wegen über 1.600 Bewertungen etwas richtig gemacht haben, die überwiegende Mehrheit ist sehr positiv.
---
---
---
The Talos-Principle gehört mittlerweile zu den vielen Spielen, deren Steam-Bewertungen überwiegend positiv bewertet werden. Laut Gamespot ist "The Talos-Principle eine absolute Freude zu spielen." Einer der Gründe, warum das Spiel so beliebt ist, ist die Vielseitigkeit. Obwohl es überwiegend rätselhaft ist, wird es aus der Ich-Perspektive gespielt, hat Science-Fiction-Elemente und schafft es dennoch, einen geschichtsträchtigen Titel zu erhalten. Aus all diesen Gründen und mehr ist The Talos-Principle eines der beliebtesten Puzzlespiele des Genres.
---
---
---
The Witness von Thekla, Inc. ist ein Puzzlespiel, dass es wagt, anders zu sein und ist daher eines der beliebtesten Spiele des Genres. Das Spiel versetzt dich in eine sehr unglückliche Situation, in der du dich befindest. Als Individuum erwachst du und stellst fest, dass du auf einer Insel gestrandet bist, die eigentlich schon schlimm genug ist, aber du hast auch noch Amnesie. Wenn du das Land durchquerst und verzweifelt versuchst, deine Realität zu verstehen, musst du eine Vielzahl herausfordernder Rätsel mit Skalierungsschwierigkeiten lösen.
---
---
---
Human: Fall Flat ist ein weiterer Titel, der von den Massen für seine Einzigartigkeit angefeuert wurde. Im Spiel übernehmen die Spieler die Rolle von Bob, einem exzentrischen Helden, der von surrealen Orten träumt, die mit Rätseln gefüllt sind, die er lösen muss, wenn er jemals einen Ausgang finden soll. Ein wichtiger Verkaufsargument des Spiels ist, dass die Entwickler dir lediglich ein allgemeines Ziel bieten und wie du dorthin gelangst, liegt ganz bei dir. Die Effizienz, mit der du die Rätsel löst, hängt nur von deiner Anwendung ab.
---
---
---
Baba Is You ist ein Puzzlespiel, dass von Leuten begehrt wird, die die kognitive Übung lieben, die es erfordert. Im Spiel werden die Regeln als hartnäckige Blöcke dargestellt, die manipuliert werden können, um die Spielmechanik grundlegend zu verändern. Ein Großteil der Beliebtheit des Spiels wird der Existenz dieser Funktion zugeschrieben. Die Spieler können den Dingen, die in den Levels entdeckt wurden, neue Zwecke zuweisen, was oft zu spontanen und überraschenden Interaktionen führt.
---
---
---
Portal 2 hat sich beim Start außergewöhnlich gut entwickelt, und dies auch noch acht Jahre nach seiner ersten Veröffentlichung. Einige würden argumentieren, dass das Spiel vom ersten Tag an das Rezept für die Größe hatte, da es sich von seinem mehrfach ausgezeichneten Vorgänger Portal inspirieren ließ. Bei Steam waren die Bewertungen von Portal 2 überwiegend positiv. Auch dies ist keine Überraschung, wenn man bedenkt, dass sowohl das Spiel als auch die Storefront sich im Besitz von Valve befinden. Die Verfügbarkeit auf mehreren Plattformen trägt auch zur Beliebtheit des Titels bei.
---
---
---
Supraland ist ein außergewöhnliches Puzzlespiel, bei dem sich einige der besten jemals veröffentlichten Spiele, nämlich Zelda, Porta und Metroid, inspirieren lassen. Grundsätzlich haben die Entwickler die besten Aspekte jedes der genannten Titel genommen und sie dann zu einem erstaunlichen Paket zusammengefügt, nämlich Supraland. Die Qualität des Spiels spiegelt sich in den Steam-Rezensionen des Spiels wider, die überwiegend positiv sind. Das, was das Spiel seit seiner Veröffentlichung gewonnen hat, ist wirklich bemerkenswert.
---
Weitere News auf Keyforsteam.de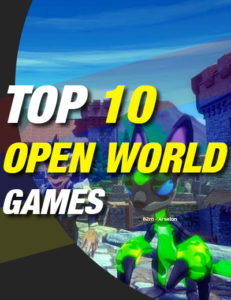 ---