Zombie Army Trilogy für den Nintendo Switch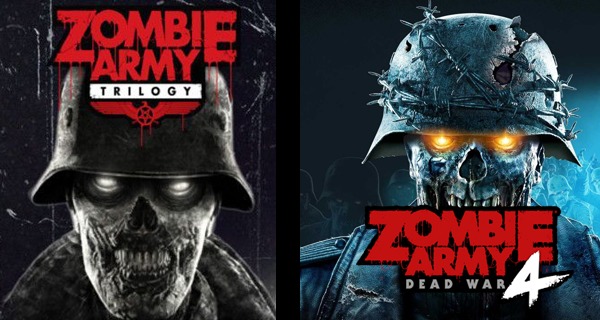 Das Action-Shooter-Spiel Zombie Army Trilogy wird, wie von Rebellion Developments angekündigt, für den Nintendo Switch veröffentlicht. Die Trilogie wird mit jedem Spiel der Serie sowie den DLCs der Serie geliefert.
---
---
Das Spiel wird allein oder mit bis zu vier Spielern im Koop-Modus spielbar sein. Wir können auch brandneue Features für den Switch erwarten, wie z.B. 2- bis 4-Spieler-Wireless Play, Motion Controls sowie Pro Controller und HD Rumble Support. Das Spiel soll auch das neue Friend Invite System von Nintendo Switch unterstützen.
Zombie Army Trilogy is coming to #NintendoSwitch in early 2020!

On Switch, ZAT comes with everything previously released on consoles AND brand new features including 2-4 player local wireless play, and Switch friend invites! For more on ZAT, visit https://t.co/XPUb9Yx4W3 pic.twitter.com/E3HBKa6UGe — Zombie Army 4: Dead War (@zombiearmy) December 17, 2019
Die Zombie Army Trilogie soll im Jahr 2020 starten, gerade rechtzeitig für die Veröffentlichung von Zombie Army 4: Dead War, die am 4. Februar erscheinen soll.
Für diejenigen unter Ihnen, die es nicht wissen: Dead War spielt im Europa der 1940er Jahre. Der Zombie-Hitler war bereits besiegt und in die Hölle geworfen worden. Die Toten stehen jedoch immer noch mit einem viel stärkeren Hunger als zuvor auf.
---
---
Zombie Army 4 Dead War bietet eine neue schockierende Kampagne, einen größeren und bösartigeren Hordenmodus, preisgekröntes Gameplay, verbesserte Killcams und Zerstückelung, eine tiefgreifende Weiterentwicklung und Anpassung, Killer-Nahkampf, epische Waffen und monströse Massen, wie auf ihrer Website aufgeführt,
Wenn du den Zombie Army 4 Dead War noch nicht gesehen hast, schau dir den Trailer unten an:
Die Zombie-Armee-Trilogie für den Nintendo Switch soll irgendwann im Jahr 2020 erscheinen. Zombie Army 4: Dead War wird am 4. Februar 2020 für PC, PlayStation 4 und Xbox One veröffentlicht.