Trials of Mana Free Demo jetzt live testen!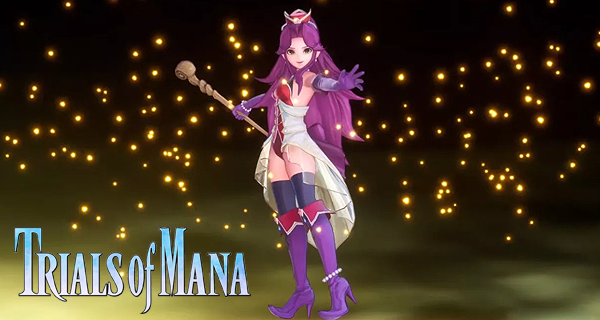 Square Enix's Trials of Mana, das 3D-Remake des RPG-Klassikers Seiken Densetsu 3 von 1995, veröffentlicht seine kostenlose Demo vor dem vollständigen Start des Spiels.
---
---
Die kostenlose Demo für Trials of Mana ist vom 18. März 2020 bis zum 27. Mai 2020 erhältlich, und das Beste daran ist, dass Ihre gespeicherten Spieldaten aus der Demo in die Vollversion des Spiels übertragen werden können.
Sie werden nichts verpassen, da die Demo dort beginnt, wo das Hauptspiel beginnt, nämlich zu Beginn der Reise der Hauptfigur. Während der Demo werden die Spieler auf Begleiter treffen und gegen den mächtigen Boss, Fullmetal Haggar, antreten.
Sie können den Beginn der Reise aller sechs Helden entdecken, indem Sie verschiedene Gruppenkombinationen ausprobieren. Die Geschichte wird sich unterschiedlich abspielen, je nachdem, für welche Gruppenkombinationen Sie sich letztendlich entscheiden.
Mana selbst bietet viele Verbesserungen gegenüber dem Original, einschließlich grafischer Verbesserungen, Unterstützung für die Stimme der Charaktere, eine neue Klasse mit einem neuen Charakter-Levelingsystem und eine neue Episode, die nach dem Ende verfügbar ist.
Das Spiel spielt in einer hochgradig fantasievollen Welt und folgt Helden, die versuchen, das legendäre Mana-Schwert zu beanspruchen und die Benevodens, Monster der Zerstörung, daran zu hindern, entfesselt zu werden und die Welt zu zerstören.
Erstellen Sie verschiedene Charaktertypen, genießen Sie das überarbeitete Charakterwachstum und spielen Sie eine völlig neue vierte Klasse. Bauen Sie die gewünschte Gruppe auf und stürzen Sie sich in das aufregende Kampfsystem.
Die Trials of Mana werden am 24. April 2020 für PC, Nintendo Switch und PlayStation 4 veröffentlicht. Wenn Sie das Spiel vor dem Kauf erwerben, erhalten Sie den Rabite Adornment DLC und das spezielle herunterladbare Trials of Mana-Hintergrundbild.