Total War Warhammer 2 Rise of the Tomb Kings Legendäre Lords
---
Zusätzliche wurden zwei Total War Warhammer 2 Rise of the Tomb King Legendäre Lords zum Spiel hinzugefügt, wodurch es jetzt insgesamt vier Legendäre Lords im Spiel sind. Jeder ist einzigartig und hat "seine Fähigkeiten, Charakterzüge, Quests-Chains, legendäre Kriegsausrüstung und situative Herausforderungen".
Die beiden Lords, die mit den Rise of the Tomb Kings kommen, sind Settra The Unperfable und High Queen Khalida. Außerdem werden den Spielern Grand Hierophant Khatep und Arkhan The Black vorgestellt.
---
---
Settra The Imperishable
Settra ist der höchste Rang aller Grabkönige. Er ist ein unsterblicher, rücksichtsloser Anführer und hat einen unstillbaren Durst nach Eroberung. Er hat einen unnachgiebigen Willen, der so stark ist, dass er nicht zu seinem Sarkophag zurückkehren muss, um sich auszuruhen. Die Zivilisationen fürchten sich vor seinem Zorn.
Er hat die Fähigkeit, die Bauzeit zu reduzieren und kann dem Wachstum und der öffentlichen Ordnung Boni hinzufügen. Zusätzliche Bonusrüstung erhalten auch Skeleton Chariot und Tomb Guard Einheiten. Dieser Herr hat eine ganze Reihe von freischaltbaren Reittieren, zu denen die Khmerische Kriegsphinx und der Streitwagen der Götter gehören, der mit dem Flammenkranz geschmückt ist.
---
High Queen Khalida
High Queen Khalida ist die Kriegerkönigin von Lybaras. Sie ist bekannt durch ihre Tapferkeit, Ehre und Intelligenz. Eine Tragödie hat sie getroffen, als ihre Cousine Neferata versuchte, das Elixier des Lebens zu kreieren und einen fehlerhaften Trank mischte. Dies machte Königin Khalida zu einem Vampir und damit ist sie der erste Vampir überhaupt. Sie tötet ihre Cousine, gibt ihr aber den Blutkuss, während ihr Leben aus ihrem Körper ausgelaugt wird, ruft sie der Schlangengöttin Asaph zu. Asaph reinigte sie und ist jetzt die Auserwählte der Göttin. Sie hat auch das göttliche Gift in ihren Adern.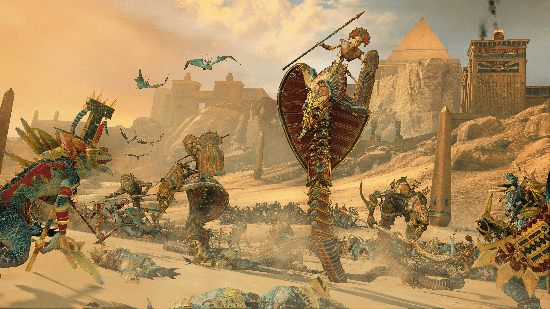 Khalida hasst alle Arten von Korruption und reduziert alle Formen von Korruption. Sie gibt den anderen Fraktionen der Gruftkönige Boni für diplomatische Beziehungen. Sie bietet den Distanzeinheiten ihrer Fraktion auch eine Bonusmunition an. Sie kann ihren Einheiten auch Giftangriffe geben.
Zusätzlich zu diesen beiden Lords gibt es noch zwei sehr wichtige Charaktere für diese Fraktion. Einer wäre der höchste der Lichen Priester und der andere ist ein Leutnant.
---
Grand Hierophant Khatep
Grand Hierophant Khatep ist als der älteste und weiseste aller Priester bekannt. Er stammt aus dem Mortuary Cult und ist der Leiter des Hierophantic Council. Er ist derjenige, der Settra als Untoter erweckt hat, aber wegen seines Misstrauens gegen den Totenkult-Kult immer noch von Settra ins Exil geschickt wurde. Khateps Rolle besteht nun darin, den Gruftkönigen auf jede erdenkliche Weise zu helfen, während er durch das Land der Toten zieht.
Khatep bietet die Dynastie-Forschungsraten-Boni, sowie Verbesserungen in der Nachschubversorgung und der Armee-Bewegung. Er hat die Möglichkeit, mehr Liche-Priester-Helden anzurufen und sie auf einen höheren Rang zu bringen.
---
Akham The Black
Akham The Black war eigentlich der Oberleutnant von Nagash. Er führt viele Armeen gegen die Feinde von Nagash. Er starb mit einem selbstmörderischen Gegenangriff, der zur Flucht von Nagash führte. Er wurde wieder zum Leben erweckt, um der Liche King zu sein.
Er bietet zusätzliche diplomatische Beziehungen zu den Fraktionen der Vampirfürsten an. Er ist gut auf der Hut in seiner Region, wo er dafür sorgt, dass sie niemals von der Korruption der Vampiren bedroht werden. Boni für Nahkampfangriffe und Verteidigung werden den Helden in seiner Armee gegeben und alle von ihnen erhalten Verstärkung für ihre Winde der magischen Kraftwiederaufnahme.
Das sind die Lords. Was denkst du über diese mächtigen Wesen? Total War Warhammer 2 Rise of the Tomb Kings wird am 23. Februar 2018 für den PC verfügbar sein.
---
Welchen der Lords bevorzugst du? Lass es uns in einem Kommentar unten erkennen.
---