Total War Warhammer 2 Mortal Empire Details angekündigt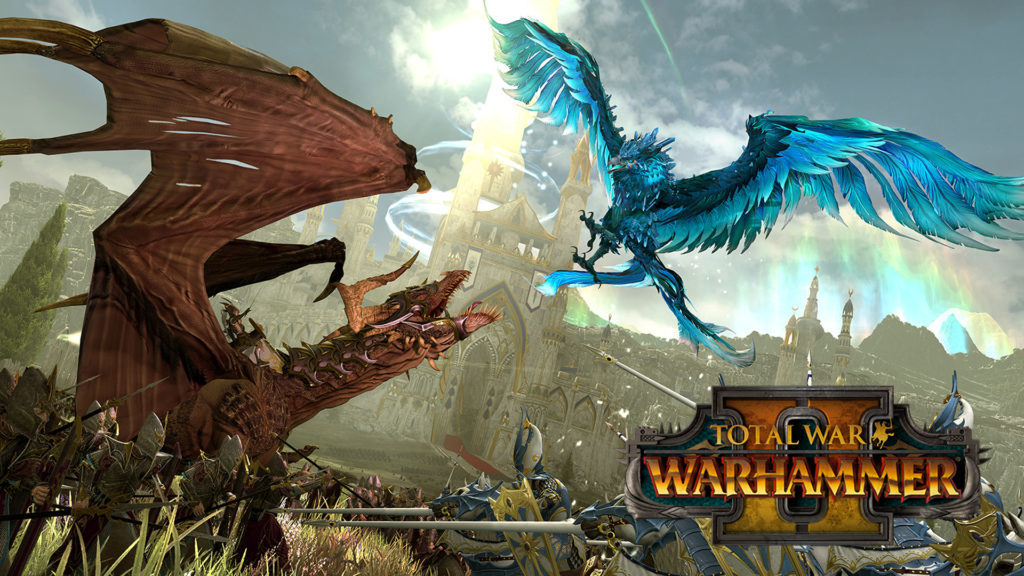 ---
Creative Assembly hat mehr Details über die bevorstehende Total War Warhammer 2 Mortal Empire DLC enthüllt. Dieser DLC ist frei für alle Spieler, die eine Kopie von Total War Warhammer oder Total War Warhammer 2 besitzen.
---
---
Was bringt dieser kostenlose DLC mit sich ? Zuerst wird das Mortal Empire den Spielern Zugang zu seiner Kampagne geben, welcher die Territorien von Total War Warhammer und Total War Warhammer 2 enthält. Dies ist gleichbedeutend mit The Old World (Total War Warhammer) und Eye of the Vortex (Total War Warhammer 2).
Dieser DLC wird auch 15 verschiedene Fraktionen beinhalten, die alle spielbar sind.
In einem Blogpost erklärte Creative Assembly die Karte weiter:
"Mortal Empires liegt neben der Alten Welt und dem Eye of the Vortex als eine epische Fantasy-Strategie-Erfahrung, eine spielbare Kampagne in seinem eigenen Recht, auf das durch das Warhammer-II-Menü zugegriffen wird. Wir werden das ikonische Territorium der Alten Welt nehmen, das du bereits  aus dem ersten Spiel kennst und sich nach Westen ausdehnt,  auf die wichtigsten Gebieten von Lustria, den Southlands, Naggaroth und Ulthuan, um das Spielfeld massiv zu erweitern. Es ist kein gerader Stich-'n'-fit Job, und es kann nicht sein – dass die alte Welt und die Eye of the Vortex-Kampagnenkarten dafür entworfen wurden, um eigenständig zu sein; es sind  verschiedene Formen und passen nicht zusammen. Es ist auch keine Vortex-Story-Mechanik: Das ist die reine Eroberung, mit all den spielbaren Rassen und Fraktionen, die wir bisher freigegeben haben (plus einer Tonne kontrollierter AI ), die um die Dominanz über die Kontinente wetteifern. "
Total War Warhammer wird als Trilogie veröffentlicht werden, diejenigen, die auch das dritte Spiel kaufen, werden eine weitere kostenlose Kampagne, sehr ähnlich wie Mortal Empire erhalten. Creative Assembly hat seine Pläne unten aufgeführt: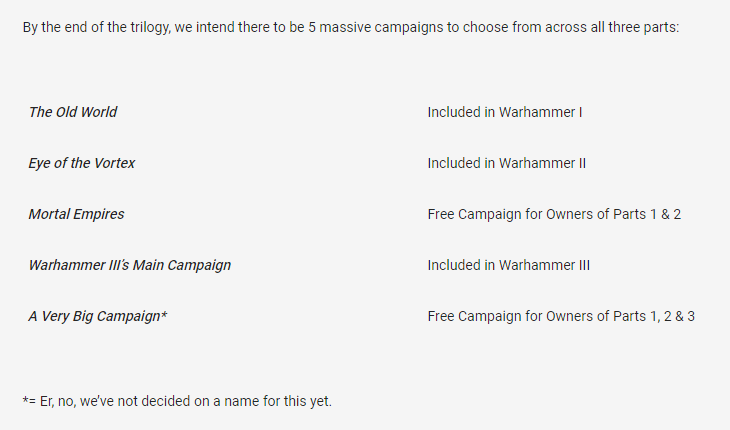 Hier findest du weitere Details zu Total War Warhammer 2 Mortal Empires.
---