Top-Spieleveröffentlichungen für Mai 2020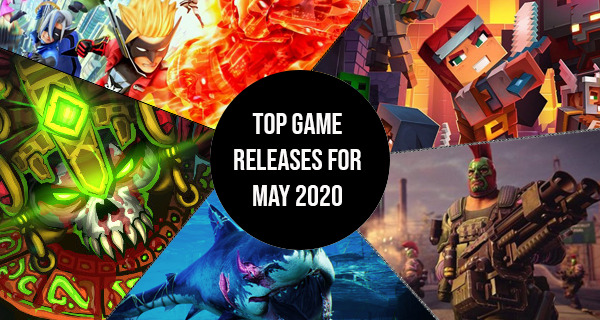 Die vergangenen Monate waren ungünstig für die ganze Welt, und erst kürzlich auch für die Glücksspielwelt wegen des neuartigen Coronavirus-Ausbruchs. Den Menschen wird empfohlen, sich selbst zu isolieren und zu Hause zu bleiben, damit sich das Virus nicht ausbreiten kann. Aus diesem Grund haben sich viele Unternehmen für eine Arbeit von zu Hause aus entschieden, was nicht wirklich optimal ist und nur einen Teil der Arbeit erledigen kann.
Aufgrund des Virus haben wir nur einige wenige Top-Spieleveröffentlichungen für Mai 2020, da einige der Spiele auf einen späteren Zeitpunkt verschoben wurden. Diesen Monat kommen ein schurkischer Action-Platformer, zwei neu gemasterte Action-Abenteuer, ein Action-RPG und ein Dungeon-Crawler auf Sie zu!
---
Top Spieleveröffentlichungen für Mai 2020
---
FURY UNLEASHED | MAI 8
Nach fünf Jahren der Entwicklung wird diese Mischung aus modernen Schurken-Plattformwerkzeugen und Plattformwerk-Shootern der alten Schule von Awesome Games Studio die Spieler die Seiten eines lebenden Comics erforschen lassen. Finden Sie heraus, warum der Autor John Kowalsky eine Kreativitätskrise hat, und helfen Sie ihm, sie zu bewältigen.
Es werden zwei Modi angeboten – Leicht und Schwer. Spielen Sie allein oder mit einem Freund in einer lokalen Kooperative. Passen Sie sowohl Ihr Aussehen als auch die Fähigkeiten Ihres Helden an Ihren bevorzugten Spielstil an. Überwinden Sie alle 40 Bosse, während der epische Soundtrack von Adam Skorupa und Krzysztof Wierzynkiewkz im Hintergrund spielt.
---
THE WONDERFUL 101 REMASTERED | MAI 19
Schützen Sie als Teil der Wunderbaren die Erde vor den skrupellosen außerirdischen Eindringlingen. Das Originalspiel, das vor sieben Jahren für die Nintendo Wii U veröffentlicht wurde, und die neu gemasterte Version wird über Steam auf den Nintendo Switch, die PlayStation 4 und den PC kommen.
Die Spieler können in dieser remasterten Version weitere erstaunliche Extras erwarten. Geben Sie also Ihr Bestes, um Blossom City vor all den außerirdischen Bedrohungen zu retten.
---
MANEATER | MAI 22
Das Action-Rollenspiel Maneater wird sich am 22. Mai 2020 auf den PC, die PlayStation 4 und die Xbox One beißen. Erleben Sie, wie es ist, eines der furchterregendsten Raubtiere der Ozeane zu sein – der Hai! Sie beginnen als wehrloses Haiwelpen, das versucht, die raue Welt zu überleben, und wachsen dann zu dem furchterregenden Raubtier heran, das Sie sind. Ihre Feinde werden von Wildtieren bis hin zu Menschen variieren. Dies könnte sehr wohl das beste Hai-Spiel sein, das es gibt.
---
SAINTS ROW THE THIRD REMASTERED | MAI 22
Die zweite große Neuerung in unserer Liste, die im Mai dieses Jahres eintrifft, ist die dritte Reihe, die jetzt besser aussieht als je zuvor! Dies ist die Zeit, in der die Third Street Saints auf dem Höhepunkt ihrer Macht sind. Sie stehen Ihnen ebenso zur Verfügung wie die Stadt. Ihre Regeln werden befolgt werden.
Das Spiel ist für PC, PlayStation 4 und Xbox One erhältlich und wird mit allen drei Mission Packs und mehr als 30 DLC-Gegenständen geliefert.
---
MINECRAFT DUNGEONS | MAI 26
Dies ist ein Spiel, auf das die Fans des ersten Spiels sicherlich warten! Obwohl es sich um ein völlig anderes Spiel handelt, ist Minecraft Dungeons immer noch im Minecraft-Universum angesiedelt, aber jetzt mit einer Crawling-Mechanik für Dungeons. Dieses brandneue Action-Abenteuerspiel wird für den PC, PlayStation 4, Xbox One, Nintendo Switch und Xbox Game Pass erhältlich sein.
Die Spieler werden die Wahl haben, allein oder zusammen mit bis zu drei anderen Freunden in einer Online- oder Couch-Kooperation in die Dungeons zu gehen. Es gibt epische Quests und eine Menge Schätze pro Level zu sammeln! Ihr Ziel ist es, den bösen Erz-Illager zu besiegen und die Dorfbewohner zu retten.
Dies sind unsere Top-Spieleveröffentlichungen für Mai 2020! Die Liste der Spiele mag in diesem Monat nur wenige sein, aber wir drücken die Daumen, dass in den kommenden Monaten noch mehr verfügbar sein werden. Bleiben Sie sicher, bleiben Sie gesund und waschen Sie sich die Hände.