TOP DEAL Total War Rome 2: Wrath of Sparta ON FOCUS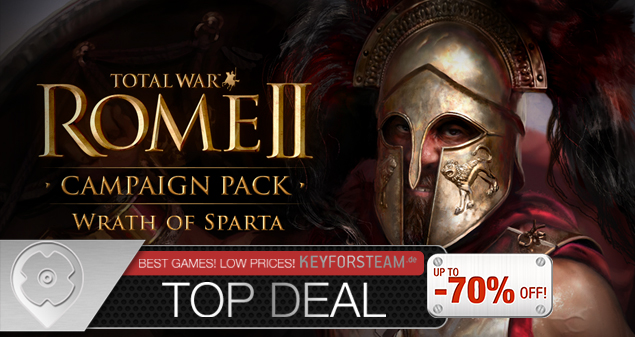 Wrath of Sparta ist die aktuelle Download-Erweiterung des großen Strategiespiels Total War: Rome 2.
ROME II Wrath of Sparta Preisvergleich
Sega und Creative Assembly lassen den Spieler in eine  Welt eintauchen, die zu Beginn des peloponnesischen Krieges im Jahre 432 vor Christus spielt. Zum Thema wird damit die bislang zeitlich früheste Epoche im Total-War-Universum.
In Total War: Rome 2 – Wrath of Sparta treten die Krieger Spartas im offenen Kampf gegen die Athener an. Grund hierfür ist eine Intrige der Korinther und Böotier. Ebenfalls involviert ist das persische Reich, das auf der anderen Seite der Ägäis lauert, während die Stadtstaaten um ihre Heimatländer streiten.
Inhaltlich glänzt die neueste Erweiterung mit einer detaillierten und authentisch gestalteten Kampagnen-Karte des antiken Griechenlands, der griechischen Inseln und der ionischen Küste. Außerdem warten einige Weltwunder, legendäre griechische Helden und Aspekte der griechischen Kultur, darunter Sportwettkämpfe und Feste auf die Spieler. All dies sorgt für eine viel dichtere Spielatmosphäre.
Features:
Die  Kampagnenkarte Spartas ist eine lebendige und detaillierte Darstellung der griechischen Welt  432 vor Christus; mit 22 Provinzen in 78 Regionen. Die Karte bringt 12 griechische Bauwunder ans Licht, darunter die Ruinen von Troja, den Tempel des Zeus und die Königsgräber von Makedon.
Vier spielbare Fraktionen
Athen (Athenai), Korinth (Korinth), Sparta und Böotien sind  in Wrath of Sparta spielbar, wobei  jede seine eigenen Herausforderungen und geographischen Ausgangspunkte mit sich bringt. Darüber hinaus erscheinen berühmte Generäle und Staatsmänner der Geschichte, wie der spartanische General Lysander und Würdenträger der Athener Sokrates.
Panhellenische Spiele und Festlichkeiten
Die Griechen der Antike sind bekannt für ihre Begeisterung was Olympische Wettkämpfe angeht. Bei jedem dieser Ereignisse fällt der Spieler eine Reihe von Entscheidungen. Möchten er einen Athleten oder einen Rivalen unterstützen, einen Boten entsenden oder einfach gar nichts tun? Jede Wahl kann zu Erfolg oder Misserfolg führen.
Ebenso feierten die alten Griechen im jährlich zahlreiche religiöse Feste, die im Spiel jeweils eigene Kampagnenboni und Vorteile einbringen und die Epoche zum Leben erwecken.
Der Zorn Spartas bietet völlig neue Technologieketten. Ob militärische, seemännische oder zivile Errungenschaften – Alle spiegeln den Zeitgeist der Antike wieder. Sechs Technologiezweige ermöglichen dem Spieler, die Disziplinen Militär, Seefahrerei, Unterstützungstechnologie, Philosophie, Ästhetik und Mathematik weiterzuentwickeln.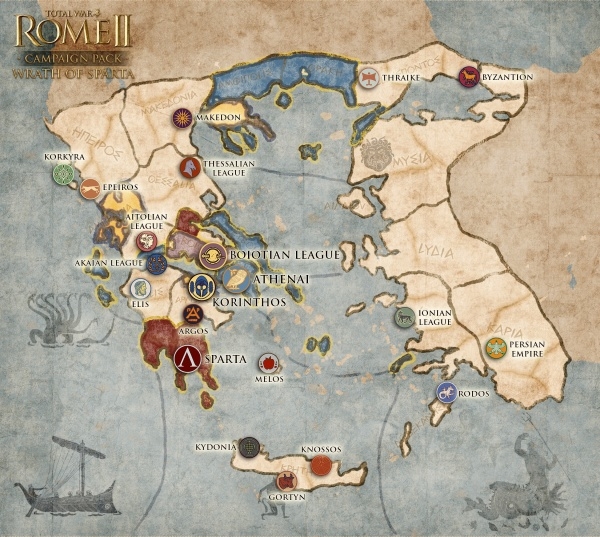 Das Reich der Perser liegt am östlichen Rand der Kampagnenkarte und verhält sich weitgehend passiv gegenüber griechischen Angelegenheiten. Erhebt sich jedoch einer der griechischen Staaten im Bestreben, die anderen zu beherrschen, verstärken die Perser nach und nach ihr militärisches Engagement, um den Eindringling zu bestrafen.
---