TOP DEAL Sherlock Holmes: Crimes and Punishments ON FOCUS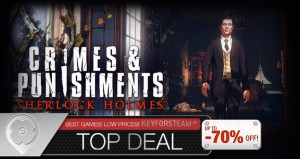 Schlüpft in die Rolle des größten Detektivs aller Zeiten: Sherlock Holmes!
---
[sws_button class="" size="sws_btn_small" align="sws_btn_align_center" href="https://www.keyforsteam.de/sherlock-holmes-crimes-and-punishments-key-kaufen-preisvergleich/" target="_blank" label="SHERLOCK HOLMES CRIMES & PUNISHMENTS" template="sws_btn_default" textcolor="fffcfc" bgcolor="a30505″ bgcolorhover="a30505″ glow="sws_btn_glow"] [/sws_button]
Frogwares und Focus Home Interactive bringen ab dem 30.09.2014 das neue Krimi-Adventure Sherlock Holmes: Crimes and Punishments für PC, Xbox 360, Xbox One, PlayStation 3 und die PlayStation 4 auf den Markt.
Schlüpft in die Rolle  des britischen Kultermittlers Sherlock Holmes und klärt mit Hilfe eures treuen Freundes und Partner Dr. Watson sieben verschiedene Verbrechen auf. Ob  vermisste Personen, spektakuläre Diebstähle und kaltblütige Morde – Ihr kommt den Tätern auf die Spur…
Seid Detektive, die im Verlauf der Ermittlungen Zeugen und Verdächtige befragen, Hinweisen nachgehen und schließlich den oder die Täter entlarven. Dabei stehen euch 14 Vernehmungstechniken, die euch die Rolle von Sherlock Holmes noch näher bringen. Am Ende gilt es über Schuld oder Unschuld des Verdächtigen zu entscheiden, immer mit dem Wissen, dass man auch irrtümlich unschuldige Menschen hinter Gitter bringen kann.
In einem noch realistischeren London habt ihr ein Höchstmaß an Freiheit, um unparteiisch für Recht und Ordnung zu sorgen oder  eurem Moralempfinden nachzugehen. Jede getroffenen Entscheidung hat dabei Auswirkungen auf euer Ansehen und den Charakter.
Der Wechsel von der eigenen In-House-Engine zur Unreal Engine 3 lässt die Umgebung und Charaktere deutlich detaillierter erscheinen und Schatteneffekte, die flüssigere Animation, sowie die dynamische Beleuchtung profitieren davon. Im Gegensatz zu früheren Sherlock Holmes-Abenteuern folgt ihr dem Meisterdetektiv nicht mehr nur bei seinen Ermittlungen –  In Crimes and Punishments übernehmt ihr die Rolle von Sherlock Holmes!
Systemvoraussetzungen
Minimum: OS: WINDOWS VISTA SP2/WINDOWS 7/WINDOWS 8 Processor: AMD/INTEL DUAL-CORE 2.4 GHZ Memory: 2048 MB RAM Graphics: 256 MB 100% DIRECTX 9 KOMPATIBLE AMD RADEON HD 3850/NVIDIA GEFORCE 8600 GTS ODER HOHER DirectX: Version 9.0c Hard Drive: 14 GB available space Sound Card: DIRECTX 9 KOMPATIBLE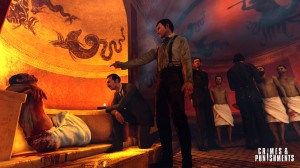 ---