TOP DEAL Lara Croft und der Tempel des Osiris ON FOCUS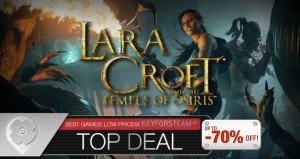 Release: 9. Dezember 2014
PC, PS4, XboxOne
Das actiongeladene LARA CROFT und der Tempel des Osiris Game ist der Nachfolger des von Kritikern gefeierten LARA CROFT AND THE GUARDIAN OF LIGHT. Das Besondere daran ist, dass es das erste Koop-Abenteuer für bis zu vier Spieler mit Lara Croft ist.
Bewältige mit deinen Freunden ein gemeinsames Abenteuer vor atemberaubender Kulisse, schalte die Gegner der ägyptischen Unterwelt aus und erkunde den Tempel. Dabei müsst ihr kniffelige Rätsel lösen und tödliche Fallen überwinden.
Erobere allein oder gemeinsam die wertvollsten Schätze und die mächtigsten Artefakte.
Es verschlägt euch tief in die Wüste Ägyptens. Dort muss sich Lara Croft mit ihrem Rivalen dem Schatzjäger Carter Bell und den in Gefangenschaft gehaltenen Göttern Horus und Isis zusammenschließen, um Seth die böse Gottheit zu besiegen.
Dafür müsst ihr hindurch du alte Grabanlagen und euch legendären Göttern, mystischen Kreaturen und den Elementen der Wüste stellen. Nur dadurch kann die Menschheit vor der Versklavung gerettet und Seth aufgehalten werden.
Klassische Arcade-Action
Das erste Mal, dass Lara Croft allein oder im 4-Spieler Koop-Modus spielbar ist. Lasse deine Freunde Carter, Isis und Horus spielen, während du die Gruppe als Lara Croft steuerst.
Kompetitiver Koop-Modus
Spiele mit und gegen deine Freunde. Es geht um Belohnungen, Charakter-Verbesserungen, mächtige, mystische Artefakte, wertvolle Schätze und vieles mehr.
Nahtloses Drop-In/Drop-Out
Spiele online mit bis zu drei Freunden lokal oder online und steige nahtlos in das Spiel ein oder aus. Das Spiel wird automatisch an die jeweilige Spieleranzahl angepasst.
Minimale Systemanforderungen:
CPU: 2.0 GHz High-end Dual Core
RAM: 4 GB RAM
DirectX: 11
Grafikkarte: AMD Radeon HD 6000 Reihe / NVidia GeForce 500 Reihe
Empfohlene Systemanforderungen:
CPU: Quad Core: AMD Phenom II X4 955 / Intel Core i5-750
RAM: 8 GB RAM
DirectX: 11
Grafikkarte: AMD Radeon HD R7/ NVidia GTX 650
---
[sws_button class="" size="sws_btn_small" align="sws_btn_align_center" href="https://www.keyforsteam.de/lara-croft-and-the-temple-of-osiris-key-kaufen-preisvergleich/" target="_blank" label="Lara Croft und der Tempel des Osiris" template="sws_btn_default" textcolor="f7f7f7″ bgcolor="911212″ bgcolorhover="911212″ glow="sws_btn_glow"] [/sws_button]