Top Deal Dark Souls 2 on Focus by Keyforsteam

  Das Spiel vom Tod! Emotionen pur, dieses Spiel ist nur was für Hardcore-Gamer!
---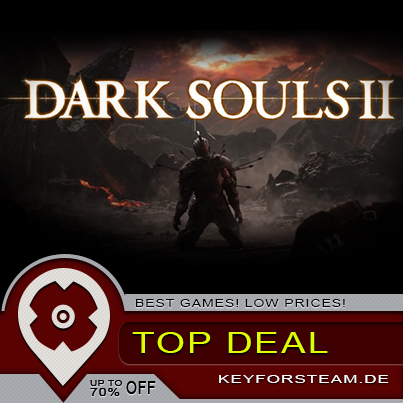 DARK SOULS II
Steam Key (RU) 18,99 €
Steam Key (region free) 19,99 €
Dark Souls Offizielle Webseite
---

PREPARE TO DIE … AGAIN
PREPARE TO DIE… AGAIN – Fordere Dich selbst in einer rießigen Welt zu einem intensiven Gameplay heraus – angetrieben von einem Motor der alle neuen Grafik, Sound und Effekte übertrifft.
A LABYRINTH OF MONSTERS AND BOSSES – Mind-Bending Umgebungen mit tödlichen Monsern und neuen Bossen gefüllt.
SENSORY ASSAULT – Menschliche Sinne, wie Phobien und Haluzinationen und Schwindel, welche von einer Vielzahl von Bedrohungen abhängen.
DEEPER AND DARKER – Erfahrene Optionen für die Anpassung von Waffen und Rüstungen.
EVOLVED MULTIPLAYER – Online-Interaktionen wurden aktualisiert und mit Multiplayer-Systemen verbessert.
GO BEYOND EARTH – Mit Fluid-Motion-Capture-Animationen, verbesserten Kampfsystem, eine stark erweiterete Palette von Zeichen, tiefere Anpassungsoptionen, neuer Waffen, Rüstüngen und Fähigkeiten und einem ausgewogenen Spielefortschritt System.