TOP DEAL Borderlands The Pre-Sequel ON FOCUS
Der ultimative Blödel-Action-Shooter
Wenn ihr die Borderlands-Reihe kennt, dann wisst ihr genau, was auf euch zukommt. Auch der neuste Teil : The Pre-Sequel ist überdreht und abgefahren und steht seinen durch blödsinnige Ballerei und sammelwut und völlig abgefahrene Kreativität in nichts nach. "Nur" das wir uns auf dem Mond befinden – ist neu.
Gearbox Software und Studio 2K Australia sind für dieses Abenteuer gemeinsam verantwortlich und es ist erstaunlich, was die sich alles an Beklopptheiten einfallen lassen, um noch "einen drauf" zu legen.
Hier trifft Ego-Shooter gemischt mit Rollenspiel auf abgedrehten Humor gepaart mit Comic Grafik. Abgefahren!
[sws_button class="" size="sws_btn_small" align="sws_btn_align_center" href="https://www.keyforsteam.de/borderlands-the-pre-sequel-key-kaufen-preisvergleich/" target="_blank" label="BORDERLANDS THE PRE-SEQUEL" template="sws_btn_default" textcolor="999999″ bgcolor="##C33C27″ bgcolorhover="##C33C27″ glow="sws_btn_glow"] [/sws_button]
Schon in den ersten "Borderlands"-Teilen gibt's Millionen von Waffen, die zufällig aus Versatzstücken zusammengesetzt und deren Werte ausgewürfelt werden. In "The Pre-Sequel" sind es dank Modellen mit Laser- und Gefrierstrahlen noch mehr.
Die Story, falls es eine gibt füllt die 5 Jahres Lücke zwischen den ersten beiden Teilen und es geht weg von der bekannten Spielwelt auf Pandoras Mond Elpis und die darüber schwebende Raumstation Helios.
Sind wir in unserer Rolle gut oder böse? Es ist echt verwirrend, die die in Teil 2 die Bösen waren, sind nun irgendwie die Guten. Ach ja, wir befinden uns in der Story ja vor Teil 2 und erfahren, wie aus netten Typen Gauner werden.
Ob Allein oder im Koop Team (bis 4 Personen) schlüpfen in die Haut von vier Typen, die Jack den Thron verpassen wollen. Dabei natürlich ganz individuell mit eigenen Fähigkeiten und Talentbäumen.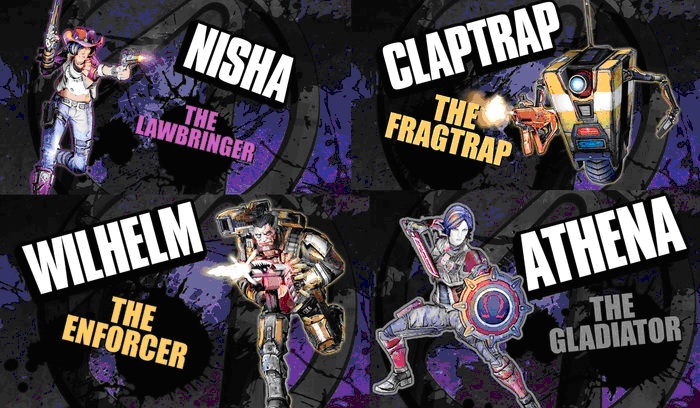 Typen/ Charaktere 
Gladiatorin Athena besitzt einen Energie-Schild, der Feindesfeuer sammelt und mit doppelter Wucht auf einen Gegner zurückwirft.
Der starke Enforcer Wilhelm mit seinem Robo-Arm. Er kann sich eine bewaffnete Flugdrohne zur Unterstützung herbei rufen. D
Frau Sheriff Lawbringer Nisha kann kurzzeitig automatisch Gegner ins Visier nehmen und hat zudem eine Peitsche zum Austeilen.
Claptrap der kleine plappernde Roboter. Er ist der Allrounder – analysiert auf Knopfdruck die Situation (Gegner und Team), errechnet den geeignetsten Borderlans Charakter und imitiert kurzfristig dessen Fähigkeiten. Er kann auch per Zufallsgenerator Skills und Boni wählen und man kann gespannt sein, was einen erwartet.
Spielerisch erwartet uns typisch Borderlands …Bescheuerte Missionen und total verrückte Aufgaben, die uns kreuz und quer über den Mond und ab und zu auch mal darüber führen. In die Raumstation, die noch immer über uns schwebt.
Lasst uns durchdrehen und mit hunderten von Waffen oder Waffenähnlichem losballern und nebenbei noch für Jack eine Sendeanlage übernehmen oder für Lady Spring ein Kinderbuch finden…. Oje 😉
Systemvoraussetzungen
Minimum
OS: Windows XP SP3
Processor: 2.4 GHz Dual Core Processor
Memory: 2048 MB RAM
Graphics: NVIDIA GeForce 8500 / ATI Radeon HD 2600
DirectX: Version 9.0
Hard Drive: 13 GB available space
Sound Card: DirectX 9 Compliant
Empfohlen
OS: Windows XP SP3/Vista/Win 7/Win 8
Processor: 2.3 GHz Quad Core processor
Memory: 2048 MB RAM
Graphics: NVIDIA GeForce GTX 560 / ATI Radeon HD 5850
DirectX: Version 10
Hard Drive: 20 GB available space
Sound Card: DirectX 9.0 c Compliant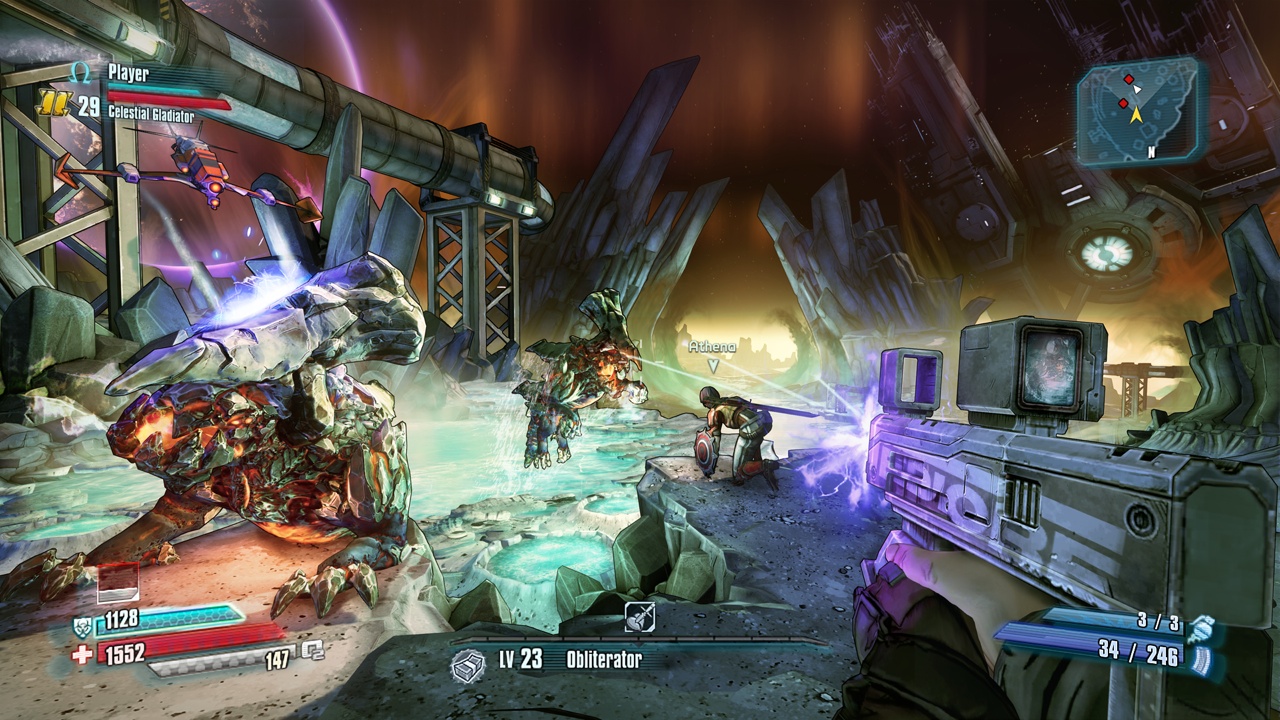 ---