Top 10 Strategiespiele 2018 für den PC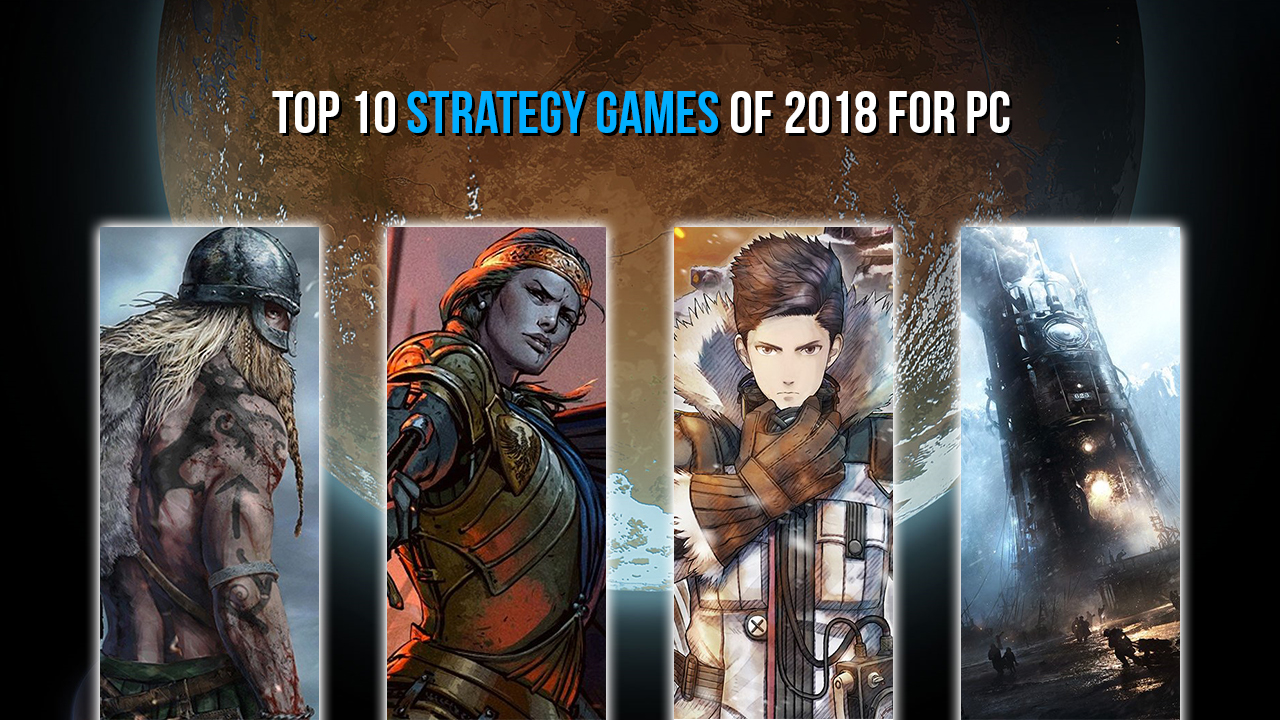 ---
Wenn es ein Genre gibt, dass auf dem PC mehr zu Hause ist als auf jeder anderen Plattform, wären dies  die Strategiespiele. Wahrscheinlich liegt es daran, dass nichts an die guten alten Maus- und Tastaturkombinationen rankommt, wenn es um das Platzieren von Gebäuden und das Navigieren in komplexen Menüs geht. Im letzten Jahr gab es viele Veröffentlichungen für das Genre, die deine Interesse wecken könnten, falls du plötzlich Lust hast, die Kontrolle zu übernehmen. Deshalb haben wir die 10 besten Strategiespiele des Jahres 2018 für den PC aufgelistet. Jedes dieser Spiele ist eine würdige Ergänzung deiner Bibliothek, wenn du nach etwas Verwaltbarkeit suchst.
---
10 Besten PC Strategiespiele 2018
RimWorld
Steam
29,00€
-14%
24,98€
Into the Breach
Steam
14,00€
-71%
4,08€
Frostpunk
Steam
29,00€
-80%
5,77€
Valkyria Chronicles 4 Xbox One
Steam
—
15,63€
The Banner Saga 3
Steam
24,00€
-57%
10,29€
Beholder 2
Steam
14,00€
-83%
2,35€
Mutant Year Zero Road to Eden
Steam
17,00€
-67%
5,60€
BattleTech
Steam
39,00€
-92%
3,09€
Ancestors Legacy
Steam
29,00€
-92%
2,36€
Thronebreaker The Witcher Tales
Steam
19,00€
-32%
13,00€
---
---
---
RimWorld fordert Spieler auf, eine weltweite Kolonie zu bauen, die mit nur drei Überlebenden beginnt. RimWorld ist jedoch mehr als nur eine Verwaltungssimulation, es ist ein Story-Generator. Das Spiel lässt dich denken, du hättest die Kontrolle über deine Kolonisten, aber die Wahrheit ist, dass die Kontrolle nur oberflächlich ist. Jeder Kolonist ist fehlerhaft, und es sind diese Fehler, aus denen kleine Kräuselungen in deinen Plänen entstehen, die bald zu Flutwellen werden, wenn du deine Traumkolonie außer Kontrolle geraten siehst. Aber diese Unberechenbarkeit erzeugt die besten Geschichten von allen.
---
---
---
Gigantische außerirdische Kreaturen bedrohen das, was von der menschlichen Zivilisation auf der Erde übrig ist. Es liegt an dir, mächtige Mechs zu befehligen, um die Invasion abzuwehren. Retro-Gamer werden die schönen Pixelgrafiken von Into the Breach zu schätzen wissen, die an GBA-Strategiespiele erinnern, aber letztendlich glänzen sie mit ihrem Kern-Gameplay. Während andere Entwickler dazu neigen, sich auf das Glockenspiel zu konzentrieren, konnte Subset Games sich auf die Grundlagen konzentrieren, was zu spaßigen Mechaniken, gut entworfenen Karten und einer Erfahrung führte, die dich immer wieder heimsuchen wird.
---
---
---
Was als Singleplayer-Story-Modus für GWENT begann, wurde bald zu einem eigenen Spiel, welches den Ruf von CD Projekt Red als führende Geschichtenerzähler unterstützte. Kartenspiele sind normalerweise nicht für ihre Geschichten bekannt, auch wenn sie über eine gut entwickelte Geschichte verfügen. Aber Thronebreaker ist kein gewöhnliches Kartenspiel. Tatsächlich ist es ein Witcher-Rollenspiel im wahrsten Sinne des Wortes. Spannende Geschichte? Prüfen! Entscheidungen mit bahnbrechenden Konsequenzen? Überprüfe das ebenfalls! Geralt von Rivia? Er ist definitiv da. Außerdem ist der Kartenspielkampf angenehm und tief genug, um Strategiefans anzulocken.
---
---
---
Die Leute in den 11-Bit-Studios, wie die herzzerreißende Managementsimulation This War of Mine beweist, sind keine Unbekannten, wenn es darum geht, Spiele über Hoffnungslosigkeit und Verzweiflung zu machen. Frostpunk sieht jedoch, dass das Indie-Team eine Stufe höher wird, da die Spieler moralische Entscheidungen treffen müssen, um das Überleben ihrer Stadt zu gewährleisten. Die Atmosphäre wird so perfekt dargestellt, dass du die Kälte spürst, während du einfach auf deinen Bildschirm schaust, selbst wenn deine Bürger langsam erfrieren.
---
---
---
Segas Echtzeit-Shooter und rundenbasierte Strategiemix für Dritte war schon immer gut, aber er hat definitiv nicht die Anerkennung erhalten, die er im Westen verdient. Ich glaube, Valkyria Chronicles 4 will das beheben. Das Spiel ging auf die gleiche Zeitachse zurück wie das Original, wählte jedoch eine andere Gruppe von Soldaten, die hervorgehoben werden sollte. Dies macht es zu einem perfekten Einstiegspunkt für neue Spieler und hält genug Nostalgie für Fans der Serie bereit. Die CANVAS Graphic Engine präsentiert die Geschichte immer noch wie ein interaktives Gemälde, und es ist definitiv ein passendes Format.
---
---
---
Stoic erschütterte die Spielewelt, als sie 2014 den ersten Eintrag ihres entscheidungsbasierten Strategiespiels veröffentlichten. Vier Jahre später sahen wir endlich ihren epischen Abschluss. Mit 40 Helden, die sich aus wiederkehrenden Favoriten und Neuankömmlingen zusammensetzten, und der bewährten Neigung, sich an Entscheidungen zu erinnern, die in früheren Spielen getroffen wurden, wussten die Spieler, dass sie sich in dem Moment, in dem sie das Spiel anfeuerten, kurz ins Herz getroffen haben. Es ist immer noch ein bisschen kurz für den Geschmack einiger Leute, aber es schließt die Serie gut ab.
---
---
---
Jeder träumt davon, die Karriereleiter hochzuklettern und eines Tages oben zu sitzen. Die Frage ist: Wie kommst du dorthin? In Beholder 2 bist du gerade dem Ministerium beigetreten und dein Ehrgeiz treibt dich dazu, dich auf den Weg zum Premierminister zu bemühen. Es gibt Entscheidungen zu treffen, Verantwortlichkeiten zu übernehmen und zwielichtige Untaten, die geheim bleiben. Wie wird dein Aufstieg nach oben stattfinden? Wirst du über andere drüber steigen, um aufzusteigen, oder verdienst du dir das Recht, zu regieren. Du entscheidest!
---
---
---
OK, OK, dieses Spiel sieht XCOM sehr ähnlich. Aber seien wir ehrlich – es gibt weit schlechtere Spiele, aus denen kopiert werden kann. The Bearded Ladies haben definitiv genug getan, um ihren Titel hervorzuheben. Erstens erfolgt die Erkundung in Echtzeit, wodurch auch das Hinzufügen von Stealth-Elementen möglich wurde. In der Praxis fühlt es sich an wie ein Rollenspiel, bei dem Feinde sichtbar sind und Schlachten in der Oberwelt stattfinden. Füge ein tolles Beutesystem hinzu. dynamische Umgebungen und das ansprechende Mutationssystem, und du hast ein Strategiespiel, dass seinen Spaßfaktor nicht so schnell verliert wie andere.
---
---
---
In einer Welt, in der das letzte Mech Commander-Spiel vor mehr als 17 Jahren herauskam, hat Battletech eine große Lücke für Mech- und Strategiefans geschlossen. Das Spiel stammt vom Serienentwickler Jordan Weisman und den Entwicklern der Shadowrun Returns-Serie. Rekrutiere  und entwickle über 30 Mechs und passe diese im MechLab an deine Strategie an. Spieler können auch online gehen, um ihre Trupps gegen Freunde und andere Spieler auszuspielen. Die Kampagne ist auch großartig und bleibt ihrem Quellmaterial treu. Es ist das nächste, dass wir gesehen haben, wie ein Spiel auf die Tischplatte kam.
---
---
---
Ancestors Legacy bringt die Echtzeitstrategie in eine historische Umgebung zurück, in der vier Nationen – Viking, Angelsächsisch, Deutsch und Slawisch – an den Hals gehen. Die Spieler können eine dieser Nationen in einer umfangreichen Kampagne auswählen, die von historischen Ereignissen inspiriert ist. Das Spiel bietet auch eine großartige taktische Erfahrung mit Faktoren wie der Nutzung von Gelände und einem tiefen Moral- und Erfahrungssystem, dass den Spielern viele Optionen und Überlegungen auf dem Schlachtfeld bietet.
---
Und das sind die Top 10 Strategiespiele des Jahres 2018 für den PC. Falls du nach deinem nächsten Strategie-Fix suchst, haben wir die besten Angebote für jedes Spiel aufgelistet, damit du sie zu den besten Preisen erhalten kannst, die du sonst nirgends finden wirst. Denke daran, du kannst uns jederzeit hier bei Keyforsteam.de besuchen, um mehr über die besten Spiele zu erfahren und die besten Spielangebote im Internet zu bekommen. Worauf wartest du noch?
---
Welches Spiel wirst du als nächstes Spielen? Oder ist dein Lieblingsspiel schon dabei? Lass es uns in einem Kommentar wissen!
---