Top 10 FPS Spiele 2018 für den PC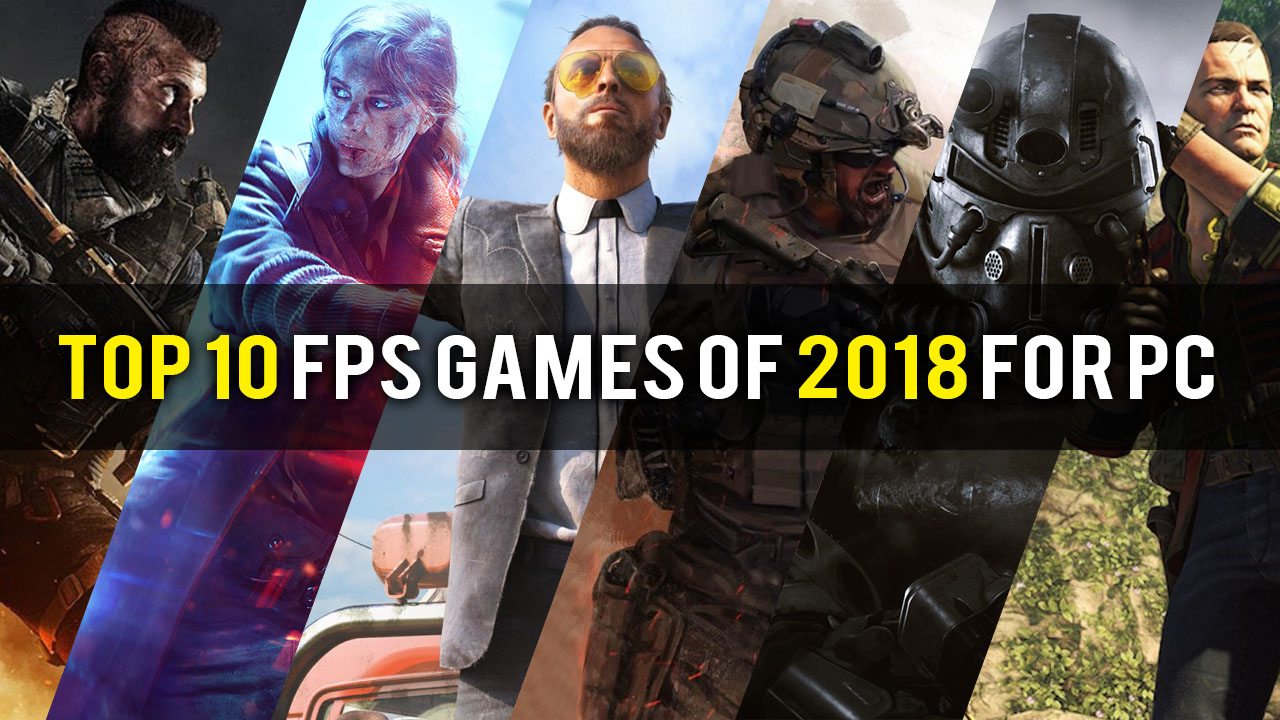 ---
Ego-Shooter sind die beliebtesten Spiele der Welt. Einige Leute mögen sagen, das ist fragwürdig, aber Tatsache ist, dass sich FPS-Spiele wie heißer Kuchen verkaufen, weshalb die meisten großen Verlage mindestens einen in ihrem Katalog haben. Bei so vielen Einsendungen, die den Markt sättigen, kann es schwierig sein, die zu wählen, die euch gefallen könnten. Deshalb haben wir hier die Top 10 FPS-Spiele des Jahres 2018 für den PC gesammelt. Lass sie uns gemeinsam ansehen.
---
Die 10 besten Ego-Shooter-Spiele des Jahres 2018 auf dem PC
---
---
---
Kein Spieler hat von der Call of Duty-Serie nichts gehört, selbst diejenigen, die sich nicht mit Shootern beschäftigen. In diesem Jahr gehen Activision und Treyarch auf einen Black Ops-Titel und haben beschlossen, die traditionelle Einzelspieler-Kampagne zugunsten eines erweiterten Zombies-Modus und eines Call of Duty-Modus auf den populären Battle-Royale-Modus zu verzichten. Das Ergebnis ist ein Eintrag, denen PUBG und Fortnite definitiv einen Preis geben werden.
---
---
---
Der nächste Shooter von EA und DICE war möglicherweise verspätet, aber es verspricht definitiv, in diesem Jahr einer der größten FPS-Titel zu sein. Dieses Mal bringt Battlefield 5 die Serie zurück in den 2. Weltkrieg, um mehr Action auf dem Boden zu haben. Es gab zwar ein paar Kontroversen über historische Ungenauigkeiten und wie sie sich für den Umgang mit Fächern entschieden haben, aber wenn ihr die Vergangenheit seht, werdet ihr ein Spiel finden, dass denen aus den langsameren Ruhetagen ähnelt.
---
---
---
Ubisofts neuestes Kult-Abenteuer ist kein kritischer Ausbruch, aber es wurde immer noch schnell zu einem der meistverkauften Spiele des Jahres. Die Spieler werden sich in Hope County, Montana, wiederfinden, wo eine Familie die Stadt unter dem Deckmantel eines Weltuntergangskults übernommen hat, während sie den Einheimischen "Erlösung" aufzwingt. Zum ersten Mal in der Serie kann fast das gesamte Spiel mit einem Freund gespielt werden. Außerdem gibt es drei dieser Weltabenteuer, die als DLC nach dem Launch angeboten werden.
---
---
---
Als Neuankömmlinge die erste Insurgency ausprobierten, stellten sie schnell fest, dass das Stürzen in die Schlacht nur einen schnellen Tod brachte. Insurgency Sandstorm verspricht, den gleichen taktischen Fokus aus dem Original zu holen, was Geschicklichkeit und Teamplay über Geschwindigkeit und Wildheit lohnt. Sandstorm bietet auch neue fahrzeugseitige Maschinengewehrfahrzeuge für noch taktischere Ansätze. Es enthält auch wettbewerbsfähige Multiplayer-Funktionen und -Tools für die Übertragung.
---
---
---
Mothergunship nimmt die besten Dinge aus dem Bullet-Hell-Genre und kombiniert sie mit einer Ego-Shooter-Präsentation, um ein Hybrid-Spiel zu bilden, dass extrem hektisch und jede Menge Spaß macht. Es ist ein tiefes und umfangreiches Handwerkssystem, mit dem die Spieler die Waffe ihrer Träume kreieren können, um auf Horden von außerirdischen Maschinen und wilden Bossen loszulassen. Holt einen Freund in die Handlung und kämpft gemeinsam für den Widerstand und das Überleben der Menschheit.
---
---
---
Nehmt die Left 4 Dead-Formel und bringt sie in einer alternativen Geschichte der 1930er Jahre nach Ägypten. Ersetzt die Zombies durch Mumien und andere Monster aus der ägyptischen Mythologie, und ihr habt die Strange Brigade. Das Spiel unterstützt bis zu 4 Spieler im Koop-Modus, es stehen jedoch mehr als 4 Charaktere zur Auswahl. Rebellion hat Anpassungsoptionen hinzugefügt, die als Belohnung für das Gameplay dienen, obwohl hier eine Beutefreigabe-Option dringend erforderlich ist. Hoffentlich sehen wir das in einem zukünftigen Patch.
---
---
---
Der jüngste Eintrag in der Fallout-Serie hat Kontroversen ausgelöst, da er sich vom Online-Multiplayer-Fokus aus dem traditionellen Singleplayer-Bereich entfernt hat. Das Spiel versetzt die Spieler in die Fußstapfen eines der Überlebenden des Titular Vault, der gerade wieder in die Welt gekommen ist. Es gibt keine NPCs, um die Geschichte zu erzählen, stattdessen werden die Spieler Aufnahmen zum Anhören finden. Jeder, den du triffst, ist ein anderer Spieler, aber das bedeutet nicht, dass er freundlich ist.
---
---
---
Mit all dem Lärm, den eine weibliche Figur in Battlefield 5 hervorgerufen hat, scheint eine große Nachfrage nach einem historisch genauen FPS aus dem 2. Weltkrieg zu bestehen. Dies ist, was sich Post-Scriptum als ein Simulationsspiel aus dem Zweiten Weltkrieg ausdrückt, bei dem der Fokus unter anderem auf historische Genauigkeit gelegt wird. Tatsächlich legt es großen Wert auf Authentizität, dass es einen realistischen Kampf, fotografische Uniformen, historische Karten im Maßstab 1: 1 und originalgetreue Nachbildung von Waffen, Fahrzeugen und Sehenswürdigkeiten bietet.
---
---
---
Overkill, die Macher der Payday-Serie, bringen ihr Know-how im Bereich der Koop-Shooter in die Welt der Untoten ein, insbesondere das The Walking Dead-Universum von Robert Kirkman. Dies ist ein Vier-Spieler-Koop-Spiel, bei dem Spieler gemeinsam verschiedene Missionen übernehmen. Wenn ihr an Left 4 Dead denkt, dann nicht! Ihr werdet hier nicht laufen und schießen, da der Lärm mehr Wanderer anzieht und ihr euch bald überfordert fühlen werdet.
---
---
---
Dies ist das einzige Spiel, dass sich noch auf der Early List befindet und sich definitiv seinen Platz verdient hat. In diesem Spiel spielst du als Kopfgeldjäger auf der Jagd nach den wilden, alptraumhaften Monstern, die die Sümpfe von Louisiana durchstreifen. Bis zu 5 Teams von 2 machen sich auf, um ein Monsterziel zu verfolgen. Sobald ein Team das Ziel besiegt, erhält es eine Prämie, die alle anderen Teams auf den Kopf stellt. Spieler haben auch eine spezielle Dark-Sight-Funktion, mit deren Hilfe sie Monster und Spieler mit Kopfgeldern aufspüren können, wodurch sie für Angriffe anfällig sind.
---
Und das sind die Top 10 FPS-Spiele des Jahres 2018 für den PC. Wählt aus diesen hervorragenden Ego-Shooter-Titeln. Wenn ihr dies getan habt, schaut euch auf der Keyforsteam.de Spieleseite um, um die besten Angebote für diese Spiele im gesamten Web zu erhalten. Viel Spaß!
---