Titanfall Review – Aus der Sicht eines Gamers
Allgemeine Infos Titanfall ist ein Military-Science-Fiction Ego-Shooter Single- und Multiplayer Spiel für den PC, Xbox 360 und die Xbox One. In Europa wurde am 11. April 2014 für die Xbox 360 veröffentlicht und für den PC und die Xbox One am 13. März 2014.
Die Spiel-Engine ist die Source Engine, die Entwickler sind Respawn Entertainment, sie wollten nicht die Frostbite Engine nehmen weil sie nicht bei Null anfangen wollten und mit der vertrauten Source Engine konnten sie sofort loslegen und den Prototypen viel schneller entwickeln.
Die Publisher sind Electronic Arts. (Kurzform= EA ) Die Altersfreigabe von Titanfall ist: USK=18 ; PEGI=16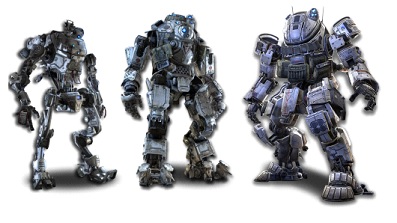 Um was geht es: In Titanfall geht es um einer fernen Zukunft wo Bodengefechte in Raumkolonien mit "Titanen" ausgetragen. Es handelt sich dabei um bemannte humanoide Mechs, sieben Meter große schwergepanzerte Kampfroboter, benannt nach den gleichnamigen mythologischen Wesen aus der altgriechischen Sagenwelt. Sie werden unbemannt und von Raumschiffen aus dem niedrigen Orbit per Abwurfkapsel auf das Schlachtfeld abgeworfen (daher der Name Titanfall).
Gameplay Titanfall ist ein sehr schnelles Spiel (Respawn Entertain gehört Vince Zampella, die vorher bei Infinity Ward mit bei der Call of Duty-Serie mitschuf, deswegen das schnelle und ähnliche Gameplay wie bei Call of Duty) , ein sogenanntes "run & gun" Game, das bedeutet auf Deutsch übersetzt "Rennen und schießen". In Titanfall gibt es nicht großes zu überlegen wie man den nächsten Punkt erobert oder wie man Capture the Flag spielt, man muss nur herumrennen als Pilot oder Titan und dann feindliche Piloten/Titans töten/ zerstören. Man kann auch sehr hoch springen und an Wänden laufen sowie Wände hochklettern.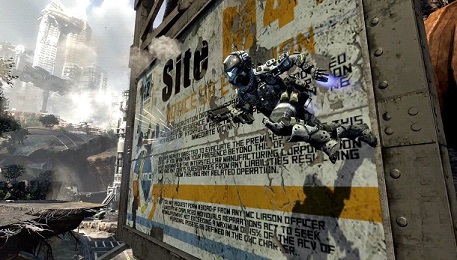 Grafik Titanfall ist ein wirklich schönes Spiel mit der Source-Engine! Das darf man nie vergessen, so eine Bomben Grafik bei dieser Engine. Es ist sehr Detail verliebt. Viele Häuser sind kaputt, Gegenstände sind vorhanden wie Spiegel, Flaschen, Stifte, usw. Diese kleinen Details machen das Spiel aus.
Aber mir selber gefällt am meisten die Vegetation, da haben sie sich wirklich viel Mühe gegeben. Die Atmosphäre des Spiels ist sehr gelungen und gefällt mir besonders gut! Es sieht ausgestorben aus und dann kommen Piloten und bekriegen sich. Sieht sehr gut aus!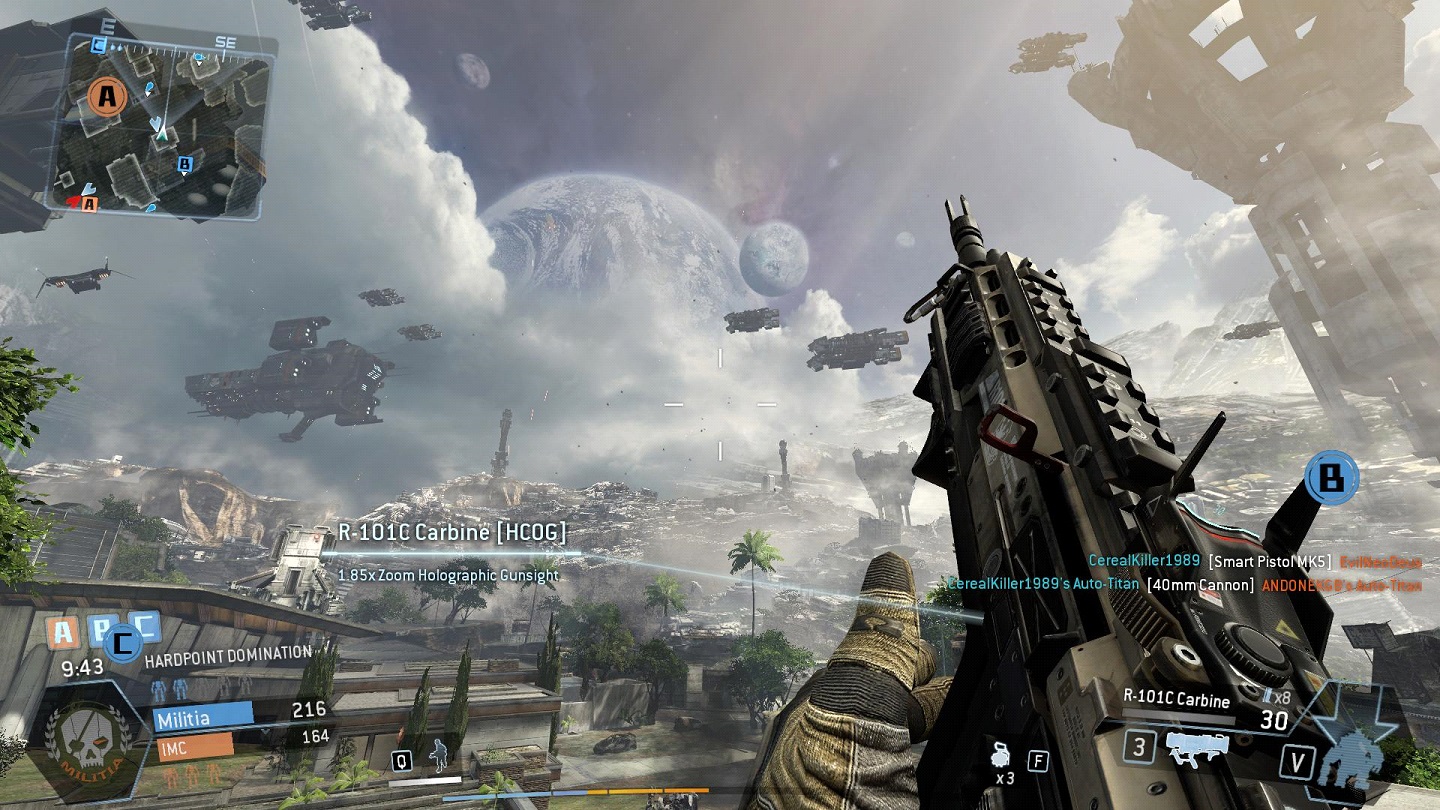 Singleplayer Zum Singleplayer kann man nichts großes sagen, ist ein langweiliges Monotones Spiel gegen die K.I., keine großen Überraschungseffekte, nur ein nicht spannendes Rumgeballer.
Multiplayer Der Multiplayer von Titanfall ist fantastisch! Man kann wie in fast jeden Multiplayer Spiel seinen Piloten/Titan anpassen, was für Waffen, welche Perks, welche Granaten und noch viel mehr. Es gibt verschiedene Moden die man im Multiplayer testen kann, unteranderem Eroberung, Capture the Flag, Team-Deathmatch, usw. Es gibt 15 Maps auf den man sich austoben kann.
Wenn eine Runde beginnt spawnt man in einen Flugzeug wo sich die Piloten bereit machen und dann springen sie runter in den Kampf. Nach einiger Zeit kann man sich einen Titan rufen der dahin geflogen kommt wo man will. (Die Spawn-Zeit des Titans kann man mit Kills verkürzen) Wenn ein Runde sich zum Ende neigt (Eine Runde dauert höchstens 20 Min, bei mir zumindest) kommt für das jeweilige Team was verliert ein "Flucht-Schiff" , das Verlierer-Team muss es schaffen in das Schiff zu kommen um dann die Schlacht zu verlassen, das Gewinner Team muss aber das Gegnerische Schiff zerstören mit allen Waffen die sie zur Verfügung haben.
Der Höchste Rang bei Titanfall ist Rang 50 Generation 10, wenn man es geschafft hat bis Rang 50 zu kommen, kann man alles zurücksetzen und man bekommt Rang und dann Generation 1 (Wie in Call of Duty nur da ist es Prestige).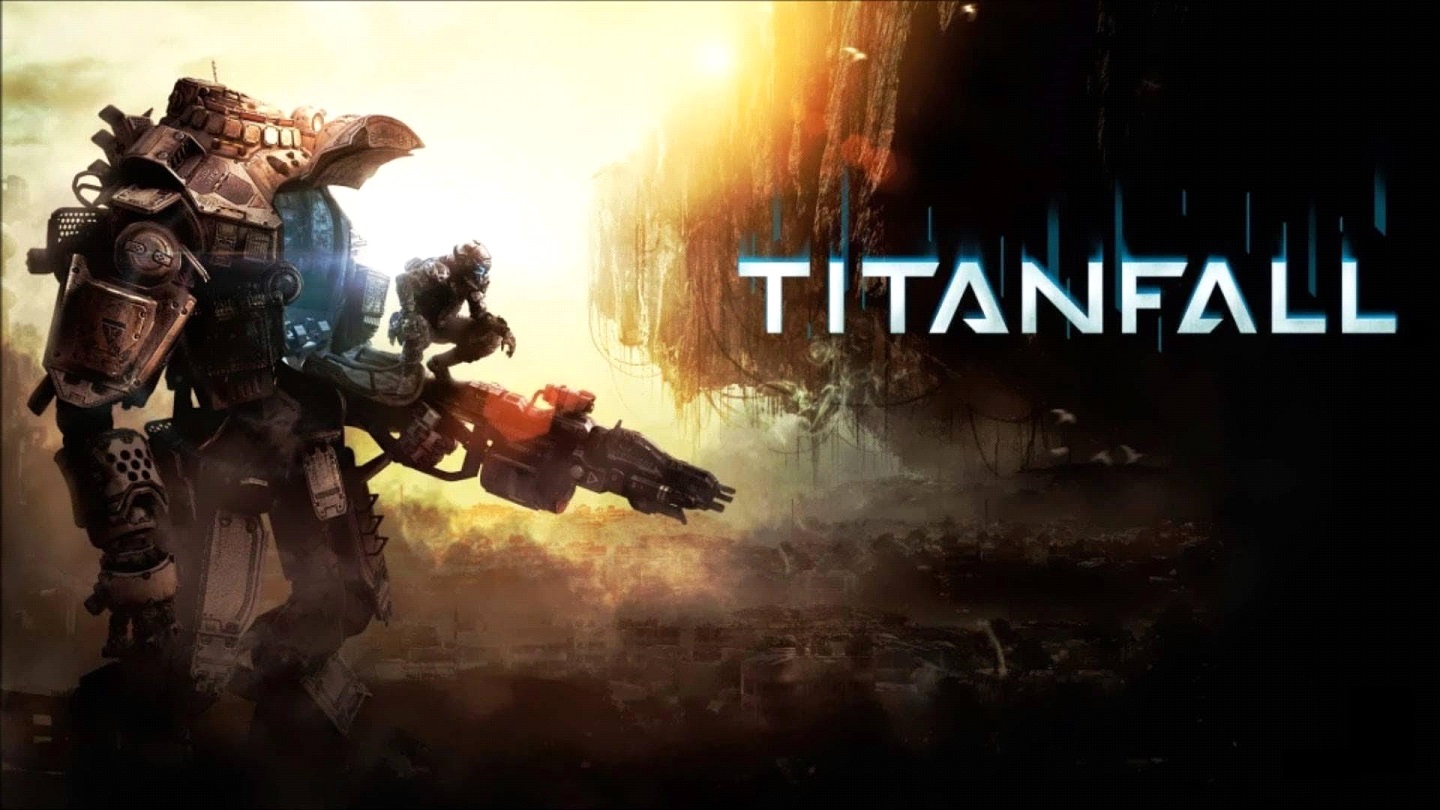 Fazit Titanfall ist ein tolles Multiplayer Spiel das sehr einfach ist und dazu noch toll aussieht auf der Source-Engine. Aber leider hat auch dieses Spiel schlechte Seiten, es macht keinen Spaß wenn man es sehr lange hintereinander zockt, es gibt keinen Server-Browser, man wird im Multiplayer in eine Lobby gehen und dann kann man nur den Modus auswählen und das Spiel bringt dich in die nächste Lobby wo der Modus gespielt wird, der Singleplayer macht keinen Spaß (5 Kollegen gefragt und sie sind gleicher Meinung das es im Singleplayer langweilig ist). Aber mehr ist mir nicht aufgefallen an negativen Seiten. Und natürlich das Spiel lässt sich sehr wie Call of Duty spielen obwohl es gut umgesetzt wurde.
---
Wer Lust bekommen hat zu zocken, hier geht es zum TITANFALL PREISVERGLEICH