Tiamat X CD KEY | Let´s Buy!
---
Sci-Fi-Shooter sind seit den alten Arcade-Tagen, wo man einfach mal eine Münze einwarf und Sachen vom Himmel schießen konnte, während man hoffte, nicht selbst getroffen zu werden, sehr beliebt. Das sind wirklich lustige Spielchen mit einfachem und doch genialem Gameplay. Was, wenn wir euch sagen, dass ihr diese tollen Arcade-Momente mit modernster Technik erleben könnt? Wir stellen euch hiermit  Tiamat X vor – ein Spiel, das nostalgisch gehalten und gleichzeitig sehr unterhaltend ist.
Es verfügt über ein klassisches Gameplay, die ihr aus den Vergangenheits –  Arcade-Shootern kennt. Ihr müsst versuchen, 6 actiongeladene Level mit intensivster Shooter-Action zu spielen und durchzukommen. Das heißt, Ausweichen vor Raketen, Lasern und feindlichem Feuer. Es ist eines jener Spiele, dass einfach nur Spaß macht – einfach, aber unglaublich unterhaltsam. Stellt euch ein Arcade-Spiel vor, bei dem ihr keine Münzen einwerfen/nachwerfen müsst. Back to the roots!
In Tiamat X, nehmt ihr die Rolle eines Kampfpiloten in einem futuristischen Ambiente ein. Eure Existenz ist in Gefahr, und eure einzige Überlebenschance ist, den Weg durch eine befestigte Basis mit zahllosen Feinden, mächtiger Artillerie und schwieriger Bosse zu nehmen.
---
FEATURES
Auto Feuer – dies ist in erster Linie als eine Option Barrierefreiheit gedacht und erlaubt dem Spieler, sich nicht um den Feuerknopf kümmern zu müssen. • Schnellfeuer – Drücken und halten, um zu Feuern. • Farbblindfilter – dieser Filter passt sich dem Spiel an, wodurch die Farben weniger blenden. • Sechs Ebenen der Intensivesten Shooter-Action. • Original-Filmmusik.
Systemvoraussetzungen
MINIMUM: ◦OS: XP oder neuer ◦Processor: 2 GHz Single Core CPU ◦Memory: 2 GB RAM ◦Graphics: Grafikkarte mit 1 GB RAM ◦DirectX: Version 9.0c ◦Hard Antrieb: 150 MB freier Speicherplatz ◦Sound Karte: DirectX-kompatible ◦Additional Hinweise: Microsoft Xbox 360 Controller oder Direct Input kompatiblen Controller
---
WIE KÖNNT IHR BEI UNS EINEN CD-KEY FÜR "TIAMAT X"  KAUFEN UND DAS BESTE ANGEBOT FINDEN?
Möchtet Ihr einen CD-Key für TIAMAT X zum besten Preis kaufen? Unser Preisvergleiche Service ist für euch optimal. Unsere Webseite listet die Anbieter der online-CD-Keys weltweit auf, inklusive der  Preise, die sie anbieten. Durch den Vergleich der TIAMAT X Verkäufer und dem Kauf des Spiels in digitalem Download-Format, könnt ihr eine Menge Geld sparen. Die Keys können zu den Preisen angeboten werden, da keinerlei teure Versand- und Herstellungskosten anfallen. Die  CD-Keys werden elektronisch ausgeliefert.
Und so startet Ihr den Kauf: Besucht einfach unsere TIAMAT X Preisvergleichsseite.
[sws_button class="" size="sws_btn_large" align="sws_btn_align_center" href="https://www.keyforsteam.de/tiamat-x-key-kaufen-preisvergleich/" target="_blank" label="TIAMAT X" template="sws_btn_apple" textcolor="#ff6633″ bgcolor="#ff6633″ bgcolorhover="#ff6633″ glow="sws_btn_glow_blue"] [/sws_button]
Von dort ist alles, was ihr tun müsst, ein Geschäft oder den besten Preis aussuchen und auf die Schaltfläche JETZT EINKAUFEN klicken. Ihr werdet dann auf die Website eures ausgewählten Verkäufers umgeleitet. Dort nur noch den Artikel in euren "Einkaufswagen" legen und weiter zur Kasse "fahren", um dort die Zahlung vorzunehmen.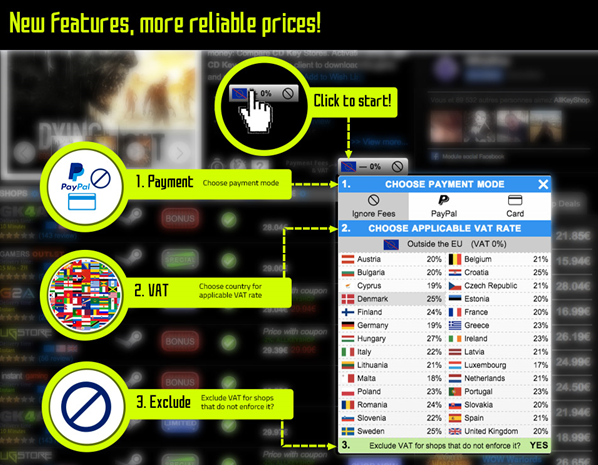 DIE RUSSISCHE VERSION der CD KEYS
Einige Geschäfte können russische Versionen von CD-Keys verkaufen. Diese CD-Keys können in der Sprache und Region Einschränkungen habe. Drum ist hier VORSICHT! angesagt. Wenn ihr die Vorteile der russischen Version von TIAMAT X dennoch nutzen möchtet, benötigt ihr eine VPN, um es zu aktivieren und das Spiel spielen zu können. Ihr erhaltet mit dem Key von dem gewählten Verkäufer Customer Support volle Anweisungen, wie die russische Version des Spiels via VPN zu aktivieren ist.
WIE IHR UNSERE FILTER EINSETZEN KÖNNT
Unsere Preisvergleiche Seiten enthalten mehrere Funktionen, die euch helfen TIAMAT X zu kaufen und nach euren Prioritäten die Shops zu filtern.
* Zahlungsgebühren – Hier könnt ihr sehen, wie viel insgesamt mit oder ohne Zahlungsgebühren zu bezahlen ist. (PayPal Gebühren, Kredit- / Bankkarte Gebühren, Mehrwertsteuer). Wählt einfach eine der Zahlungsgebühren & MwSt-Filter (siehe Screenshot unten).
* Zahlungsweise – wählt diesen Filter, um zu sehen, welche Art die am meisten bevorzugte Art der Bezahlung (PayPal, Moneybookers, Kreditkarte, etc.) des Verkäufers ist. Klicktauf das Zahnrad-Symbol BLUE direkt neben dem Header und entfernt den markierten PREIS €
* Preisalarm – Ihr werdet informiert, wenn die Preise von TIAMAT X wechseln, um dann das Spiel zum besten Preis zu kaufen. Alles, was ihr tun müsst ist,  eure E-Mail-Adresse, den gewünschten Preis und die Periode, die ihr warten wollt anzugeben. Dann erhaltet ihr  die Benachrichtigungen.
Noch Fragen? Ihr könnt jederzeit auf unsere Häufig gestellte Fragen (FAQ) zugreifen. Unsere FAQ-Seite enthält Informationen über uns, digitalen Download-Spiele, CD-Schlüssel und vieles mehr!