The Witcher 3 Wild Hunt | Tipps & Tricks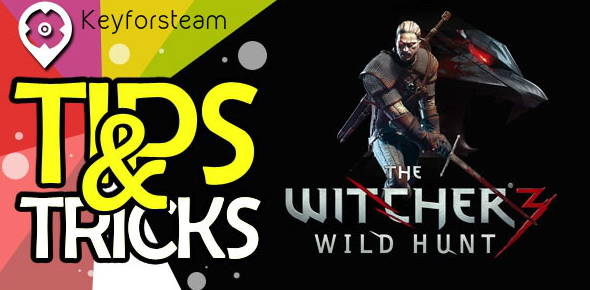 Wir präsentieren Euch hier eine Liste von Tipps und Tricks, welche euch das Leben mit The Witcher 3: Wild Hunt ein wenig erleichtern.
[sws_button class="center" size="sws_btn_medium" align="sws_btn_align_center" href="https://www.keyforsteam.de/the-witcher-3-wild-hunt-key-kaufen-preisvergleich/" target="_blank" label="THE WITCHER 3 WILD HUNT PREIS CHECK" template="sws_btn_default" textcolor="ffff00″ bgcolor="000000″ bgcolorhover="9900ff" glow="sws_btn_glow_olivine"] [/sws_button]
---
Hier findet Ihr eine Liste von Tipps und Tricks, die zu kennen Euch den Einstieg in  das Spiel viel einfacher machen:
 Kleine Tipps:
Ihr könnt die Schwierigkeit jederzeit (auch im Kampf) ändern.
Sammelt alles. Ihr werdet es für das Handwerk und die Alchemie benötigen.
Verkauft nicht Eure Abreise Rüstung. Ihr könnt diese durch Crafting verbessern.
Verwendet die verschiedenen Blick- Richtungen. Sie erlauben Euch alles zu sehen, was sich an dem Ort befindet.
Ihr könnt eure Rüstung an der Schmiede / beim Büchsenmacher anfertigen lassen. Er wird anhand Eurer Spielstärke feststellen, welche Rüstung er Euch anfertigen kann.
Waffen können durch Runen verbessert werden, während die Rüstung mit Glyphen verbessert wird. Wenn Ihr Euch entscheidet, eine Rune / Glyphe auf Euren Sachen zu entfernen, solltet Ihr wählen, was Ihr behalten wolt, das Objekt oder die verbesserten Materialien.
Alkohol ist wichtig. Ihr könnt ihn verwenden, um die Getränke nach Gebrauch aufzufüllen.
Wenn Ihr eine Menge Drinks z Euch nehmt, achtet auf Euer Niveau der Toxizität, wenn sie zu hoch ist, ist das Leben verloren.
Ihr könnt Euch mit Essen heilen, es wird nicht so gut funktioniert wie Tränke, aber es ist kostenlos und es gibt viele.
Einige Monster kommen während des Tages und andere in der Nacht.
Wenn Ihr in der Nähe eines Punktes von Interesse seid, wird dieser auf der Karte sichtbar sein.
Aufgaben nicht ignorieren und sie nicht für später zurückhalten, das könnte Euren Untergang auslösen.
Geht zu den Anzeigetafeln, die Sehenswürdigkeiten in der Nähe zeigen werden.
Bestimmte Objekte können mit dem Aard-Zeichen zerstört werden.
Denkt an die Schlüssel. Sie werden häufig wiederholt auftauchen, aber das wird Euch nicht helfen, wenn Ihr in die Enge getrieben wurdet.
Statt Ace Poker zu spielen , könnt Ihr Gwynt über Krieg spielen – ein strategisches Kartenspiel.
Wenn Ihr gesehen werdet, wie Ihr ein Verbrechen begeht, werden die Wachen Euch anzugreifen, und es ist besser, Euer Vorhaben nicht fortzusetzen. Sie werden euch verhaften und die Hälfte Eures Geldes kassieren.
Meditation wird Eure Wunden heilen, aber man kann es nicht tun, während man angegriffen wird.
Ihr könnt die Tasten im Spiel nicht ändern, aber man kann sie in der Konfigurationsdatei ändern.
Storyline Tipps
Hört Euch den Dialog an.
Denkt daran, dass die Wahl, die Ihr trefft, Auswirkungen auch außerhalb der Quest in Gang setzen.
Wenn es eine wichtiges Wort gibt, schreibt es auf- die bisherigen Spielfragen werden ein Ritual auf die Erinnerung auszuüben.
Axii Zeichen funktionieren gut, aber helfen nicht, Freunde zu finden.
Die gelben Dialoge sind diejenigen, die das Gespräch voranbringen (oder sie gegenseitig ausschließen können) Die in grau sind nur da, um Informationen zu sammeln. Die in dunkelgrau sind die, die Ihr bereits verwendet habt.
Es gibt einen Countdown, der Euch auffordert, eine Wahl zu treffen. Versucht in dieser Situation die Ruhe zu bewahren und eine sinnvolle Entscheidung zu treffen.
Dinge sind nicht immer, was sie scheinen. Holt euch die Ideen von den Menschen in Eurer Nähe.
Romantik ist im Spiel wichtig. Wenn ihr mit einem Charakter schlaft, kann das die Beziehung zu einem anderen verändern.
Kampf Tipps:
Auch wenn Ihr keine Punkte in ein Schild investieren wollt, tut es, sobald wie möglich. Es schützt ein wenig vor den Feuerschäden- es ist besser als gar nichts.
Man richtet mehr Schaden mit einem Pferd an, doch haltet ein Auge auf das Messgerät der Angst.
Öle und Bomben sind groß, es lohnt sich die Fähigkeit eines Alchemisten.
Achtet auf die Schwächen Eurer Gegner im Bestiarium. Was auch immer Ihr wählt, es wird immer mindestens einen Ansatz geben, den Ihr verwenden könnt.
Ständig in Bewegung bleiben.
Denkt daran, ausweichen, aber nicht schüchtern sein – das Spiel belohnt die aggressiven Spieler mit Adrenalin Punkten, die den Schaden erhöhen.
Achten Sie auf die Nachhaltigkeit Ihrer Ausrüstung. Eine beschädigte Rüstung nicht viel zu schützen und ein stumpfes Schwert wird nicht gut geschnitten.
Die Armbrust kann verwendet werden, um einen Feind in der Luft zu senken, aber es kann auch verwendet werden, um die entfernten Boden Feinde anzugreifen. Das ist viel weniger Schaden als Schwerter, aber es ist sicherer. Sie können auch verschiedene Sorten von Tipps Handwerk dafür – explosive, was zu Blutungen, Referenzfahrt, usw.
Verwenden Sie Ihre Umgebung, wann immer möglich – Marsh haben hochentzündlichen Gas, zum Beispiel.
Geld zu verdienen
Nebenquests zu erledigen, ist ein guter Weg, um reich zu werden.
Hexer Verträge geben oft eine Belohnung.
Der Verkauf von Gegenständen, die ihr verwendet, werden Euch nicht zum Millionär machen, aber es ist hilfreich.
Tauchen und Navigatieren ermöglicht es Euch, Schmuggler Caches zu finden, die enthalten Schätze zum Verkaufen oder sogar Geld.
Sammelt Schätze, die von Monstern bewacht werden. Es lohnt sich, sie zu töten, weil Sie spezielle Elemente beinhalten, die man zu Geld machen kann.
Es gibt mehrere Währungen in The Witcher 3, aber die Kaufleute akzeptiert nur Kronen. Die benötigt Ihr, um Eure Orins Gulden und Vivaldi auf der Bank Novigrad zu tauschen – Dies ist das Gebäude mit der Münze über der Tür.
 Character Verbesserungsspitzen
Besucht Orte der Kraft so viel wie Ihr könnt – jeder gibt einen Fertigkeitspunkt.
Versucht nicht, in eine Gruppe Fähigkeiten zu investieren – es ist gut, sie zu diversifizieren; jede Fähigkeit stellt ein neues Tool zur Verfügung. Man kann auch die Fähigkeiten mit dem Talentrechner testen.
Auf der anderen Seite, werdet Ihr sie noch brauchen, um Euch zu spezialisieren – wohl wissend, dass Skillpunkte begrenzt sind.
Versucht immer, mutagene aktiven Fähigkeiten zu kombinieren, nach der Ausrichtung ihrer Farbe.
Verteilt Eure aktiven Fähigkeits- Punkte, je nach Situation.
Allgemeine Fähigkeiten geben bessere Boni, aber nicht mit Mutagenen arbeiten.
Wenn Ihr nicht über eine Menge von aktiven Fähigkeiten verfügt, ist es vorzuziehen, eine Fähigkeit, die Ihr bereits habt auszubauen, anstatt ein neues Release zu erhöhen.
Wenn Euch ein Kaufmann, einen Trank verkauft, um Eure Skillpunkte neu zuzuweisen, Kauft es!
Reisetipps
Ihr könnt schnell von einer Abkürzung nach der Kreuzung gebrauch nehmen, aber der längere Weg birgt viele Überraschungen und Schätze.
Geizt nicht mit der Ausstattung Eures Pferdes – Ihr werdet eine schnelle und zuverlässige Halterung benötigen.
Ihr könnt eine Pferdetasche bekommen, die die Größe Eures Bestands vergrößert. Das passiert durch die Teilnahme an Pferderennen.
Die Sirenen und andere Wasserlebewesen können Euer Boot beschädigen.
Wenn Ihr mit Eurem Pferd galoppiert, wird es automatisch dem Straßenverlauf folgen.
Ihr könnt eine Suche in Eurem Tagebuch auswählen und Spiele zeigen Euch  die Position der Quest und einen schnellen Weg an.
---
SPREAD THE WORD TO YOUR FRIENDS AND EARN POINTS!
[mycred_share_this href="facebook"]Facebook Share[/mycred_share_this] • [mycred_share_this href="google"]Google Share[/mycred_share_this] • [mycred_share_this href="twitter"]Twitter Share[/mycred_share_this]