StarCraft II: Legacy of the Void – Top Deal
[sws_button class="" size="sws_btn_large" align="sws_btn_align_center" href="https://www.keyforsteam.de/starcraft-2-legacy-of-the-void-key-kaufen-preisvergleich/" target="_blank" label="
StarCraft 2 Legacy of the Void Preisvergleich
" template="sws_btn_apple" textcolor="#66ccff" bgcolor="#66cff" bgcolorhover="#66ccff" glow="sws_btn_glow_blue"] [/sws_button]
---
Mit StarCraft II: Legacy of the Void beginnt das letzten Kapitel der Trilogie einer epischen Science-Fiction-Saga. Jim Raynor versucht die Zivilisation der schwer vom Krieg getroffenen Terraner wieder aufzubauen und Kerrigan und der Zerg-Schwarm sind immer noch. Jetzt liegt die Galaxie und die Hoffnung auf Frieden in den Händen der üblebenden Helden: Artanis und Zeratul. Dein Ziel ist es, die drei Spezies in dieser ultimativen Endzeitschlacht zu vereinen, damit sie gemeinsam gegen das uralte Böses kämpfen, dass alles Leben der Galaxie bedroht. Eine Menge neuer Einheiten und der kooperative Spielermodi, der zu weiterer Mehrspielermodi erstmals hinzukommt, bietet dir mit Legacy of the Void das ultimative Spielerlebnis.
---
Die verschiedenen Charaktere
Artanis
Der junge Exekutor verhinderte den Bürgerkrieg und brachte als Anführer zum Ende des großen Krieges, die Khalai und die Nerazim heraus, aus dem absoluten Chaos und verhinderte damit das Ende der Zivilisation der Protoss.  Als Oberbefehlshaber der Goldenen Armada versucht er jetzt, Aiur zurückzuerobern und die Menschen seines Volkes auf die bevorstehende Schlacht gegen einen uralten und sehr gewaltigen Feind vorzubereiten.
Zeratul
Er hat bereits das Ende gesehen. Die Dunkelheit, die hereinbricht und die Galaxie verschlingt und alles Leben zerstört. Das Schicksal ist zwar ungewiss, doch die uralten Prophezeiungen sagen, dass es an der Zeit ist, sich zu entscheiden.  Wird er es schaffen, endlich Amons Pläne vorauszusehen und zu durchkreuzen, oder  schafft er es noch rechtzeitig, Protoss vor der drohenden Gefahr zu warnen? Er muss sich entscheiden.
Rohana
Sie gehört zu den drei großen Bewahrern und es ist ihre Aufgabe, das Andenken an die ehemals größten Protoss zu pflegen und zu beschützen. Die Bewahrer genießen seit Jahrtausenden höchstes Ansehen bei den Obersten der Protoss. Rohana, schützt  in ihrem Geist alle Erinnerungen der uralten Zivilisation der Erstgeborenen, jeden Krieg, jeden Sie und jede Niederlage sind fest darin verankert, da sie jedes einzelne Ereignis hautnah miterlebte.  Nun begibt sie sich freiwillig an Bord der Speer des Adun in Stasis, um mit ihrem Wissen, ihr Volk in dieser zu großen Not zu beschützen.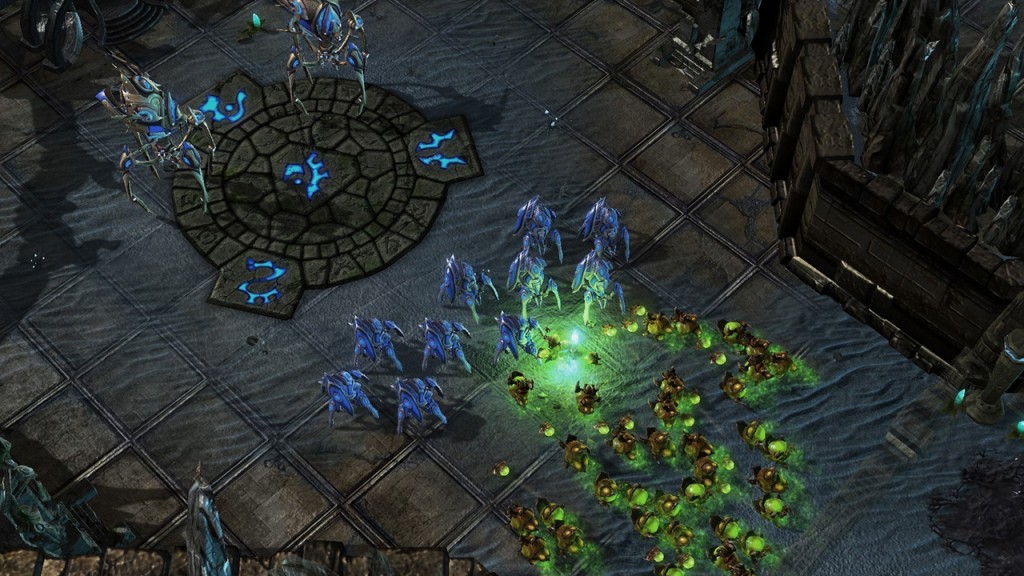 Karax
Ein Phasenschmied, dessen höchste Berufung Die Optimierung von Panzerungen,  Raumschiffen und Waffen aller Art sind. Karax ist ein Khalai und einer der sorgfältigsten Ingenieure seiner Art. Durch seine Hingabe zu seinem Beruf ist er dabei von der  Arbeiterkaste der Protoss aufzusteigen, um eine wichtige Rolle in Artanis' Krieg gegen Amon einzunehmen.
Vorazun
Die Tochter der legendären Matriarchin Raszagal, und vertrat in Debatten im Zirkel des Zwielichts häufig  eine andere Ansicht als Artanis ist eine unvergleichliche Kriegerin, hat sich der Dunklen Templer angeschlossen und kämpft nun an, um ihr Bestehen. Wenn es um das Wohlergehen ihres Volkes geht, wird sie alles tun, ob verbal oder auf dem Schlachtfeld.
Kerrigan
Gefürchtet vom gesamten Koprulu-Sektor und die Königin der Klingen. Sie wurde jahrelang von der Menschheit als das Übel allem angesehen, ein personifizierter Alptraum. Sie verfolgte alles und jeden, egal welcher Rasse oder Schicht dieser angehörte.
Raynor
Jim Raynor, als Gesetzloser und Vertreter des Gesetzes, als Soldat und Terrorist beschimpft, niemals waren sich andere einig, was ihn betrifft. Er ist Überlebender der Diktatur durch Arcturus Mengsk und entkam der Tyrannei der Terranischen Konföderation, konnte aus den Händen des Zerg-Schwarms  fliehen und es gelang ihm sogar Verbündete der Protoss zu gewinnen. Ein grausamer, gefürchteter Feind und gleichermaßen ein sehr treuer Freund. Von einem Bauernsohn zu einem Helden, der es mit der mächtigsten Bedrohung der Galaxie aufnehmen will.
---
Features:
Egal, ob der Spieler die beiden ersten Teile Wings of Liberty oder Heart of the Swarm bereits gespielt hat, da es ein unabhängiges Spiel ist, kann man direkt in Legacy of the Void einzutauchen und in der Story versinken.

Mit dieser Kampagne gibt es einen spannende und aufregenden Abschluss einer der genialsten und beliebtesten Science-Fiction-Spiele aller Zeiten und du erfährst, was das Schicksal für Jim Raynor, Zeratul, Kerrigan und all die anderen bereithält.

Der Archonmodus ist ein neues Co-op-Spielerlebnis für 2 Spieler, bei dem sie gemeinsam die Kontrolle über eine Basis und deren Truppen teilen. Durch getrennte und ganz gezielte Aufgabenverteilung verfolgen die beiden Spieler viel komplexere Strategien und können sich auf ihren Bereich, ob dem Befehligen der Truppen oder der Verwaltung der Ressourcen konzentrieren.

Im Co-op- Modus können sich die Spieler gemeinsam die Rolle eines mächtigen Kommandanten aus der StarCraft-Saga teilen und seine Fähigkeiten entsprechend des Stufenfortschritts anpassen und verbessern.

Es gibt neue Einheiten für Protoss, Terraner und Zerg inklusive neuer Fähigkeiten für die Einheiten, damit erhöht sich die strategische Tiefe.

In automatisierten Turnieren im Battle.net können sich die Spieler bequem miteinander online messen.

Die neuen Mehrspielerkarten weiten die Schlachten auf alle verfügbaren Winkel des Koprulu-Sektors aus.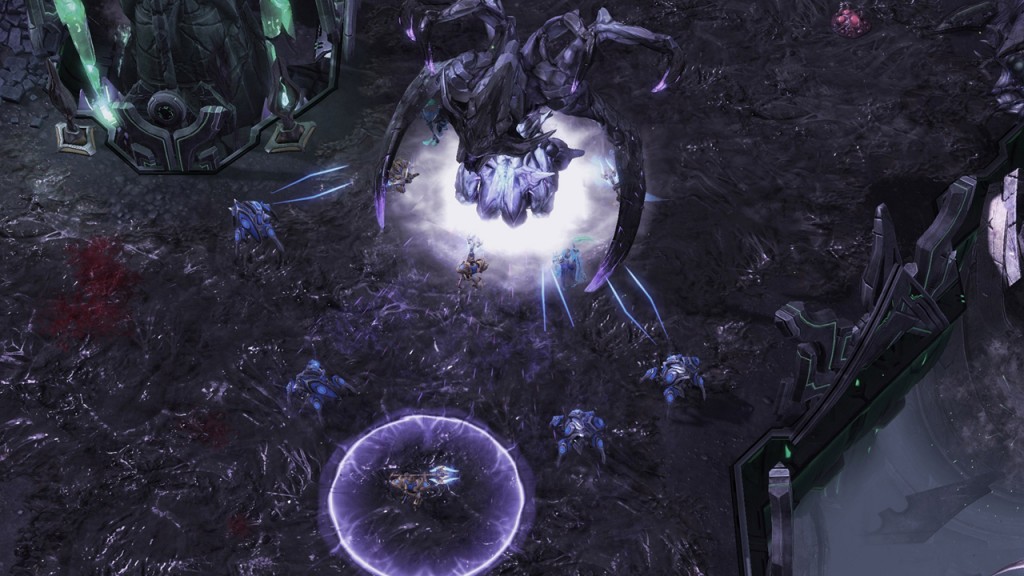 ---
SPREAD THE WORD TO YOUR FRIENDS AND EARN POINTS!
[mycred_share_this href="facebook"]Facebook Share[/mycred_share_this] • [mycred_share_this href="google"]Google Share[/mycred_share_this] • [mycred_share_this href="twitter"]twitter Share[/mycred_share_this]