Star Wars Battlefront 2 The Last Jedi Content Kalender für Dezember enthüllt

---
EA hat gerade enthüllt, was in Star Wars Battlefront 2 kommt, wenn sie die erste Staffel des Spiels mit vielen Inhalten von The Last Jedi eröffnen. EA hat den Veranstaltungskalender auf der offiziellen Seite des Spiels über einen längeren Zeitraum gepostet.
---
---
Die Saison beginnt am 5. Dezember, wenn du als Spieler eine sehr wichtige Entscheidung treffen musst – kämpfst du mit dem Widerstand oder trittst du der First Order bei. Mit deiner Wahl kannst du an "besonderen Herausforderungen" teilnehmen, bei denen du "fraktionsspezifische Belohnungen" verdienen kannst.
Am 13. Dezember wird der Großteil des Inhalts veröffentlicht. Zuerst werden Finn und Captain Phasma zum Spiel hinzugefügt. Beide können mithilfe von Guthaben im Spiel freigeschaltet werden. Außerdem wird eine spezielle Kiste mit "High-Power-Upgrades" für Finn oder Phasma an die Fraktion vergeben, die in dieser Woche die größten Herausforderungen meistert.
Tallie Lintras RZ-2 A-wing wird ebenfalls hinzugefügt, während Poe Damerons T-70 X-wing von The Last Jedi inspirierte Änderungen sehen wird. Eine neue Planetenkarte und eine Starfighter Assault Karte werden ebenfalls hinzugefügt.
Resurrection wird ebenfalls am selben Tag veröffentlicht. Dadurch werden neue Kapitel zum Story-Modus für Einzelspieler hinzugefügt.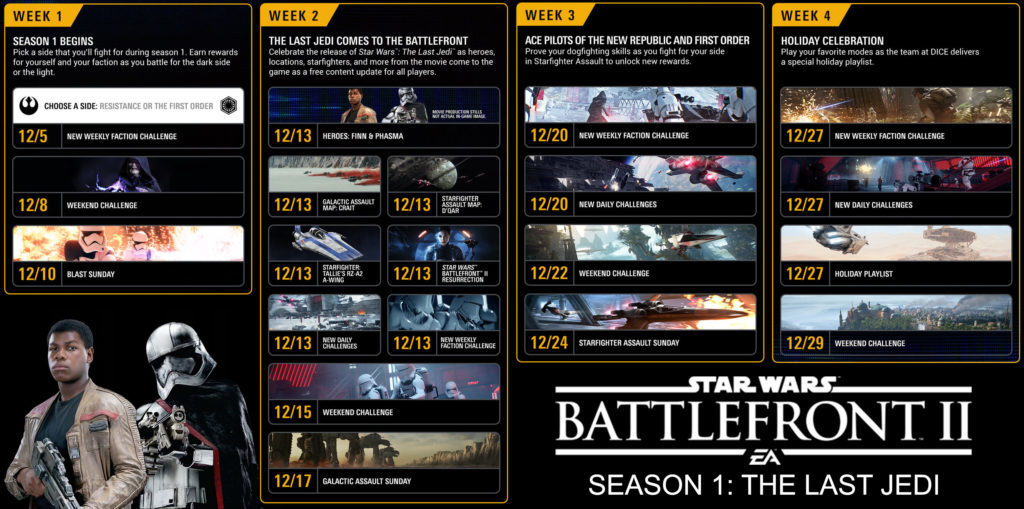 Star Wars Battlefront 2 startet offiziell am 17. November für den PC, die Xbox One und PS4. EA Access-Mitglieder können bereits 10 Stunden auf dem und der Xbox One erleben. Diejenigen, die die Deluxe Edition gekauft haben, erhalten ab dem 14. November frühzeitig vollen Zugriff.
---