Söhne des Waldes verzögert sich
Die Fortsetzung von The Forest, Sons of the Forest, verzögert sich laut Entwickler Endnight Games auf später in diesem Jahr.
Von 
  Daniel  | 

  gamepartner78
---
SONS OF THE FOREST VERÖFFENTLICHUNGSTERMIN?
---
Sons of the Forest ist eine Survival-Horror-Fortsetzung des Kassenschlagers The Forest.
Ursprünglich sollte Sons of the Forest im Mai 2022 erscheinen, doch Entwickler Endnight Games gab kürzlich via Twitter bekannt, dass der Veröffentlichungstermin im Mai "zu ehrgeizig" sei.
Sons of the Forest, das erstmals 2019 angekündigt wurde, verspricht, auf dem aufzubauen, was The Forest so furchterregend gemacht hat, wobei die Spieler erneut mit leeren Händen und isoliert auf einer Insel beginnen.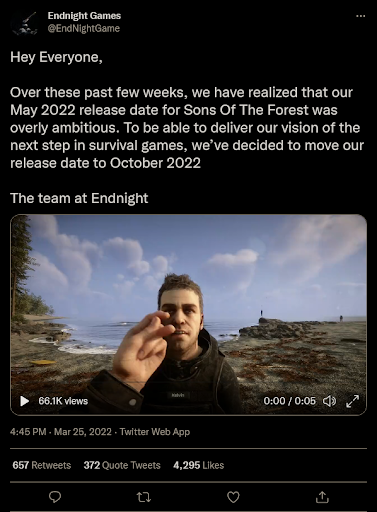 Um zu überleben, müssen die Spieler einen Unterschlupf bauen, Nahrung und Vorräte suchen und Waffen herstellen, um sich gegen die Schrecken zu wehren, die bei Einbruch der Nacht auftauchen.
Der neueste Gameplay-Trailer zu Sons of the Forest zeigt einen kleinen Einblick in das Crafting, die Erkundung, den Kampf und ein paar verschiedene Gegnertypen.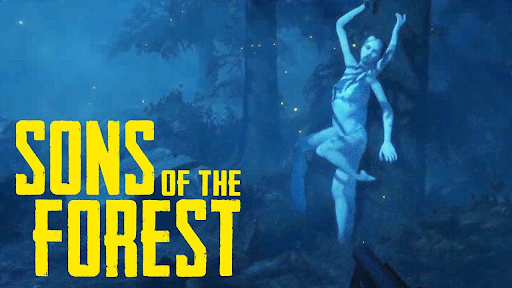 Sons of the Forest wird nun hoffentlich im Oktober 2022 erscheinen und ist für PC erhältlich.
---
SONS OF THE FOREST KEY GÜNSTIG KAUFEN BEI KEYFORSTEAM
---
Für alle aktuellen Videospiel-News, Trailer und die besten Angebote, stelle sicher, dass du uns ein Lesezeichen setzt.
Du kannst all die besten und günstigsten Online-Angebote für preiswerte Sons of the Forest CD-Keys, Spiel-Codes, Geschenkkarten, und Antivirus-Software von den verifizierten CD-Key-Verkäufer auf unseren Seiten zu speichern.
---
WEITERE RELEVANTE ARTIKEL
---
6 Survival-Spiele ohne PvP für PC, PlayStation und Xbox

August 14, 2021 | Spiele News Wenn du nach einem Survival-Spiel für diesen Sommer suchst, das kein PvP enthält, bist du hier genau richtig, denn wir haben 6 großartige Spiele zusammengestellt, die du sofort spielen kannst, ohne Angst haben zu müssen, getrauert zu werden. Von    Daniel  |    gamepartner78 WAS IST EIN ÜBERLEBENSSPIEL? Survival-Spiele sind ein Untergenre der Action und weisen […]

Top 10 Spiele wie Rust

Mai 15, 2019 | Die Besten Top 10 Spiele Top 10 Spiele wie Rust 7 DAYS TO DIE  7 Days to Die ist ein Zombie-Ego-Shooter-Spiel, dass in einer offenen Welt stattfindet. Im Wesentlichen ist das Spiel wie Rust nur zusammen mit den Kämpfen der Unterernährung und der überlebenden Begegnung mit anderen Spielern die ständige Angst davor, Zombies im Speichel zu halten. Seit […]

Top 10 Games ähnlich wie Rust

September 16, 2018 | Blog Das ist die Top 10 der Rust Liste, die wir für dich zusammengestellt haben. Rust ist ein Multiplayer Survival–FPS-Videospiel, dass von Facepunch entwickelt wurde. Rust konzentriert sich auf Handwerk, Konstruktion und PvP (Spieler gegen Spieler). Das Hauptziel des Spiels ist es, mit allen Mitteln in einer feindlichen Umgebung zu überleben. Du beginnst das Spiel als […]