September 2017 Spiele Release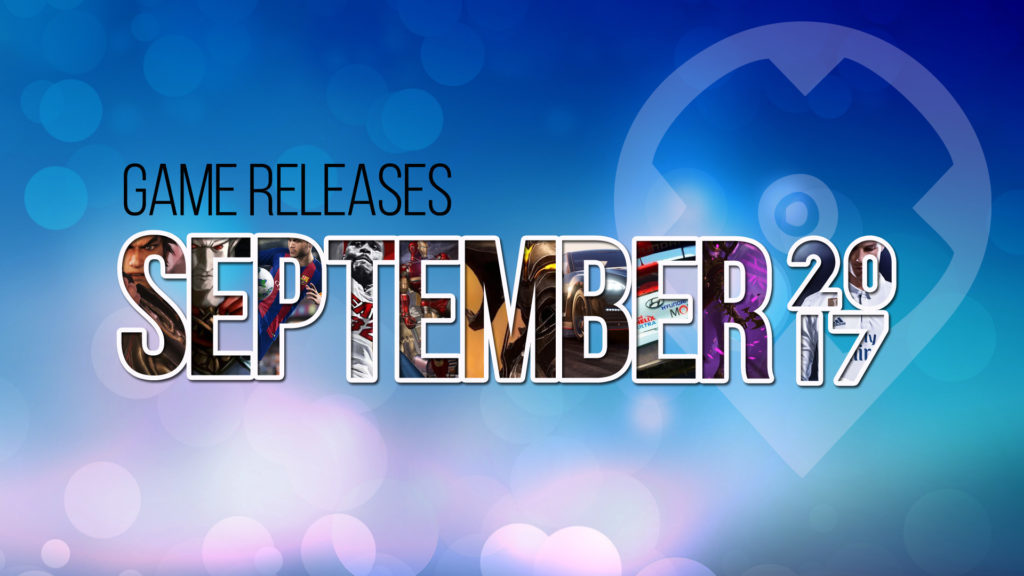 ---
Es ist September, und hier ist unsere Liste der September 2017 Spiel-Release! Viele große Spiele kommen in diesem Monat heraus, vor allem Sport-und Rennsport-Titel! Schau dir unsere Liste unten an!
Vergioss nicht, die Preisvergleiche jedes Spiels auszuprobieren, damit du dein Spiel zum besten Preis bekommst. Solltest du dich entscheiden, es zu kaufen.
---
September 2017 Game Releases
---
Warriors All Stars
Release Datum: 1. September 2017
---
---
Dieses Hack- und Slash-Videospiel von Koei Tecmo basiert auf der Warriors-Videospielserie. In Warriors All-Stars kannst du einen Charakter kontrollieren, um Feinde besiegen, um ein Ziel zu erreichen. Dein ausgewählter Charakter kann auch von vier anderen unterstützenden Charakteren unterstützt werden.
Wie in der Tradition aller Krieger-Spiele sind nicht alle Charaktere mit Waffen ausgerüstet; einige von ihnen sind stattdessen mit Heldenkarten ausgestattet. Diese Heldenkarten reichen von Waffen bis zu einem entsprechenden Charakter. Die Heldenkarten gewähren diesen Helden erhöhte Fähigkeiten.
Weitere Features sind 30 spielbare Charaktere, von denen 27 aus 13 aus der Koei Tecmos Videospiele Serie sind. Die verbleibenden drei sind originale Charaktere und stammen aus der Imperialen Regalia von Japan.
---
Age of Fear 3: The Legend
Release Datum: 1. September 2017
---
---
Age of Fear 3: The Legend ist ein rundenbasiertes Rollenspiel-Strategiespiel, dass ein "tiefes und herausforderndes Gameplay" verspricht. Mit dem Spiel kannst du die Kontrolle über eine Vielzahl von Einheiten übernehmen, die jeweils ihre eigenen Fähigkeiten besitzen als Gesicht einer der modernsten KI in diesem Genre.
Das Spiel verfügt über zwei geschichtsträchtige Kampagnen, in denen man entweder als Zauberin oder als betrunkener Zwergenherr spielen kann. Turn-basierte Schlachten sind in völlig interaktiven Umgebungen gesetzt. Du wirst ebenfalls auch auf neutrale Fraktionen treffen, die du zu deinen Vorteil nutzen kannst, die dir helfen, Feinde zu töten.
Das Spiel verspricht, dass es ein Spiel ist, womit keiner Probleme haben wird – einfach zu lernen, aber schwer zu meistern.
---
Pro Evolution Soccer 2018
Release Datum: 14. September 2017
---
---
PES 2018 ist mit allen neuen Features verpackt, die Fußballfans auf jeden Fall lieben werden. Das Spiel bietet ganz-neue Menüs, realistische Spielerbilder, eine PES-Liga-Integration, einen Online-Co-op-Modus, die Rückkehr des Fan-Favorites Random Selection Matchs (komplett mit neuer Präsentation und Features), verbesserte visuelle Realität und vieles mehr!
---
NBA 2K18
Release Datum: 15. September 2017
---
Hacknet Labyrinths
Steam
6,00€
-89%
0,68€
Tropico 4
Steam
14,00€
-95%
0,69€
The Universim
Steam
27,00€
-27%
19,63€
Rise to Ruins
Steam
12,00€
-25%
9,04€
Induction
Steam
8,00€
-2%
8,19€
Borderlands The Pre Sequel
Steam
39,00€
-93%
2,61€
Galaxy of Pen & Paper
Steam
12,00€
-95%
0,55€
Time Recoil
Steam
13,00€
-91%
1,19€
Songbringer
Steam
19,00€
-96%
0,75€
RUINER
Steam
19,00€
-80%
3,88€
Vampyr
Steam
39,00€
-81%
7,44€
Far Cry 5
Steam
59,00€
-83%
9,80€
Steam
—
—
.hack//G.U. Last Recode
Steam
49,00€
-94%
2,92€
Divinity Original Sin 2
Steam
44,00€
-47%
23,41€
---
Was ist heiß in NBA 2K18? In diesem Jahr feiert  der Spielheft-MyCareer-Modus sein Comeback mit überarbeiteten Schöpfungswerkzeugen. MyGM und MyLeague Spielmodi sind auch zurück, sowie der MyTeam-Modus, mit dem du dein eigenes Basketball-Team aufbauen kannst.
Eine neue Eigenschaft, genannt Neighborhoods, wurde auch dem Spiel hinzugefügt. Diese Funktion gibt Spielern Zugang zu einer offenen Welt, wo sie mit anderen Spielern online interagieren können.
---
Marvel Vs Capcom Infinite
Release Datum: 19. September 2017
---
---
Zwei riesige Universen kollidieren in Marvel Vs. Capcom Infinite! Dieses Spiel lässt dich mit deinen Lieblings-Marvel und Capcom Charakteren in epischen 2 gegen 2 Schlachten spielen! 14 Charaktere sind bislang bestätigt worden, die bei der Freigabe des Spiels eingeschlossen sind. (einschließlich Kapitän Marvel, Iron-Man, Kapitän Amerika, Ryu, Mega Mann X und Morrigan), und mit mehr, die in der Zukunft hinzukommen werden.
Das Spiel beinhaltet auch eine filmische Geschichte, in der sich sowohl Helden als auch Schurken aus dem Universum in der Schlacht stellen, um die Welt vor Ultron Sigma zu retten.
Action-packed Single-Player-Modi sind auch verfügbar, einschließlich Ranglisten, globale Ranglisten, Online-Lobbies und vieles mehr!
---
Guild Wars 2 Path of Fire
Release Datum: 22. September 2017
---
---
Guild Wars 2: Path of Fire ist die zweite Erweiterung zu Guild Wars 2. Dieser DLC bringt eine Reihe neuer Features: eine neue Region (Crystal Desert) mit fünf riesigen offenen Weltkarten, vier neuen Mounts, eine neue Elite-Spezialisierung für alle neun Berufe, eine neue Gildenhalle, neue Bounties und neue Abenteuer.
---
Project Cars 2
Release Datum: 22. September 2017
---
---
Project Cars 2 verspricht, die "Ultimate Driver Journey" mit ihren großartigen Features zu bringen. Die Spieler werden in über 180 lizenzierten Autos, die mit präzisen Handhabung und voller VR und 12K HDR Unterstützung ausgestattet sind, genießen. Das Spiel bietet auch eine Vielzahl von Motorsport, darunter Rallycross und IndyCar, sowie ein realistischeres Rennerlebnis mit dynamischen Umgebungsbedingungen und verschiedenen Gleisflächen. Es bietet auch einen Online-Modus, wo Spieler gegen andere Spieler in Online-Meisterschafts-Rennen antreten.
---
WRC 7
Release Datum: 26. September 2017
---
P
---
Nimm an der World Rally Chmapionship Herausforderung in WRC 7 teil! Die diesjährige Tranche verfügt über 13 Rallyes und 52 Sonderstufen mit voll reproduzierten Umgebungen. Autos sind jetzt agiler, mächtiger und definitiv schneller! Außerdem kannst du aus 55 offiziellen Teams mit einer großen Auswahl an Fahrern von WRC 2 und WRC Junior wählen. Weitere Features sind neue Physik, überholte Tracks, lokaler Split-Screen-Multiplayer und wöchentliche Online-Herausforderungen.
---
Total War Warhammer 2
Release Datum: 28. September 2017
---
---
Total War Warhammer 2 ist die Fortsetzung von Total War Warhammer, und das bringt eine neue Erzählungskampagne über vier riesige Kontinente (Lustria, Ulthuan, Naggaroth und die Southlands).
In Total War Warhammer 2 werden die Spieler als einer der acht legendären Lords von einem der vier ikonischen Warhammer Fantasy Battles Rennen spielen. Als legendärer Herr müssen die Spieler arkane Rituale durchführen, um den Fortschritt anderer Rassen zu vereiteln und den Großen Vortex zu stabilisieren oder zu stören.
Diejenigen, die sowohl Total War Warhammer als auch Total War Warhammer 2 besitzen, werden auf die kolossale neue Kombinationskampagne zugreifen können, die kurz nach der Markteinführung von Warhammer 2 veröffentlicht wird. Diese Kampagne kombiniert alle vier Warhammer 2 Karten mit Landmassen der Alten Welt zu einer einzigen epischen Karte.
---
FIFA 18
Release Datum: 29. September 2017
---
---
Angetrieben von Frostbite, bringt die FIFA 18 die ikonischen Spieler, Stadien, Teams, Atmosphären der FIFA zum Leben. Die dramatischen Momente des Spiels können die Spieler mit neuen Bewegungs- und Finishing-Animationen erleben, sowie mehr fließender Agilität und Köpfchen.  Die FIFA 18 ist nun auch mit Real Player Motion Technology ausgestattet, die die Bewegungen von echten Fußball-Ikonen erfasst und sie zum Spiel bringt – jeder Spieler fühlt und bewegt sich wie seine Real-Life-Pendants!
Eine weitere Sache, auf die man sich freuen kann, ist die Rückkehr des Story-Modus, The Journey, immer noch mit Alex Hunter von der FIFA 17.
---