November 2017 Spiele Release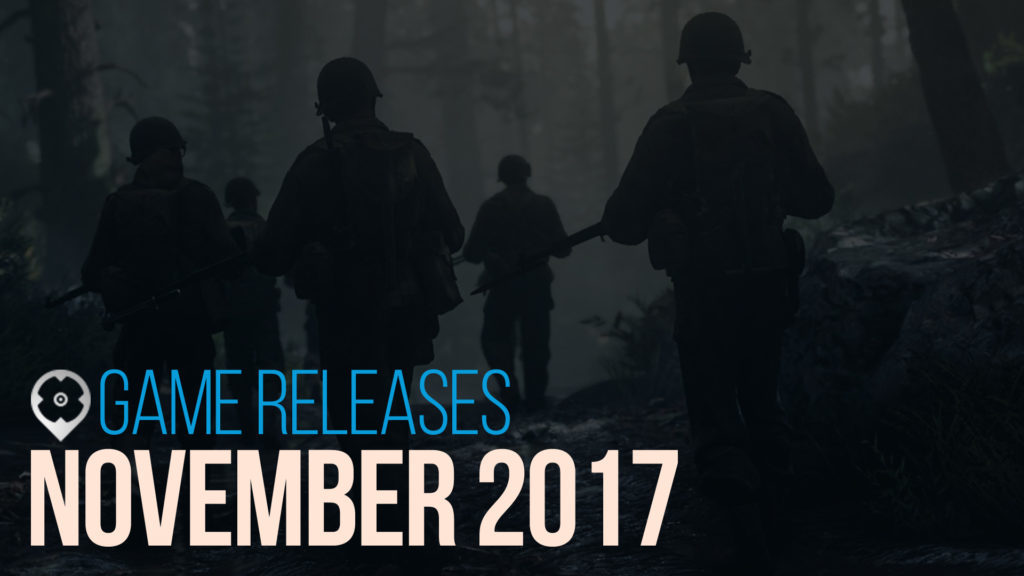 ---
Der November ist da! Und natürlich sind wir hier, um euch die Spiele-Releases vom November 2017 zu präsentieren! Schaut euch diese Spiele jetzt an und hol dir eine Kopie für dich!
Auf welche dieser Spiele freust du dich? Sag uns deine Meinung in den Kommentaren unten!
---
November 2017 Spiele-Release
---
Call of Duty World War 2
Release Datum: 3. November 2017
---
---
Call of Duty World War 2 markiert die Rückkehr von Call of Duty zu seinen Wurzeln. Die Spieler werden von der Normandie bis in den Rest Europas in den Krieg geführt.
Das Spiel bietet den klassischen Call of Duty-Kampf sowie drei verschiedene Spielmodi (Kampagne, Multiplayer und Co-Operative). Atemberaubende Visuals erwecken die Schlachtfelder des Zweiten Weltkriegs zum Leben. Das Spiel enthält authentische Waffen, sowie traditionelle Run-and-Gun-Action in einer immersiven und riesigen Auswahl an Themen aus dem Zweiten Weltkrieg. Darüber hinaus enthält der Koop-Modus des Spiels auch eine neue und originelle Geschichte, die voller Adrenalin-pumpender, unerwarteter Momente steckt.
---
Sonic Forces
Release Datum: 7. November 2017
---
---
Sonic Forces ist ein Jump'n'Run-Spiel, dass anlässlich des 25-jährigen Bestehens der Sonic Hedgehog Serie entstand. Die Spieler werden Sonic the Hedgehog folgen, während er gegen Doktor Egmman und einen mysteriösen Bösewicht kämpft, der als Infinite bekannt ist. Es wird zwei Versionen von Sonic geben – Classic und Modern. Ein dritter Charakter, Avatar genannt, wird ebenfalls eingeführt. Mit der Avatar-Funktion können Spieler ihren eigenen Charakter erstellen. Das Gameplay ist dem vorherigen Titel Sonic Generations sehr ähnlich.
---
Prodigy Tactics
Early Access: 8. November 2017
---
---
Dieses taktische Rollenspiel von Hanakai Studios erlaubt es den Spielern, Figuren durch Karten zu steuern. Diese werden auf eine spezielle Karte gelegt, die an den PC des Spielers angeschlossen ist. Die Positionen auf dem Spielbrett beeinflussen die Fähigkeiten der Figuren im Spiel.
Zwei Teams treten in einer Arena gegeneinander an. Das Spielfeld hat 3 × 4 Felder und die Spieler müssen ihre Figuren und Karten strategisch platzieren. Während sich eine Seite auf den Angriff vorbereitet, bereitet sich die andere Seite darauf vor, sich zu verteidigen. Wie Spieler ihre Karten und Figuren positionieren, ist der Schlüssel zum Sieg.
Das Spiel bietet verschiedene Arenen sowie eine Reihe von einzigartigen Charakteren, aus denen Spieler wählen können. Es gibt auch zwei Solo-Modi sowie einen Online-Multiplayer-Modus.
---
TransRoad USA
Release Datum: 9. November 2017
---
---
Mit TransRoad: USA können Spieler ihr eigenes Logistikunternehmen führen. Du wirst als Kleinunternehmer anfangen und dir irgendwann vorstellen, dein Geschäft zu erweitern.
Zu den Merkmalen gehört ein komplexes Managementsystem, dass den Kauf und Verkauf von Lkws, die Einstellung und Erweiterung von Fahrern, die Entwicklung und Erweiterung der Marketingabteilung und vieles mehr umfasst. Ein weiteres Merkmal des Spiels ist das Lkw-Management, welches Aufgaben wie die Wartung von Lkws und die rechtzeitige Erfüllung von Aufträgen beinhaltet. Spieler können auch Anhänger für schwerere Lasten kaufen. Das Spiel hat drei Spielmodi: Kampagne, Sandbox und Quest.
---
Need for Speed Payback
Release Datum: 10. November 2017
---
---
Need for Speed Payback von Ghost Games spielt in einer offenen Welt und verfügt über drei spielbare Charaktere: Tyler Morgan (alias The Racer), Mac (alias The Showman) und Jess (alias The Wheelman). Gemeinsam werden sie versuchen, "The House" niederzuschlagen, ein Kartell, dass die Unterwelt von Fortune Valley kontrolliert.
Das Spiel bietet fünf verschiedene Fahrzeugklassen: Rennen, Drift, Off-Road, Drag und Runner. Du kannst deine Rennen, Missionen oder Herausforderungen je nach Klasse deiner Auswahl optimieren. Der Einsatz ist dabei bei jeder intensiven Verfolgungsjagd hoch, da es auch ein Risiko-gegen-Belohnung-Gameplay bietet.
---
Football Manager 2018
Release Datum: 10. November 2017
---
---
Der diesjährige Fußballmanager bringt neue Funktionen mit sich, mit denen die Führungskräfte ihre Teams besser verwalten können. Das Spiel enthält jetzt eine neue Grafik-Engine, ein Scouting-System in der realen Welt, ein neues Medical Center, einen neu gestalteten Taktikbildschirm, einen realistischen Transfermarkt und vieles mehr!
---
Football Manager Touch 2018
Release Datum: 10. November 2017
---
---
Football Manager Touch 2018 ist der "schnellere Weg zum Digital Dugout" dank der "Instant Result" Spielsimulation. Es ermöglicht den Managern, sich direkt auf die Kernbereiche zu konzentrieren – Taktiken und Transfers.
---
The Sims 4: Cats & Dogs
Release Datum: 10. November 2017
---
---
Die Sims 4 Cats and Dogs lässt die Spieler Katzen und Hunde für die Häuser ihrer Sims erschaffen und sich als Tierarzt um diese Tiere kümmern.
Jede Katze und jeder Hund kann personalisiert werden, dank des leistungsstarken "Create a Pet" -Tools. Diese Tiere haben auch ihr eigenes Verhalten, Aussehen und sogar ausdrucksstarke Outfits (Ganz Neu im Spiel!).
Als Tierarzt können die Spieler kranke Haustiere behandeln und ihre eigene Klinik betreiben.
---
Lego Marvel Super Heroes 2
Release Datum: 14. November 2017
---
---
LEGO Marvel Super Heroes 2 bringt Superhelden und Superschurken zusammen, während sie gegen Kang den Eroberer kämpfen. Das Spiel bietet ein brandneues Abenteuer mit berühmten Marvel-Charakteren.
Die Charaktere umfassen: the Guardians of the Galaxy, Black Panther, Thor, Doctor Strange, Green Goblin und mehr!
Das Spiel bietet neue Kampfmodi, mit themenbezogenen Herausforderungen und Kampfarenen.
---
Outcast: Second Contact
Release Datum: 14. November 2017
---
---
Outcast Second Contact ist der "komplette Remaster" des Kultklassikers Outcast von 1999. Das Spiel ermöglicht es den Spielern, die Rolle des Cutter Slade, einem amerikanischen Navy SEAL, zu übernehmen. Allein auf einem unbekannten Planeten ohne jegliche Ausrüstung und ohne Spur von seinen Gefährten und ohne Wissen, wie er seine Mission erfüllen könnte.
In der offenen Welt von Adelpha wird Slade selbst die Welt erkunden und gleichzeitig in eine fremde Kultur und Zivilisation eintauchen. Er wird sich der Armee des Tyrannen Fae Rhan stellen müssen und gleichzeitig Wege finden, um auf dem feindlichen Planeten zu überleben.
---
Farming Simulator 17 – Platinum Expansion
Release Datum: 14. November 2017
---
---
Aktualisiere deine Farming Simulator 17-Erfahrung mit der Platinum Expansion! Wenn du die Platinum-Erweiterung erwirbst, wird nicht nur deine Farming Simulator 17 Standard Edition auf Platinum Edition aktualisiert, sondern auch neue Inhalte hinzukommen!
Die Platin-Erweiterung bringt: eine neue südamerikanische Umgebung, eine neue Ernte (Zuckerrohr) und neue Fahrzeuge und Werkzeuge von Case IH, Stara, TT, Randon, FMZ und Gessner Industries.
---
Black Mirror
Release Datum: 28. November 2017
---
---
Black Mirror ist die moderne, neu interpretierte Version der Black Mirror-Trilogie von 2003. Das Spiel spielt im Jahr 1926 und folgt der Geschichte des Protagonisten David Gordon, der nach dem Selbstmord seines Vaters das Haus seiner Vorfahren besucht. Anscheinend glaubte sein Vater, dass ihre Familie von einem Fluch heimgesucht wurde. Nun liegt es an ihm, die schrecklichen Wahrheiten herauszufinden, die seine Familie umgeben und seit Generationen begraben wurden.
---