New Features on Keyforsteam.de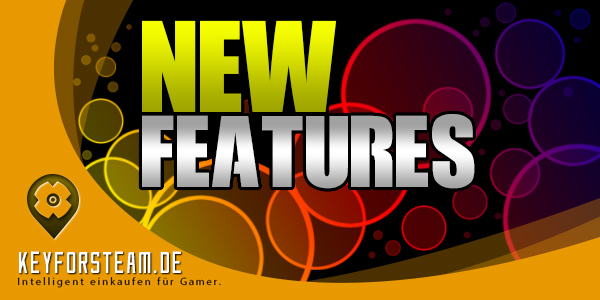 Wir haben uns Gedanken gemacht, wie wir Euch das Leben einfacher machen können uns haben einige neue Features für Euch umgesetzt. Überwiegend findet Ihr diese neuen Features auf unseren Spiele Seiten, aber auch auf unserer "Preis Statistik" Seite wurde gearbeitet. Auch wurde der Wunsch einiger User umgesetzt und Ihr könnt Euch ab sofort eine eigene "Wunschliste" erstellen.
Hier jetzt für Euch die Neuheiten im Detail anhand des Beispiels "Call of Duty: Advanced Warfare":
---
OFFIZIELLER SHOP ODER KEYSELLER?
Genau das ist hier die Frage und ab sofort könnt Ihr diesen Filter auf jeder Spiele Seite setzen und braucht nicht lange suchen. Einfach neben "Shops"  auf das Symbol

 in der Zeile über den angezeigten Shops klicken und schon bekommt Ihr das Auswahlfenster angezeigt.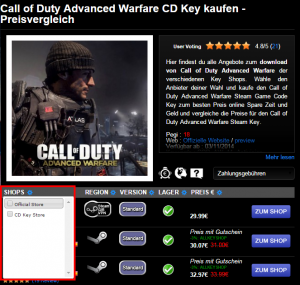 ---
VERSCHIEDENE REGIONEN PLATTFORMEN
Hier könnt Ihr Euch die Regionen/ Plattform anzeigen lassen wie z.Bsp. bei Call of Duty: Advanced Warfare für Steam, Steam Key, Steam Gift, Steam Key mit VPN, Steam Key Europe… Für die anderen Plattformen (Origin, Uplay etc) gilt das gleiche Verfahren.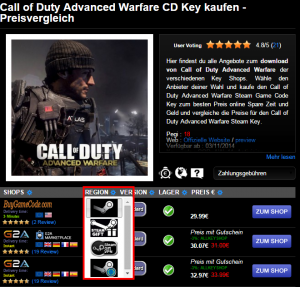 ---
UNTERSCHIEDLICHE GAME EDITIONEN
Diese Option dient der Unterscheidung von verschiedenen Versionen wie z.B. Standard Edition, Bonus Version, Preorder Bonus Edition, Day Zero Edition usw. damit Ihr direkt Eure ausgewählten Versionen angezeigt bekommt, haben wir Euch dieses erleichtert, indem Ihr direkt alle anderen ausschließen könnt.
---
STOCK ODER OUT OF STOCK?
Diese Frage stellt sich ab jetzt nicht mehr, denn Ihr könnt von vornherein auswählen ob "out of stock" ausgeblendet werden soll. Auch wenn Ihr verzweifelt Euren Lieblingsshop sucht, könnt Ihr kurz prüfen ob diese nicht evtl. "out of stock" ist und mit Hilfe des Filters geht das jetzt viel schneller.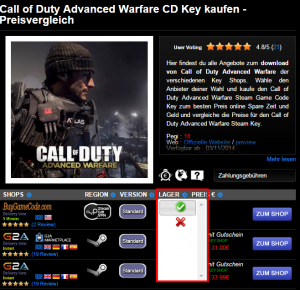 ---
WIE BITTE MÖCHTEN SIE ZAHLEN?
Auch hier wieder eine Auswahl an Zahlungsmöglichkeiten, Ihr könnt zwischen über 40 Möglichkeiten aussuchen, wie Ihr am liebsten zahlen möchtet. Ihr könnt auswählen zwischen PayPal, Überweisung, Paysafecard, Skrill, div. Kreditkarten Zahlungen etc. nur um hier ein paar der gängigen Zahlungsarten zu nennen.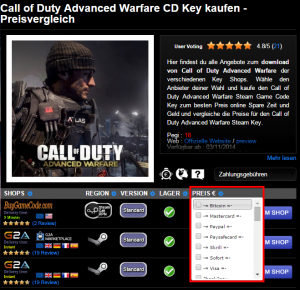 ---
MIT ODER OHNE ZAHLUNGSGEBÜHREN?
Dieser Filter dient dazu Euch die Preise mit oder ohne Gebühren anzeigen zu lassen. Filtert hier ob die Preise der Shops mit oder ohne PayPal Gebühr und mit Kreditkarten Gebühren angezeigt werden sollen. Die Preise werden dann für Euch von unserem System bereits entsprechend neu berechnet.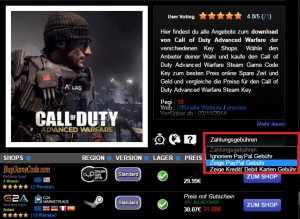 ---
WUNSCHLISTE!
Wir haben oftmals von Euch gehört, dass Ihr es toll fändet, wenn Ihr Euch eine eigene Wunschliste erstellen könntet und jetzt haben wir es auch umgesetzt. Die Liste ist noch in der Testphase und wird in Kürze auf allen Spiele Seiten zur Verfügung stehen. Dieses Icon 

 wird über jedem Spiel zu finden sein, so könnt Ihr die Spiele Eurer Wahl ganz einfach Eurer Wunschliste hinzufügen. Oder aber dort auch wieder ganz einfach mit einem Klick entfernen, falls Ihr Euch das Spiel gekauft habt, oder aber Ihr nicht mehr interessiert seid 

Einfach auf unserer Webseite über Euren Reward Login/ Facebook/ Google einloggen und schon stehen Euch die Wunschliste zur Verfügung.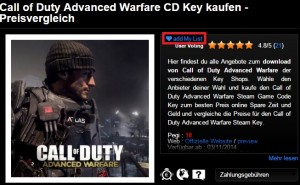 ---
TOP DEALS
Wir haben unsere Sidebar upgedatet und neben den TOP CLICKS und COMING SOON für Euch die besten Top Deals herausgesucht. Diese Deals werden im Minutentakt aktualisiert, je nachdem wie toll die Preise und Angebote sind, also nicht wundern, wenn Euer Deal von einem Moment auf den anderen verschwunden ist. Deshalb unser Tipp: JAGD DIE SCHNÄPPCHEN SO LANGE DIESE AKTUELL SIND!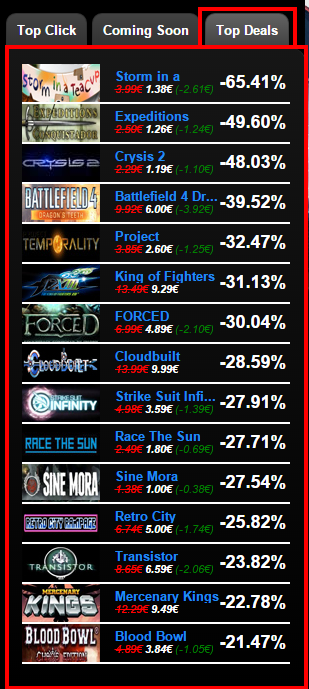 ---
DIE BESTEN PREIS DEALS!
Die mit für Euch interessanteste Seite ist unsere PREIS STATISTIK SEITE dort werden Euch die immer aktuellsten Preisdeals angezeigt. Ab sofort könnt Ihr diese sogar filtern, indem Ihr angebt ab wieviel Prozent und in welchem Jahr Ihr Euch die Spiele anzeigen lassen wollt. Auch hier gilt ZUGREIFEN UND NICHT WARTEN, SO LANGE DER PREISS HEISS IST!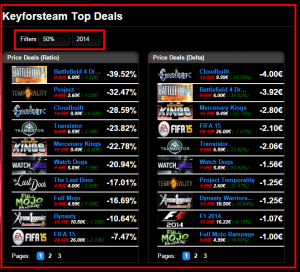 ---
Wir hoffen, Ihr habt Freude an den neuen Features und unsere Arbeit hat sich gelohnt. Wie immer hier der Hinweis, falls Ihr Anregungen oder Anmerkungen habt, immer gern an contact@keyforsteam.de senden, wir sind offen für alles und wie Ihr hier wieder seht, setzen wir auch tolle Ideen in die Tat um – viel Spass an dieser Stelle mit Eurer Wunschliste!
Euer Keyforsteam
---