Neues Jahr – Neue Spiele! | Game Releases Januar 2015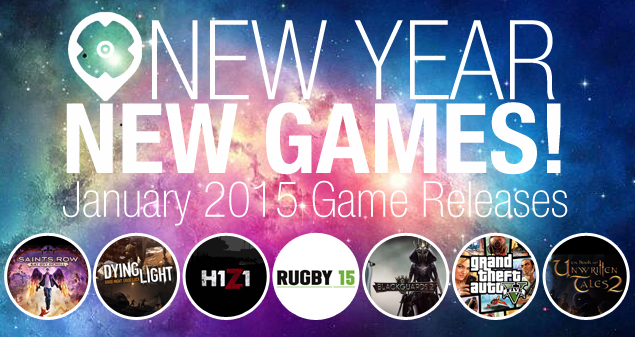 Mit einem grossen Knall  bringt und das neue Jahr 2015 nicht nur eine Menge Neues, Hoffnung und Spannung auf das, was kommen mag. Auch in diesem Jahr gibt es wieder tolle Game Releases!  Von RPG`s, Survival Games, zu FPS etc. Wir haben für Euch die Spiele für Januar 2015 aufgedeckt, check out our top pics:
Ist Dein Favorit dabei? Auf welches Spiel wartest Du und kannst das Release kaum erwarten? Lass es uns und allen Interessenten in den Kommentaren wissen!
---
1. Saints Row IV: Gat Out of Hell wird am 20. Januar 2015 für die Xbox One und Playstation 4 released. Mit einem brandneuen Abenteuer, Johnny Gat ist auf einer Mission um die Hölle aufzuspüren und dem Teufel ins Gesicht zu schiessen.
Release Date: 20.01.2015
---
2. Dying Light ist ein First – Person  Action-Spiel, in dem es um das reine Überleben geht.  Der Spieler gerät  in eine offene Welt voller Chaos und Zerstörung. Im Laufe des Tages durchstreift er auf der Suche nach zurückgelassenen Gegenständen, Waffen und Nahrungsmittel eine Stadt, die  von einer mysteriösen Seuche verwüstet und von Horden hirnloser  Monster übernommen wurde. Diese haben die ausgebrochene  Pest überlebt und werden in der Nacht stärker und aggressiver.
Also Vorsicht! Nachts wird aus dem Jäger – der Gejagte!
Release Date: 30.01.2015
---
3. Ein massives Multiplayer Online-Rollenspiel  kommt mit H1Z1 – der Zombie-Apokalypse ab dem 15.01.2015 auf den Markt. Der Ort des Geschehens sind die verlorenen Vereinigten Staaten während der Zombie-Apokalypse. Der Spieler muss quer durch die Städte wandern, für sich und andere Schutz, Nahrung und Ressourcen finden, um zu überleben. Andere Spieler können dich  begleiten oder auch manipulieren; einige können da sein, um zu helfen – aber hüte dich auch vor denen, denen du vertraust. Miteinander oder gegeneinander kämpfen?
Du hast die Wahl!
Release Date: 15.01.2015
---
4. Rugby 15 ist die mit Spannung erwartete neuste Fassung der bekannten Rugby Spielreihe. Es ist ein komplexes Spiel mit zahlreichen Regeln und bringt all die verschiedenen Elemente des Sports in einem Spiel zusammen. Es ist eine Herausforderung. Es wurden alle Komponenten des Sports zusammengebracht, um daraus ein gutes und spannendes Spiel zu kreieren.
Release Date: 23.01.2015
---
5. Blackguards 2 ist ein "dunkles" Fantasy rundenbasiertes RPG und konzentriert sich auf strategische Kämpfe und epische Quests. Es basiert immer noch auf dem RPG Regelbuch und kommt  zusätzlich mit einigen Änderungen, Optimierungen und auch einigen Vereinfachungen. Wenn sie nicht gerade in der Schlacht sind, kümmern sich die Spieler um viele Quests und die Entwicklung ihrer Charaktere. Wie häufig in Rollenspielen bieten die Quests optional und alternative Handlungsstränge.
Release Date: 20.01.2015
---
6. Grand Theft Auto V für deinen PC ??
Ja! Dieses fantastische GTA Spiel bietet dir den brandneuen First Person-Modus. Du kannst die unglaublich detaillierte Welt von Los Santos und der Blaine Grafschaft in einer völlig neuen Art und Weise über beide Story-Modi und Grand Theft Auto online erkunden.
Einsteigen und Gas geben…
Release Date: 27.01.2015
---
7. The Book of Unwritten Tales 2 ist ein dritte Person Point & Click-Spiel. Wenn ihr den Ersten Teil mochtet, ist dieser definitiv ein Muss. Es ist lustig und zugleich spannend geschrieben –  bunt sowohl im Klang und Aussehen.  Die Geschichte, die Charaktere mit ihren Stimmen, sowie der unverwechselbare Humor stellen dieses Abenteuer auf die  oberen Ränge dieses Genre.
Release Date: 30.01.2015
---