Neues Dishonored Death of the Outsider Video zeigt neue Spiele Informationen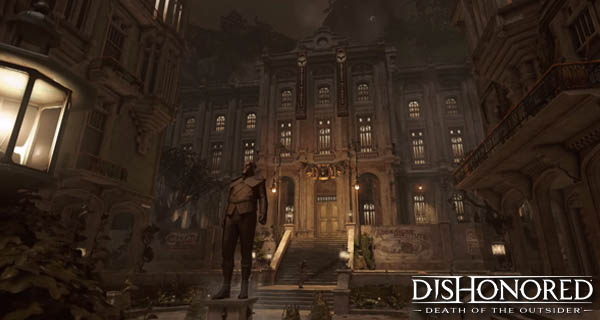 ---
Bethesda veröffentlichte ein neues Dishonored Death of the Outsider Video über ihren YouTube-Kanal. Dieses Video gibt uns ein paar Informationen darüber, was wir vom Spiel erwarten könnten.
---
---
Der verworrene Tod des Außenseiters ist in der alternativen Realität der 1850er Jahre eingestellt, die sich im Reich des Walfangs befindet. Es gibt korrupte Aristokraten, auf die du dich verlassen musst. Du wirst als Attentäterin mit übernatürlichen Kräften spielen, die magische Kräfte und Stealth und verschiedene Gadgets hat. Auch mit der Fähigkeit, von Dachterrasse auf Dachterrasse zu springen. Das Spiel ist sehr immersiv in seiner Perspektive der ersten Person. Die Spieler können jeden Winkel der Welt erkunden.
Death of the Outsider ist auch keine Erweiterung oder DLC, es ist eigentlich ein eigenständiges Abenteuerspiel. Es wurde auch erklärt, dass, da es ein eigenständiges Spiel ist, dies ein Einstiegspunkt für die Dishonored Serie sein kann und man verpasst somit keine vorherigen Geschichten. Die Geschichte des Spiels ist in sich komplett.
Schau dir das Dishonored Death of the Outsider Video hier an:
Spiele als Billie Lurke, eine Attentäterin mit anderen weltlichen Fähigkeiten. Sie findet ihren ehemaligen Mentor und ihr wurde ein letzter Job angeboten. Der Job ist, den mächtigen Außenseiter zu finden und endlich seine bösen Wege zu beenden. Das besagt somit, das es eigentlich der letzte der Dishonored Geschichte ist.
---
Dishonored: Death of the Outsider startet für den PC, die PlayStation 4 und Xbox One am 15. September 2017.
---