Need for Speed 2015 | Let´s Buy!
Need for Speed (engl. für "Bedürfnis nach Geschwindigkeit") ist eine Autorennspiel-Serie von Electronic Arts. Diese Serie erschien erstmals 1994 auf dem Bildschirm und seit dem sehen wir fast jährlich einen neuen Teil. Schnelle Autos, rasante Strecken und scharfe Kurven, das macht Need for Speed aus.
Der Fuhrpark nimmt mittlerweile eine stattliche Größe an und ihr werdet darunter keine Flitzer vermissen. Bekannte Marken wie Lamborghini, BMW, Porsche und es sollen laut Electronic Arts noch weiter folgen. Bestätigt wurde für 2015 aber bereits eine ganze Liste.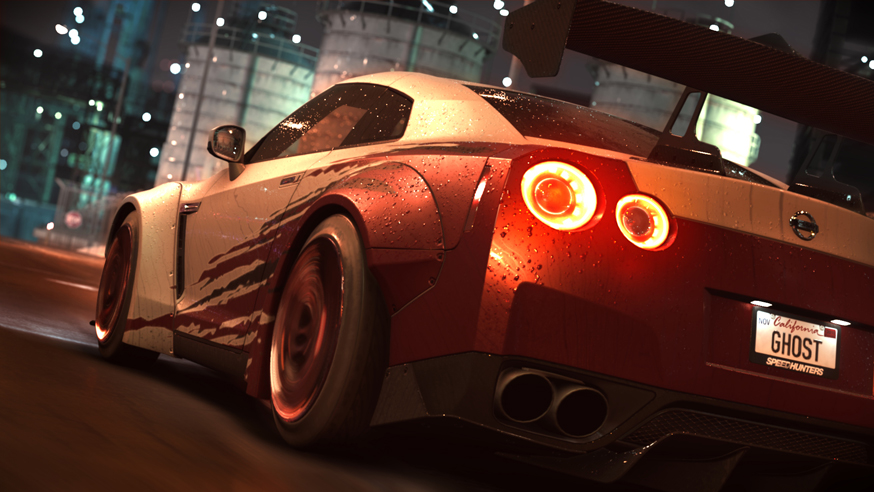 Wir haben sie mal Alphabetisch für Euch gelistet:
BMW

BMW M3 E46

BMW M3 Evolution II E30

BMW M4

Dodge

SRT Viper

Ford

Ford Focus RS

Ford Mustang

Ford Mustang GT

Lamborghini

Lamborghini Aventador LP 700-4

Lamborghini Diablo SV

Lamborghini Huracán LP 610-4

Lotus Exige S
Mazda

Mazda MX-5 1996

Mazda RX7 Spirit R

Mercedes AMG GT
Mitsubishi Lancer Evolution MR
Nissan

Nissan 180sx Type X

Nissan Fairlady 240ZG

Nissan GT-R Premium

Nissan Silvia Spec-R

Nissan Skyline GT-R KPGC10

Nissan Skyline GT-R V-Spec 1999

Porsche

Porsche 911 Carrera RSR 2.8

Porsche 911 Carrera S (991)

Porsche 911 GT3 RS

Subaru

Subaru BRZ Premium

Subaru Impreza WRX STI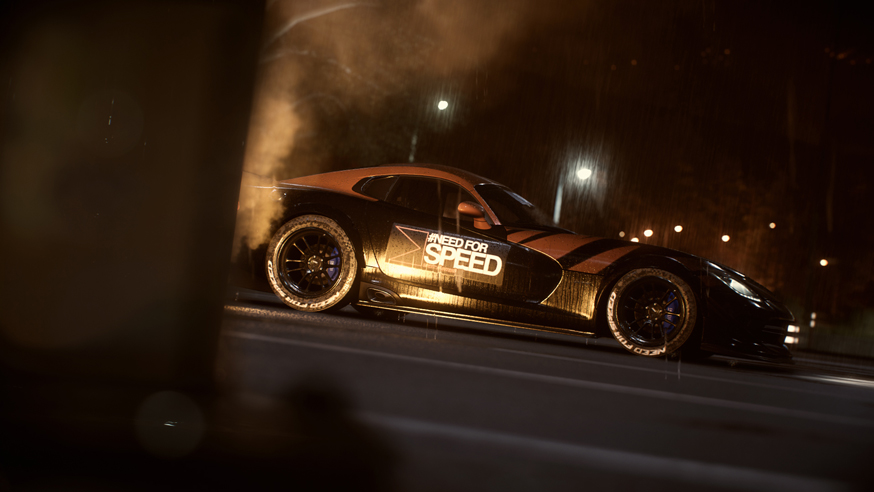 Das verspricht ein heißes Spiel zu werden, in dem du auf deine ganz eigene Art, in deinem einzigartigen Wagen dir und deiner Persönlichkeit freien Lauf lassen kannst.
Die Einzigartigkeit entsteht voller "Magie" in deiner Garage. Hier personalisierst du diese Kultfahrzeuge mit einem authentischen Tuning und aus einem Serienwagen wird im Handumdrehen dein Traumwagen.
Dafür stehen dir Zubehörmarken wie Rocket Bunny, Seibon Carbon und RAUH-zur Verfügung und du kannst die tollsten und abgefahrensten Teile an deinem Meisterwerk verbauen. Fast jeder Bereich deines Wagens kann verändert werden. Vom Außenspiegel, über Reifen, Felgen, bis zum Kotflügel und den Seitenschwellern – alles ist möglich!
Der neue Folien-Editor hat alles, was du brauchst, um deiner Fantasie freien Lauf zu lassen. Die Auswahl ist RIESENGROSS. Damit  gestaltest du  deine perfekte Lackierung mit tollen Details wie Logos, Formen, Flaggen, Mustern und vieles mehr.
Drücke deine Persönlichkeit mit deinem Meisterwerk aus und zeige uns, was du unter der Haube hast!
Gib Gummi!
---
Hier eine Kostprobe des offiziellen Need for Speed Soundtracks:
---
WIE KAUFT MAN

"Need for Speed" als ORGIN KEY UND FINDET BEI KEYFORSTEAM DAS BESTE ANGEBOT?
Ihr möchtet einen Key für Need for Speed zum besten Preis kaufen? Unser Preisvergleiche -Service ist für Euch genau das Richtige! Unsere Webseite listet die legitimen online-CD-Key Verkäufer auf, inklusive der Preise zu denen Need for Speed angeboten wird.  Durch diesen Vergleich könnt ihr eine ganze Menge Geld einsparen. Denn die Arbeit der aktuellen Preise und deren Vergleich machen wir uns! Ihr spart euch die Zeit im Internet zu suchen. Auch hat ein digitaler CD-Key Kauf seine preislichen Vorteile gegenüber dem "normalen" Kauf! Der Preis mindert sich enorm, durch die Vermeidung von teuren Versandkosten und Druckkosten, da die CD-Keys elektronisch ausgeliefert werden.
Besucht einfach unsere Need for Speed Preisvergleichsseite::
[sws_button class="" size="sws_btn_large" align="sws_btn_align_center" href="https://www.keyforsteam.de/need-for-speed-2015-key-kaufen-preisvergleich/" target="_blank" label="Need for Speed 2015 | Check den Deal" template="sws_btn_apple" textcolor="#0099FF" bgcolor="#0099FF" bgcolorhover="#0099FF" glow="sws_btn_glow_blue"] [/sws_button]
Dort sucht ihr euch euren Favoriten aus. Egal, ob ihr nach dem Preis geht, dem Shop eure Vertrauens oder den wählt, der vielleicht eine BONUS Variante anbietet. Dann nur noch auf die Schaltfläche JETZT EINKAUFEN klicken. Dann werdet ihr direkt auf die Website eures ausgewählten Shops umgeleitet. Jetzt das Game einfach in den virtuellen Einkaufswagen legen und zum ZAHLEN gehen. Hier sucht ihr euch eure Zahlungsmethode aus und schon ist der Kauf getätigt.
Jeder Shop hat seine "Lieferzeit", die auch direkt dort angegeben ist. Falls das Spiel noch nicht RELEASED ist, müsst ihr euch auch bis zum Release Datum gedulden.
Sollte es Wiedererwartend einmal ein Problem geben, wendet euch bitte unverzüglich an den zuständigen Support des Verkäufers, der hilf euch in der Regel weiter. Sollte dies einmal nicht passieren, könnt ihr euch auch an uns wenden. (contact@keyfirsteam.de)
---
BITTE bedenkt, KEYFORSTEAM verkauft nichts! Wir bieten Euch den SERVICE des VERGLEICHES an!
---
---
Wie aktiviert man einen Orgin Key?
Wollt ihr einen Origin CD-Key kaufen, aber seid euch nicht sicher, wie sich dieser  aktivieren lässt? Diese Kurzanleitung wird euch helfen, das Spiel in kürzester Zeit spielen zu können.
Zuerst müsst ihr die Origin Anwendung herunterladen. Sobald ihr diesen heruntergeladen und installiert habt, müsst ihr eure E-Mail Adresse eingeben und euch mit einem Passwort registrieren. Ihr braucht ein Passwort, um ein Konto zu erstellen (sofern ihr noch kein Konto habt). Gebt euren Benutzernamen und das Passwort ein. Nachdem die Anwendung geladen wurde, wählt 'Origin' aus dem Hauptmenü aus und ihr könnt anschließend den "Key Code einlösen.
Ihr werdet aufgefordert, den Origin CD Key einzugeben. Wenn ihr einen Code aus einem der Läden, die bei uns gelistet sind, erworben habt, wird der CD-Key entweder an die angegebene E-Mail Adresse oder auf euer Online-Konto im Website Store gesendet. Gebt den Code in das Dialogfeld so ein,  wie er in eurer E-Mail angezeigt wird. Euch wird das gekaufte Spiel inklusive einer kurzen Zusammenfassung und die Sprachen, die zur Verfügung stehen übertragen. Klickt dann auf "Weiter" und ihr gelangt zum nächsten Schritt.
Es erscheint ein Bestätigungsfeld, das euch zeigt, dass der eingelöste Key Code bestätigt und somit eingelöst wurde. Das bedeutet, dass das Spiel nun zum Download zur Verfügung steht. Daraufhin befindet sich das  Spiel, das ihr gerade aktiviert habt auf der Registerkarte 'Meine Spiele'.
Um das Spiel zu spielen, müsst ihr  nur noch auf der " Meine Bibliothek"  klicken, und "Download" auswählen. Jetzt noch den  EULA Vereinbarungen zustimmen, und das Spiel wird dann heruntergeladen und installiert.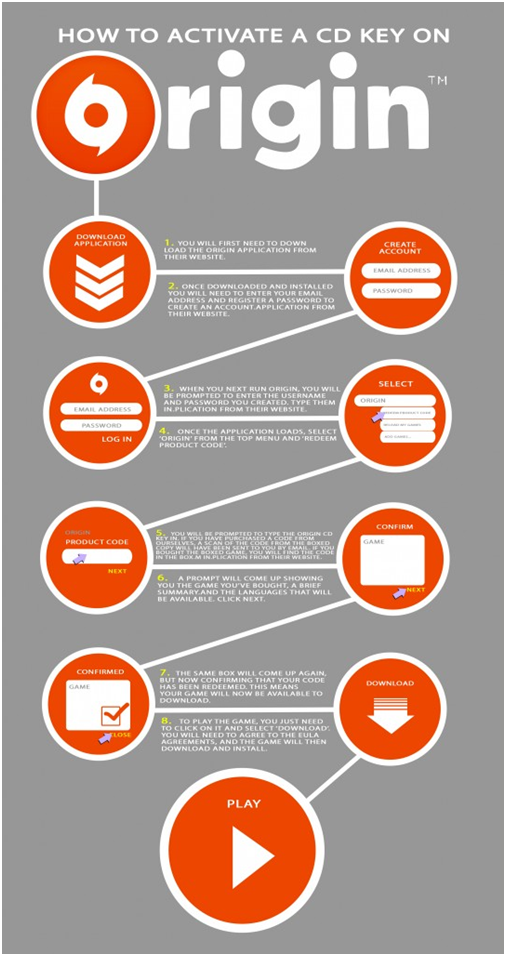 Viel Spaß mit dem Spiel!
---
 SPREAD THE WORD TO YOUR FRIENDS AND EARN POINTS!
[mycred_share_this href="facebook"]Facebook Share[/mycred_share_this] • [mycred_share_this href="google"]Google Share[/mycred_share_this] • [mycred_share_this href="twitter"]twitter Share[/mycred_share_this]