Metro Exodus ist jetzt ein zeitlich begrenztes Epic Spiel

---
Epic Games hat ein weiteres Spiel gewonnen, als Deep Silver angekündigt hat, dass Metro Exodus jetzt nur noch über die Plattform von Epic auf dem PC verfügbar sein wird. Das Spiel ist schon seit einiger Zeit auf Steam vorbestellbar, der Buy-Button wurde jedoch durch einen Hinweis von Valve ersetzt.
---
---
Es ist gerade zwei Wochen vor der Veröffentlichung des Spiels, also hat dieser Schritt sogar Valve überrascht. Hier ist der Hinweis, den sie aktuell auf der Spieleseite gepostet haben: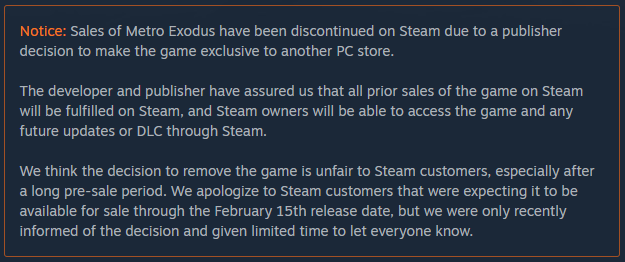 Es ist offensichtlich, dass Epic bereit ist, viel zu unternehmen, um seine Aushängeschilder zu fördern. Deep Silver sagte zunächst, dass physische Vorbestellungen nicht betroffen seien, stellte jedoch später klar, dass die darin enthaltenen Codes jetzt Epic-Codes anstelle von Steam-Codes sein würden. Merkwürdig, vor allem wenn man bedenkt, dass die Box-Vorbestellungen zu diesem Zeitpunkt versandbereit sein sollten.
Your physical copy of Metro Exodus will now ship with an Epic key

— Metro Exodus (@MetroVideoGame) January 29, 2019
Wie in der Mitteilung angegeben, werden alle über Steam verarbeiteten Vorbestellungen weiterhin auf der Plattform ausgeführt. Diejenigen, die das Spiel zukünftig bei Steam kaufen möchten, müssen jedoch ein ganzes Jahr warten, da das Spiel erst nach dem 14. Februar 2020 wieder bei Steam (und anderen Storefronts) erscheint.
Die einzige gute Nachricht ist, dass auf der neuen zeitgesteuerten exklusiven Plattform fast 10 Euro vom Preis des Spiels gesenkt wurden. Aber selbst das scheint ein Klacks angesichts derer zu sein, die Steam vorbestellt haben.
---
Metro Exodus wird am 15. Februar auf dem PC, der Xbox One und PS4 starten.
---