März 2018 PC Spiele Release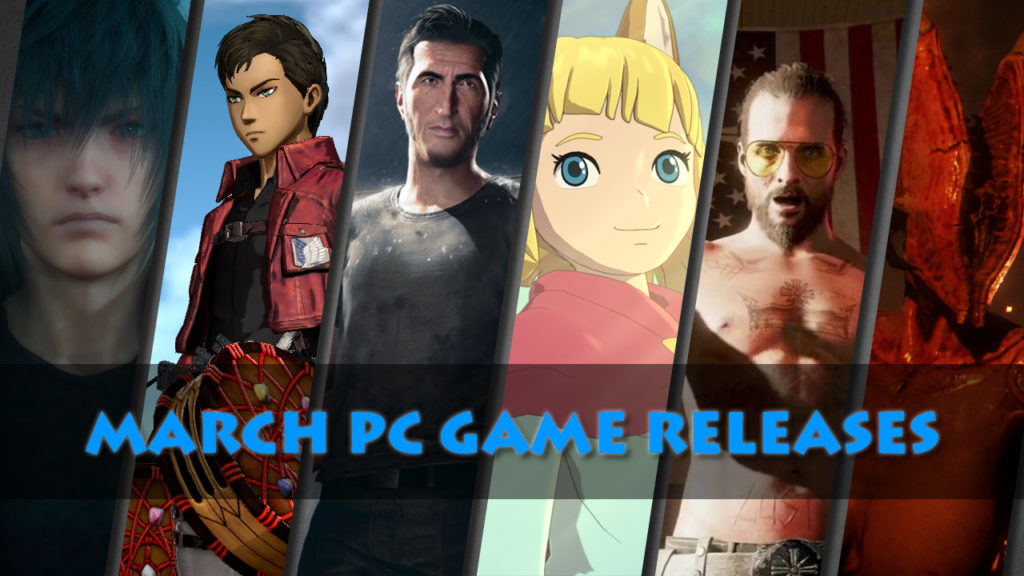 ---
Der März, der immer noch mit großartigen neuen Spielen glänzt, setzt die Reihe großer monatlicher Veröffentlichungen von 2018 fort. Von dem lange bevorstehenden PC-Port eines sehr beliebten RPGs, bis zum nächsten Teil eines viel erwarteten Shooters und sogar einer der aufregendsten Multiplayer-Erfahrungen, die dieses Jahr herauskommen, wirst du diesen Monat definitiv alle Hände voll zu tun haben. Also, ohne weitere Umschweife, hier sind die besten PC Game Releases vom März 2018 für dich:
---
FINAL FANTASY 15 WINDOWS EDITION
6. März 2018
---
---
Es ist lange her, aber der neueste Eintrag in der langen RPG-Serie von Square Enix kommt endlich auf den PC. Final Fantasy 15 Windows Edition wird alle bisher veröffentlichten Season-Pass-Inhalte enthalten – Episode Gladiolus, Episode Prompto, Episode Ignis und die Multiplayer-Erweiterung: Comrades – sowie alle neuen Inhalte, die die ohnehin schon riesige Spielwelt erweitern. Du wirst auch die Welt mit neuen grafischen Verbesserungen und Unterstützung für HDR und bis zu 8K wie nie zuvor erleben.
---
FEAR EFFECT SEDNA
6. März 2018
---
---
Der nächste Eintrag in der Fear Effect-Serie wird isometrisches Stealth-Gameplay enthalten, dass durch das Fear-System des Spiels verbessert wird. Mit Hilfe verschiedener Waffen und Spezialfähigkeiten musst du verschiedene Orte erkunden, sowohl in unserer Welt als auch in den ätherischen Bereichen der Inuit-Mythologie. Dieses Mal kannst du mehr über die Vergangenheit der legendären Fear-Effekt-Charaktere erfahren, während du ein brandneues Mysterium aufnimmst.
---
ATTACK ON TITAN 2
20. März 2018
---
---
Attack on Titan kehrt für einen zweiten Einsatz zurück, mit der Geschichte aus der 2. Staffel des Anime und viel mehr Titan-Spaß. Erlebe verbesserte Mobilität mit omnidirektionaler Bewegung und sogar noch intensivere Kämpfe mit weiterentwickelten Titankämpfen. Du wirst auch eine andere Seite deiner Lieblingscharaktere sehen, wenn du deine Beziehungen zu ihnen entwickelst, während die Geschichte voranschreitet.
---
SEA OF THIEVES
20. März 2018
---
---
Wenn du immer davon geträumt hast, das Leben eines Piraten ohne die moralischen und rechtlichen Implikationen zu leben, könnte dies ein Spiel für dich sein. Sea of Thieves ist eine Multiplayer-Piraten-Sandbox, in dem du allein oder mit Freunden auf deinem eigenen Schiff durch die Meere streifen kannst. Wenn du nach einem Schatz suchst, wirst du andere Spieler treffen, die dir bei deiner Aufgabe helfen können, oder du lässt ihre Kanonen auf dich richten, sobald sie deine Segel sehen.
---
A WAY OUT
23. März 2018
---
---
Das nächste Spiel der Macher von Brothers: A Tale of Two Sons ist ein weiteres Coop-Abenteuer, bei dem du und ein Freund in die Rolle zweier Sträflinge geraten, die zusammenarbeiten müssen, um aus dem Gefängnis zu entkommen und draußen zu überleben. Auch wenn du online spielst, wird das Spiel immer im Split-Screen-Modus angezeigt, da das Spiel beide Spieler dazu bringt, sich gegenseitig über ihre Situation zu informieren. Interessanterweise benötigst du nur eine Kopie zum Spielen, auch wenn beide online sind.
---
NI NO KUNI 2 REVENANT KINGDOM
23. März 2018
---
---
Als der junge König Evan musst du dich auf eine epische Mission begeben, um ein neues Königreich zu errichten und die Bewohner deiner Welt zu vereinen, um die dunklen Mächte zu bekämpfen, die es bedrohen. Level-5 hat hart gearbeitet, um interessante Charaktere und eine wunderschöne Welt für das Rollenspiel zu erschaffen, und das zeigt sich auf jeden Fall. Das Gameplay ist eher auf Action ausgerichtet als traditionelle JRPGs.
AUCH AUF: PS4 
---
PURE FARMING 2018
23. März 2018
---
---
Erlebe die Grundlagen der modernen Landwirtschaft, während du deine Agrarimperium auf globaler Ebene aufbaust. Mit authentischen Landwirtschaftsfahrzeugen von Branchenführern, 4 verschiedenen Standorten mit speziellen Maschinen und regionalspezifischen Ernten sowie einem All-in-One-Simulator für alle Aspekte der modernen Landwirtschaft bietet Pure Farming 2018 stundenlangen landwirtschaftlichen Spaß, ohne zu hardcore zu werden .
---
FAR CRY 5
27. März 2018
---
---
Definitiv eine der am meisten erwarteten Veröffentlichungen des Jahres, Ubisofts Open-World-Shooter kommt mit seinem allerersten Einstieg in die USA nach Hause. Schließe dich einem militaristischen Weltuntergangskult an, der Hope County, den Montana übernommen hat. Du wirst eine zuverlässige Gruppe von rekrutierbaren Widerstandsmitgliedern haben, um dich zu unterstützen, und das Spiel ermöglicht es einem Freund, dir jederzeit mit Drop-in-Drop-Out-Coop zu helfen.
---
AGONY
30. März 2018
---
---
Du bist in der Hölle gefangen, endlos gequält und ohne Erinnerungen. Natürlich ist das einzige, was du tun kannst, die Hölle, um rauszukommen. Du wirst sehr feindliche Umgebungen erforschen, wenn du mit anderen müden Seelen interagierst. Du wirst bald erfahren, dass deine einzige Chance der Flucht ein Treffen mit der mystischen Roten Göttin ist. Ausgestattet mit der Macht, Leute zu kontrollieren und sogar einfältige Dämonen zu besitzen, musst du alle notwendigen Mittel einsetzen, um dieses Schicksal zu erreichen.
---
Was sagst du zu dieser tollen Game-Release Liste? Ist eins deiner Spiele dabei, auf die du wartest?
Oder fehlt etwa eins deiner Lieblingsspiele, dass unbedingt in unsere März-Release -Liste gehört?
Lass es uns in einem Kommentar unten wissen.
---