Mai 2018 PC Spiele Release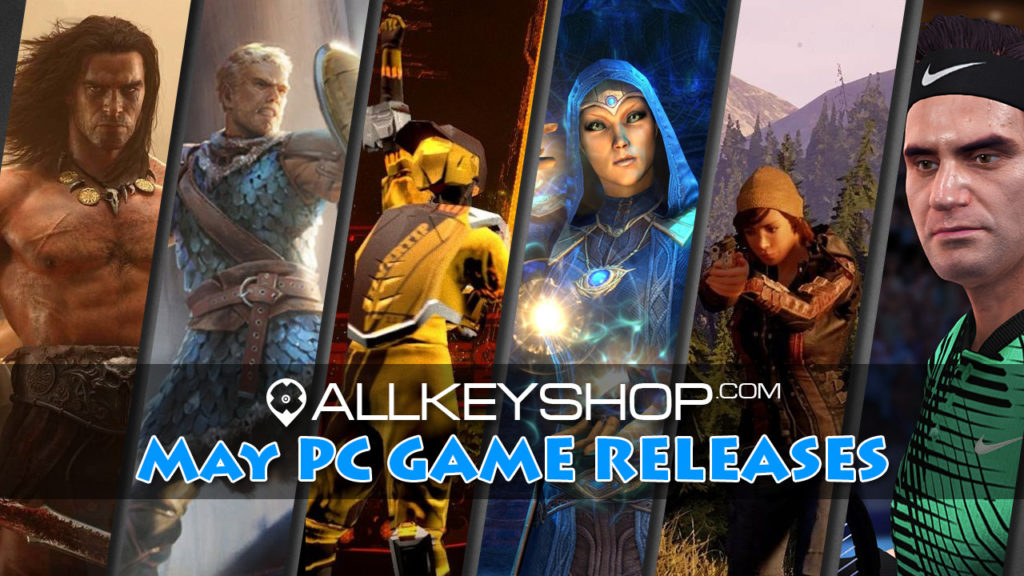 ---
Die Zeit vergeht so schnell. Wir sind schon fast in der Mitte des Jahres. Es gab so viele großartige Veröffentlichungen und ich bin mir sicher, dass du bereits eine Menge Zeit mit unseren tollen Spielen verbracht hast. Leider musst du möglicherweise noch mehr Zeit investieren, da es in diesem Monat großartige Veröffentlichungen auf dem PC gibt. Hier sind die besten PC-Spiel-Release im Mai 2018:
---
Mai 2018 PC Game Releases
---
Total War Saga Thrones of Britannia | 3. Mai
---
---
Thrones of Britannia ist der erste in einer Reihe von geplanten Spin-offs, die Creative Assembly einsetzen möchte, um die Total War-Formel auf ganz bestimmte historische Ereignisse zu bringen. Das Spiel wird dich nach Europa bringen, wo vier Königreiche durch Krieg und fremde Eindringlinge zerbrechlich geworden sind. Schreibe einen kritischen Moment in der Geschichte auf, wenn vier Königreiche in einer Nation unter der Herrschaft eines Königs vereint sind. Wird die Geschichte deine Suche begünstigen?
---
Conan Exiles | 8. Mai
---
---
Als Verbannter in einem barbarischen Ödland musst du überleben, bauen und dominieren oder wirst zerquetscht werden, so wie die Schwachen es oft erfahren. Conan Exiles ist ein offenes Überlebensspiel, das Sandbox-Gameplay mit einer Welt voller Geschichte und Überlieferungen kombiniert. Die Spieler können alleine oder mit Freunden spielen und sogar auf öffentlichen Servern persistente Multiplayer spielen. Wenn du lokal spielst oder eine Sitzung mit deinen Freunden veranstaltest, erhältst du administrative Tools, mit denen du deine Erfahrung anpassen kannst. Das Spiel bietet auch Mod-Unterstützung mit über 450 Mods, die momentan verfügbar sind.
---
Pillars of Eternity 2 Deadfire | 8. Mai
---
---
Die Nachfolge des von Kritikern gefeierten cRPG aus Obsidian ist endlich da. Deadfire sieht die Rückkehr des Gottes Eothas vor, der einst für tot gehalten wurde. Es liegt an dir, herauszufinden, warum er zurückgekehrt ist und ob er seine Bemühungen unterstützen oder behindern kann. Du durchquerst das Deadfire, eine Inselkette voller Piraten, an Bord deines treuen Schiffes Defiant. Dein Schiff wird deinem Abenteuer eine ganz neue Dimension verleihen, da es als aufrüstbare Heimatbasis dient und im Kampf zwischen Schiffen zum Einsatz kommt.
---
Doughlings Arcade | 10. Mai
---
---
Wenn du dachtest, dass das klassische Brickbreaker-Genre tot ist, würde Doughlings Arcade das Gegenteil beweisen. Developer Hero Concept hat die klassische Formel wiederbelebt und neu erfunden, indem sie spezielle Fähigkeiten hinzugefügt, die Ästhetik verändert und einen Level-Editor integriert hat. Es gibt 90 Levels, die du abschließen musst, und einzigartige Herausforderungen, die du auf dem Weg entdecken kannst.
---
Laser League | 10. Mai
---
---
Laser League ist ein rasantes Arena-Sportspiel mit Teamkämpfen, bei dem du die Kontrolle über Knoten übernimmst, die Lichtfelder aktivieren, die das gegnerische Team beschädigen. Halte dich von den Lichtern deines Gegners fern und nutze deine speziellen offensiven und defensiven Fähigkeiten zur richtigen Zeit, um die Waage zu deinen Gunsten zu nutzen. Das Spiel ist leicht zu erlernen, aber es zeigt sich für diejenigen, die Hingabe zeigen, komplexe strategische Möglichkeiten.
---
The Elder Scrolls Online Summerset | 21. Mai
---
---
Quenn Ayrenn öffnet die Heimat der Hochelfen zum ersten Mal für Außenstehende, um ein unheimliches Komplott aus den dunklen Ecken von Summerset zu enthüllen. Das neueste Kapitel für The Elder Scrolls Online fügt einen ganz neuen Bereich hinzu, den es zu erkunden gilt. Du wirst auch zum ersten Mal dem Psijic-Orden beitreten, der dir Zugang zu einer eigenen Fertigkeitslinie gewährt, die neue aktive und passive Fähigkeiten sowie ein mächtiges Ultimum beinhaltet.
---
State of Decay 2 | 22. Mai
---
---
Die Fortsetzung des Horror-Survival-Titels ist endlich da. State of Decay 2 erhöht den Einsatz, da es dir die Kontrolle über eine Gemeinschaft gibt. Es gibt aber nicht nur einen hier, stattdessen wechselst du zwischen mehreren Charakteren. Aber Vorsicht, da der Tod permanent anwesend ist, und das Verlieren eines Charakters könnte für deine Community einen Untergang bedeuten, wenn du deine Karten nicht richtig spielst. Das Spiel erlaubt dir nun auch mit bis zu 3 Freunden in Koop zu spielen.
---
Tennis World Tour | 22. Mai
---
---
Ancestors Legacy ist ein Squad-based RTS, mit dem du die Kontrolle über eine Armee übernehmen kannst, während du durch das mittelalterliche Europa stürmst. Entscheide dich für eine von vier Nationen in einer umfangreichen Kampagne, die von historischen Ereignissen inspiriert ist. Benutzte erweiterte taktische Optionen wie das Gelände des Schlachtfelds und die Erfahrung und Moral deiner Einheiten. Fordere deine Freunde in intensiven Multiplayer-Schlachten mit Ressourcenmanagement und Dorfaufbau heraus.
Und das sind sie! Die Release in diesem Monat. Achte darauf, die Angebote, die wir zusammen mit den Spielen gepostet haben, zu überprüfen, um sicherzustellen, dass du die besten Preise erhältst, je nachdem, was du kaufen möchtest. Viel Erfolg und vor Allem Spaß beim Spielen!
---