Kümmern Sie sich um das Spiel: Verbotener POE-Build
Wir können mit Sicherheit sagen, dass es mehrere hundert Path of Exile builds gibt. Das liegt daran, dass es für jede Klasse so viele verschiedene Möglichkeiten gibt, sie aufzubauen. Und dann gibt es noch den sogenannten Verbotenen Bau, der gut geeignet ist, um zu sammeln. Schauen wir uns an, warum dieses Build den Namen bekam und warum Sie es selbst ausprobieren sollten.
Schock, Ehrfurcht und Heiterkeit
Der Grund für einen so furchterregenden Namen ist ziemlich komisch: weil er so stark von den AOE-Zaubern und der Unterstützung von "When Damage Tasks" abhängt – bis zu dem Punkt, dass die Konstruktion praktisch eine sich selbst erhaltende Rückkoppelung erhält. Wer auch immer dieses Build gebaut hat – oder besser gesagt, baut (mehr dazu später) – hat sogar darüber gescherzt, dass man es nur dann machen sollte, wenn man seiner GPU gegenüber feindselig eingestellt ist, aus offensichtlichen Gründen.
Ende und aus
Es mag seltsam erscheinen, zuerst die Nachteile zu erklären, dies ist keine alltägliche Konstruktion. Was ist also das Problem mit dem Verbotenen Bau? Es kann die Momente zum Absturz bringen, da Sie so viele Fähigkeiten gleichzeitig einsetzen. Selbst mit einem sehr mächtigen Setup kann das Spiel nur so viel Geschicklichkeit auf einmal bewältigen, also schließt es sich ohnehin von selbst!
Für die Profis geht es um Folgendes: Diese Konstruktionen sind tatsächlich sehr gut machbar. Bis auf wenige Ausnahmen kommen sie durch viele Inhalte hindurch. Wer auch immer diese Verbotenen Builds gestartet hat, sagte, sie sollen Spaß machen – und das tun sie auch. Wenn es Ihnen also nichts ausmacht, dass Ihr Spiel hier und da abstürzt, dann probieren Sie sie unbedingt aus!
Mehr als 1
Wie wir bereits erwähnt haben, geht es nicht nur um verbotene Gebäude, sondern auch um verbotene Builds. Es gibt derzeit mehr als fünf Verbotene Builds, die alle besser sind als ihre Vorgänger. Sie wurden von derselben Person, OMGitsJousis, erstellt, und obwohl die neueren Versionen besser sind, haben sie alle die gleiche Funktion wie die allererste: so viele Zaubersprüche wie möglich zu aktivieren. Der Teil über Ihr Setup und das Ringen des Servers mit sich selbst ist jedoch hauptsächlich beim ersten Build geblieben, da er beschlossen hat, dass die neuen einfach mehr Spaß machen.
Obwohl es eine gute Idee zu sein scheint, gleich zum fünften zu springen, ist es empfehlenswert, sie alle auszuprobieren. Es ist definitiv nicht die "Meta"-Sache, aber vertrauen Sie uns: es macht Spaß! Schließlich handelt es sich bei diesen Builds nicht um Meta-Bauten, so dass es ziemlich sinnlos ist, sie als Hauptgebäude für den Challenge-Wettbewerb zu verwenden.
Nicht wie die erste
Da dieser Artikel nicht alle fünf verschiedenen Gebäude abdecken kann, konzentrieren wir uns auf das Original. Dafür brauchen Sie das Auge der Unschuld, denn es gibt Ihnen die Chance, Ihre Feinde zu entzünden. Denken Sie jedoch daran, dass dieses spezielle Amulett auch Ihnen Schaden zufügt. Aber das ist gut, denn Sie werden eine Menge "Cast When Tasks Damage"-Perlen verwenden. Außerdem werden Sie 2 % Feuerschaden als Lebenspunkte aufsaugen, solange Ihr Feind gezündet wird, also ist alles gut, was gut endet!
Zusammen mit Eye of Innocence werden Sie Ngamahu'sSign verwenden. Dadurch erhöht sich nicht nur die Chance, dass sich Ihre Feinde entzünden, sondern die Zeitspanne wird auch um 15% verlängert, was wiederum mehr Schaden bedeutet. Außerdem heilt man jedes Mal, wenn man einen Feind feuert, 20-30 Lebenspunkte.
Wenn Sie noch mehr Schaden anrichten wollen, verwenden Sie den Disintegrator, der Ihren Zaubern einen Bonus für physischen Schaden verleiht. Nach der Auflistung dieser Ausrüstung ist die beste Klasse dafür der Assassin/Snip Killer, dank seiner Noxious Strike-Fähigkeit. Wenn man dazu noch Fenumus-Toxine hinzufügt, verursacht man mit der Zeit eine Menge Schaden.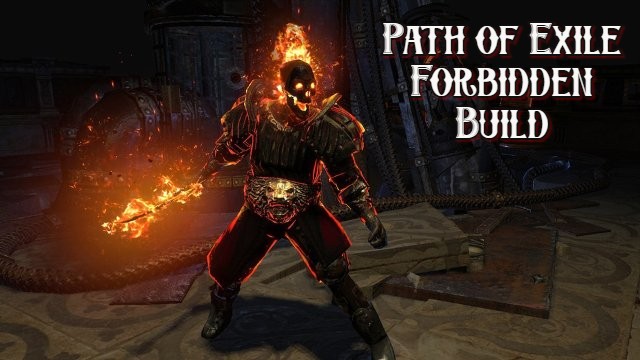 Bei so viel Schaden mähen Sie nicht nur eine Herde nach der anderen nieder, sondern auch den Kunden selbst, indem Sie ihn mit Fertigkeitsanimationen, Abkühlungszeiten und DOT-Timern überladen. Selbst wenn Sie Ihre Hardware maximieren und die Einstellungen herabsetzen, kann das System nur so viele Berechnungen durchführen, bevor es abstürzt.
Glücklicherweise können Sie diese Abstürze verringern, indem Sie den Grundschaden Ihrer Zaubersprüche erhöhen. Da Feinde schneller sterben, sind die DOT-Zeiträume kürzer. Indem man den Kunden weniger zählen lässt, wird die Wahrscheinlichkeit eines Absturzes reduziert. Die anderen Verbotenen Builds nutzen dieses Prinzip tatsächlich, so dass man sie effektiv spielt, anstatt das Spiel zu beenden, weil man es kann.
Halten Sie sich nicht immer an das, was "möglich" ist, lassen Sie sich frei und seien Sie manchmal kreativ. Und wie könnte man seine Vorstellungskraft besser unter Beweis stellen, als mit einem Klopfen im wahrsten Sinne des Wortes? Also nur zu, versuchen Sie es, sagen Sie es Ihren Freunden und lassen Sie sie das auch tun.