Kinguin.net Marketplace | Quick Guide zum besten Preis

Nein, Kinguin geht nicht pleite und muss Keys zu Schnäppchenpreisen anbieten! Kinguin hat jetzt einen Marketplace und wir wollen Euch erklären, warum Kinguin jetzt günstigere Preise anbieten und im Preisvergleich in der oberen Liga mitspielen kann. Hier kurz an einem aktuellen Beispiel Call of Duty: Advanced Warfare angezeigt: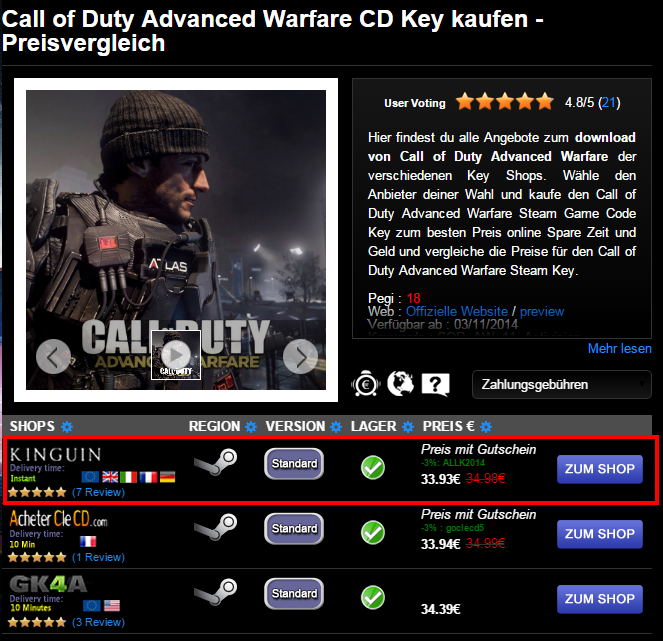 Wundert Euch nicht, wenn Ihr von Keyforsteam.de auf die entsprechende Kinguin.net Spiele Seite geleitet werdet, warum dort auf einmal ein anderer Preis angezeigt wird, als bei uns im Preisvergleich. Und zwar zeigen wir den günstigsten Preis vom Kinguin.net Marketplace an. Und zwar zeigt Kinguin.net oben den höchsten Preis aus derem Marketplace an. Aber dank uns Eurem Preisvergleich erklären wir Euch, wie Ihr an den besten Preis im Kinguin.net Store kommt. Hier an einem Beispiel erklärt:
Oben rechts wird 38,99 € als Preis für Call of Duty: Advanced Warfare Steam Key angezeigt.  Weiter unten allerdings im sogenannten Marketplace gibt es den gleichen Key für 34,99 € und dieser Preis wird von uns ab sofort gescannt und Euch in unserem Preisvergleich angezeigt. Denn wir zeigen finden und zeigen Euch, wie versprochen immer die besten Preise! 🙂
Ist das nicht super, in einem der besten Shops bei Kinguin.net super Keys zu super Preisen. Das ist noch nicht alles, bei Kinguin.net gibt es sogar ganz speziell für unser Netzwerk einen 3% Rabatt Coupon auf alle Kinguin.net Spiele. Einfach den Coupon ALLK2014 im Kinguin.net Shop eintragen und gut & günstig spielen!
---