Kingdom Come Deliverance Menschen hinter den Szenen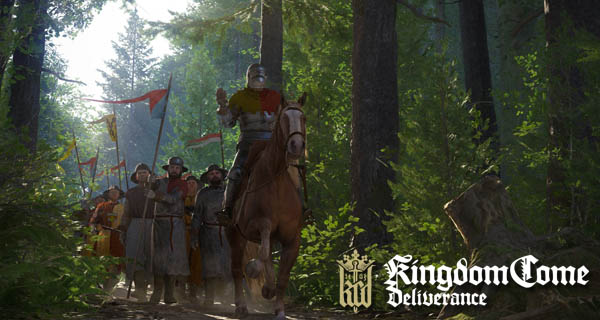 ---
Warhorse Studios hat drei Kingdom Come Deliverance-Leute vorgestellt, die sehr wichtig für den kreativen Prozess des Spiels sind. Die drei, die diese Woche ausgewählt wurden, sind der Skripter, der Senior Programmierer und der PR Manager.
---
---
Jeder dieser Menschen spielt eine besondere Rolle im Spiel und du kannst unten ein wenig mehr über sie erfahren.
---
Martin "Athert" Antoš der Skripter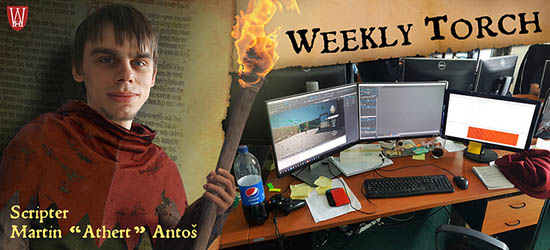 Die Aufgabe des Skripters ist es, sicherzustellen, dass alle Teile des Spiels miteinander verbunden sind und im Spiel korrekt zusammenarbeiten. "Als Skripter ist es meine Aufgabe, alle von anderen Abteilungen produzierten Inhalte (Animationen, Modelle, Funktionen, Design usw.) miteinander zu verbinden und sicherzustellen, dass sie im endgültigen Spiel so zusammenpassen, wie es beabsichtigt ist."
Ein paar Dinge mehr, die du über ihn wissen solltest, ist, dass er in der Tschechischen Republik geboren wurde und in den Warhorse Studios im Jahr 2014 direkt nach der Eröffnung der Kickstarter-Kampagne des Spiels arbeitete.
---
Michal "Mikee" Hapala der Senior-Programmierer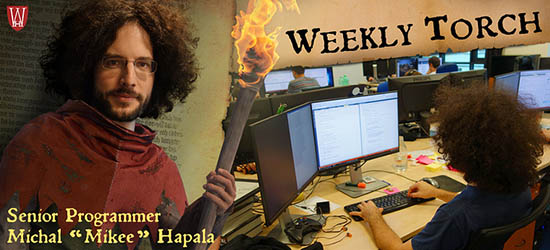 Mike beschreibt seine Position als Programmierer wie: "Ich habe immer geglaubt, dass ein Programmierer eine Diagnose ist. Mein Job ist eine Manifestation meines Charakters, nicht umgekehrt. "Er geht dann weiter und neckt" war das zu tief für deinen Geschmack? "Im Moment arbeitet er gerade an" Bugfixing und Optimierung ". Er stammt aus Bratislava und wuchs in Prag auf. Er hat auch eine Nachricht an die Fans des Spiels: "Danke, dass du so lange bei uns geblieben bist. Je weniger du mit dem Hype-Zug fährst, desto mehr wirst du zufrieden sein! "
---
Tobias "Tobi" Stolz-Zwilig der PR Manager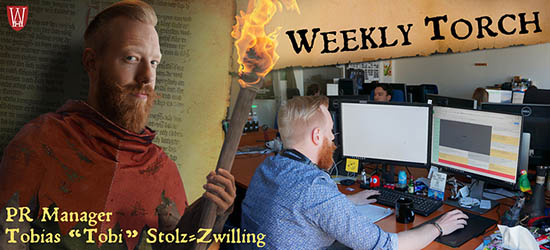 Als PR-Manager dreht sich alles um Kommunikation. Er war auf der kürzlich abgeschlossenen E3, um das Kingdom Come Deliverance Spiel zu präsentieren. Er sagte: "Die Leute neigen dazu zu glauben, dass ich eine lustige Reise mache, wenn ich an einer Konferenz teilnehme. Aber in Wirklichkeit ist es eine Menge harter Arbeit … "Tobi erwähnte auch, dass ein Teil seiner Arbeit" strategische Planung unserer gesamten Kommunikation einschließlich der Medienbeziehungenund Pressegespräch ist", wie bereits erwähnt, dreht sich alles um Kommunikation.
 Er kam aus Offenbach am Main und ist als "deutscher Eindringling" des Warhorse Studios bekannt.
---
So, da hast du es, drei wichtige Leute hinter dem Spiel Kingdom Come Deliverance. Das Spiel startet offiziell am 13. Februar 2018 und kann dann auf dem PC, der PlayStation 4 und Xbox One gespielt werden. Bestelle das Spiel vor und du erhältst "Kingdom Come Deliverance Treasures of the Past".
---