Keyforsteam spendet für The Ocean Cleanup mit Hilfe von Benutzern

---
Keyforsteam hat bei der ersten Ausführung der Keyforsteam Wohltätigkeits-Lotterie erfolgreich mehr als 700 Euro an The Ocean Cleanup gespendet. An der Lotterie haben 708 Benutzern teilgenommen, die 10.000 Punkte von den Punkten, die sie im Keyforsteam Reward Programm verdienten, gespendet haben.
Wir sind auch froh zu verkünden, dass The Ocean Cleanup uns einen offiziellen Spenden Nachweis gegeben hat, der von Boyan Slat, CEO und Gründer von The Ocean Cleanup unterzeichnet wurde.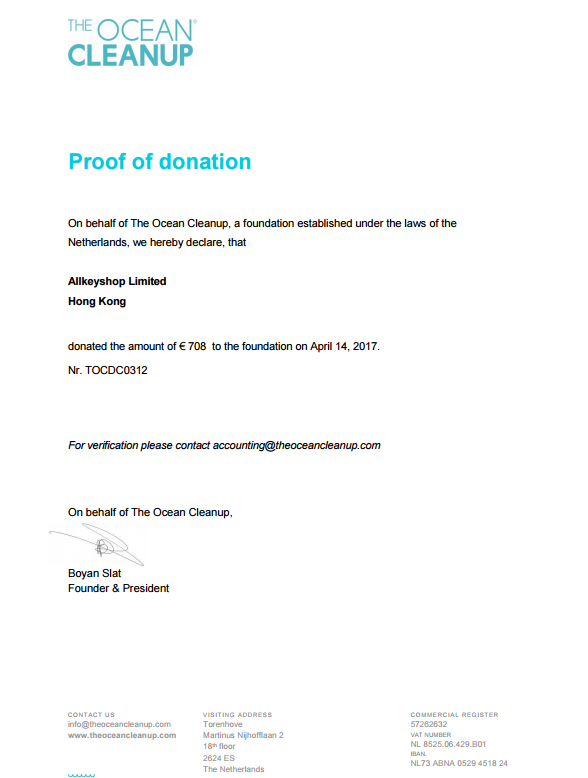 ---
The Ocean Cleanup: Latest Milestone – Aerial Expedition
Das Ocean Cleanup-Team hat vor kurzem eine Aerial-Expedition durchgeführt, die darauf abzielt, den größten und schädlichsten Schutt des Ozeans genau zu quantifizieren, abgelehnte Fanggeräte namens Ghost Netze. "Nach dem Update auf ihrer Website wird die Aerial-Expedition ihnen helfen, festzustellen, wie viel Trümmer dort wirklich im Pacific Garbage Patch sind. Dies markiert auch die letzte Phase der Kartierung des Ozean Kunststoff Problems.
Das Team, bestehend aus 10 Forschern, 3 Sensor-Technikern und 7 Navigations-Personen, waren an Bord der Ocean Force One, einem C-130 Hercules Flugzeug. Die kombinierten Anstrengungen von erfahrenen menschlichen Beobachtern und Fortschreitungssensoren halfen dem Team, die Trümmer zu zählen, die sie auf der Ozeanoberfläche schwimmen gelassenworden. Die fortgeschrittenen Sensoren haben auch die Zählung von ihrer visuellen Vermessung auf ein geschätztes Gewicht umgewandelt, indem sie die Größe der von ihren erfassten Objekte registrierten.
Die Ergebnisse der Aerial Expedition werden in der Cleanup-Technologie ("Pilot"), die in diesem Jahr eingesetzt werden soll, sehr helfen.
---