ACHTUNG! KeyForSteam Reward Programm – PunchTab schliesst Reward Programm!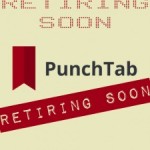 Liebe KeyForSteam User,
heute haben wir eine unerfreuliche Nachricht von PunchTab erhalten. PunchTab ist das Reward Programm, welches wir für unser Treuepunkte System nutzen. PunchTab wird sich auf einen anderen Bereich konzentrieren und wird das Reward Programm schliessen. Doch, wenn sich eine Tür schliesst, öffnet dies auch immer eine andere Tür. Wir arbeiten seit gestern eifrig an der Idee für ein eigenen Tool für unser Reward Programm, welches wir nach eigenen Wünschen und Vorstellungen gestalten können.
Für Interessierte, hier einmal die Original Email von PunchTab:
"We first want to thank you for using PunchTab's programs.
We've spent these last few years learning as much as possible about loyalty, what our customers need, and where we should be focusing- early adopters like you were critical components of our learning process. One of the most important things we've learned is that our sweet spot is in providing value to CPG, retail, and enterprise organizations with PunchTab Expand. And since everyone is more successful and efficient when they focus on what they do best, we'll have our whole team working on Expand moving forward. So, beginning today, the Start and Grow subscriptions of PunchTab are being retired and after 30 days, they will no longer be available.
The good news is that while the free loyalty programs and badges will no longer be around, we'll continue to support the free giveaway widget! Starting April 15th we'll also put a message on the PunchTab Mast for your users to see, letting them know the program is retiring and they'll need to start using up their points.
For clarification, here's a little timeline: -Starting today, April 2nd, no new program sign ups will be offered. -April 15th, your users will start to see messaging on the PunchTab dashboards that the program is being retired and they need to use up their points by May 31st. -April 30, programs can no longer be accessed and points cannot be earned. -May 31th, the catalog closes and remaining points can no longer be redeemed.
The last three years have been wonderful and we're thankful you've been part of that. We're excited about our new direction and hope some of you will be able to join us! Thank you from all of us at PunchTab."
Wir werden Euch schnellstmöglich darüber informieren, wie es in Sachen Reward Programm weitergeht.
Euer KeyForSteam
---
UpDate (Freitag, 04. April 2014)
Hier die neueste Entwicklung mit KeyForSteam Rewards am Freitag, den 4. April 2014.
Wir werden heute das letzte Mal unseren PunchTab Katalog auf allen Webseiten updaten. Nach dem heutigen UpDate, erhält der Katalog vorerst kein neues UpDate mit neuen Spielen oder Beständen. Wir machen hier den Weg frei für die Migration von Punkten von PunchTab in unser neues Reward Programm, welches aktuell noch in Arbeit ist.
Referrals werden jetzt geschlossen, jedoch bleiben andere Verdienstmöglichkeiten, wie z.B. Tweets, Likes, Google+ und Kommentare… vorerst bestehen.
Alle noch vorhandenen Punkte werden in unser neues Reward System übernommen, sobald dies fertig gestellt ist. Wir werden einen kompletten Blog Post mit einer Step by Step Anleitung für die Übertragung der Punkte sowie einen Zeitplan erstellen. Die Webseiten Sperre wird noch durchgeführt werden, so, dass diejenigen mit mehreren Konten (die z.B. ein Konto bei KeyForSteam und gleichzeitig mit anderen Konten unserer Webseiten "Reward Programm" verbunden ist) Bitte beachtet, dass Ihr lediglich eine Seite (sprich ein Konto) für den Transfer Eurer Punkte wählen könnt.
Alle ausstehenden CD-Key Lieferungen (wie die, welche bisher nicht in der Lage waren, die Spiele auszuliefern, weil sie noch nicht veröffentlicht wurden, wie z.B. GTA5, Watch Dogs usw.) werden für die, welche in der Lage sind sie einzulösen, natürlich noch geliefert.
Für User mit Accounts, welche zZ geprüft werden, nehmt bitte direkt Kontakt zu  unserem Rewards Team via Email auf. (punkte@keyforsteam.de) Alle Nachrichten, welche via Facebook gesendet werden, werden nicht berücksichtigt.
Vielen Dank für Euer Verständnis.
Euer KeyForSteam