Keyforsteam Preisalarm Feature Update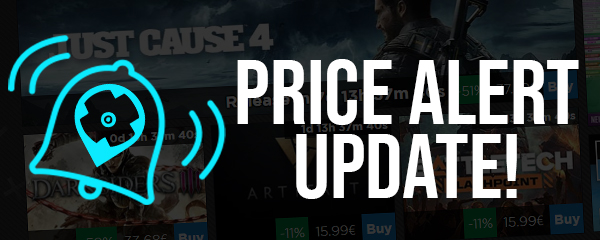 ---
Hallo, Keyforsteam Community!
Wir freuen uns, euch ein Update zu unserer Preisalarm-Funktion bekannt geben zu können, mit der ihr per E-Mail benachrichtigt werden könnt, wenn sich die Preise für eure Lieblingsspiele ändern.
Wir sind uns bewusst, dass einige Benutzer zu viele Benachrichtigungen erhalten haben, wenn sich die Preise nach kurzer Zeit ändern. Aus diesem Grund haben wir eine neue Funktion mit dem Namen "Time to Wait" aktiviert, die ihr im Popup "Preisalarm" sehen könnt.
Mit dieser Funktion könnt ihr auswählen, wie viele Stunden gewartet werden soll, bis ihr eine Benachrichtigung über die Preisänderung des Spiels erhaltet. Ihr könnt mindestens 6 Stunden bis maximal 48 Stunden warten.
Mit dieser neuen Funktion erhaltet ihr keine Preisbenachrichtigungen umsonst und ihr seid sicher, dass sich die Preisänderung bereits stabilisiert hat.
---
So greift ihr auf die Keyforsteam-Preisalarmfunktion zu:
Klickt auf der Preisvergleichsseite des Spiels auf die Schaltfläche UHR, die sich direkt unter dem angezeigten Bild des Spiels befindet: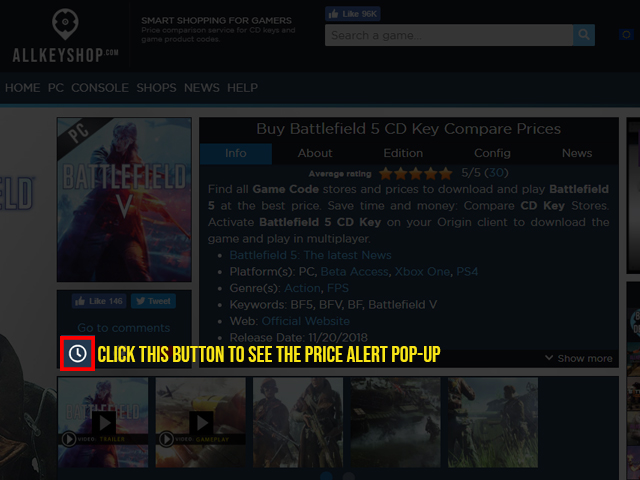 Die Preis-Toolbox wird geöffnet.
Schaut euch auf der Registerkarte Preisalarm unten um, und ihr könnt "Time to Wait" (Wartezeit) sehen. Ihr könnt dann aus dem Dropdown-Feld auswählen, wie lange das System warten muss, bis es euch erneut Warnmeldungen für das Spiel sendet.
Ihr müsst nur auf OK klicken, damit die Änderungen gespeichert werden, und dann loslegen!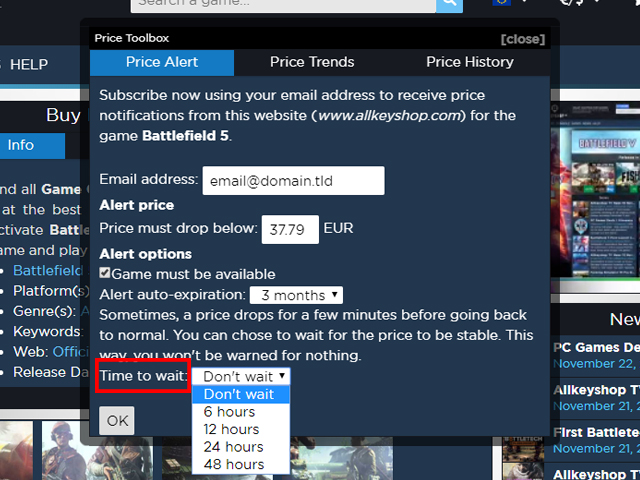 ---