Januar 2018 PC Spiele – Release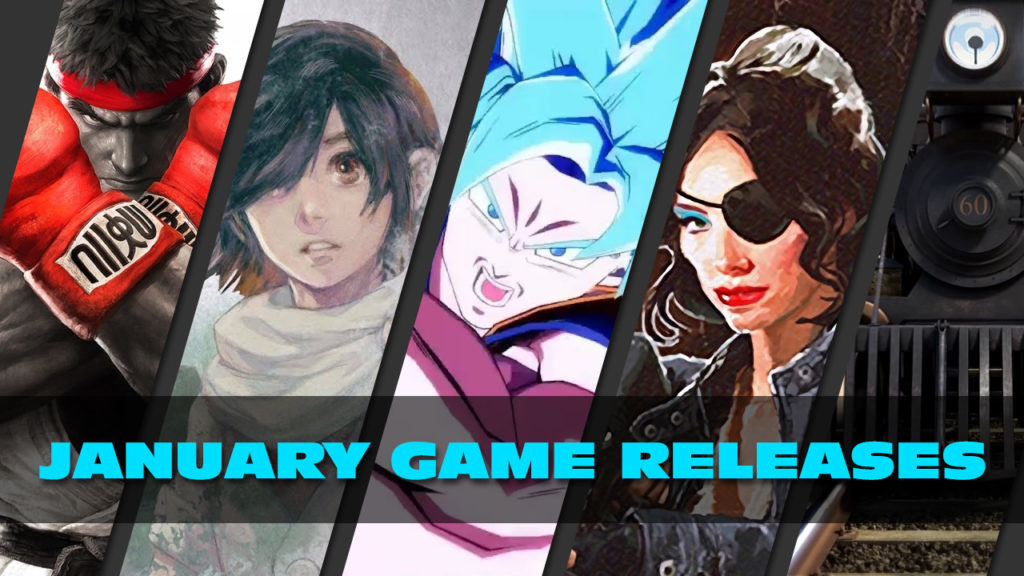 ---
2017 war definitiv eines der besten Jahre in Sachen Gaming in den letzten Jahren. Das Jahr 2018 wird jedoch auch mit großartigen neuen Veröffentlichungen beginnen, die das Jahr mit einer Explosion beginnen werden lassen. Hier sind die Spiele für den PC, auf die du dich diesen Januar freuen solltest.
---
STREET FIGHTER 5 ARCADE EDITION | 16. Januar
---
---
Nach einer Barebone-Veröffentlichung und Capcoms bekanntem Stil, ihre Kampfspiele mehrmals zu wiederholen, bevor sie eine vollständige Veröffentlichung herausbringen, war es nur eine Frage der Zeit, bis Capcom die nächste Version ihres Flaggschiffs ankündigte. Die Arcade-Edition enthält die 12 zusätzlichen Kämpfer aus Seasons 1 und 2, einen Arcade-Modus, der nach klassischen Street Fighter-Spielen gestaltet ist, einen Team-versus-Modus und einige weitere Ergänzungen. Alle neuen Inhalte, mit Ausnahme der 12 bezahlten Charaktere, werden den Besitzern des Vanilla-Spiels kostenlos zur Verfügung gestellt.
---
LOST SPHEAR | 23. Januar
---
---
Tokyo RPG Factory ist bereit, den geistigen Nachfolger ihres ersten Projekts, I Am Setsuna, im Januar dem westlichen Publikum zu präsentieren. Der traditionelle JRPG, der letzten Oktober in Japan veröffentlicht wurde, versetzt dich in die Rolle von Kanata, einem jungen Abenteurer mit der Kraft des Gedächtnisses. Ein Teil der Welt ist durch den "Weißen Nebel" verloren gegangen und nur du und deine Freunde sind die einzige Hoffnung, die Welt wiederherzustellen und sie vor dem vollständigen Verschwinden zu bewahren.
---
DRAGON BALL FIGHTERZ | 26. Januar
---
---
Arc System Works, das Studio hinter großen Kampfspielen wie Guilty Gear und Blazblue, hat sich der gigantischen Aufgabe gestellt, einen kompetenten Fighter auf der Grundlage der beliebten Dragon Ball-Franchise zu entwickeln. Mit 24 bestätigten Charakteren aus der Dragon Ball Z- und der Dragon Ball Super-Serie, hektischen 3 gegen 3 Kämpfen, unkonventionellen Spielmechaniken und einer ganzen Menge Energiestrahlen wird es einige der epischsten Kämpfe in der Geschichte des Kampfes hervorbringen.
---
RAILWAY EMPIRE | 26. Januar
---
---
Simulatoren gibt es heutzutage überall, vom Flug über die Landwirtschaft bis hin zur Stadtverwaltung und dem Dad Dating. Eisenbahnbau-Sims haben allerdings seit dem Jahr 2006 nicht wieder das Licht der Welt erblickt. Cue Railway Empire, ein massiver Sim von den Machern der Tropico-Serie. Railway Empire wird 40 außerordentlich detaillierte Züge, über 300 Technologien zum erforschen und zum entdecken bieten, und das Gameplay über 100 Jahre ab 1830 umfassen.
---
WOLFENSTEIN 2 THE NEW COLOSSUS – THE DIARIES OF AGENT SILENT DEATH | 30. Januar
---
---
Das zweite Kapitel von The Freedom Chronicles ist auf dem Weg. Die ehemalige amerikanische Geheimdienst-Agentin Jessica Valiant soll herausfinden, was die Nazis in Kalifornien planen und worum es bei der Operation San Andreas geht. Bewaffnet mit einer schallgedämpften Pistole und einem Scharfschützengewehr, musst du Verstohlenheit einsetzen und Feinde eliminieren, während du das Element der Überraschung nutzt. Du kannst es entweder als Teil des Season Passes oder separat erwerben. Leider wurde noch kein Trailer für den DLC veröffentlicht.
---
Und, was meinst du zur Januar-Release-Liste? Ist ein Spiel dabei, welches du gern spielen willst?
Lass es und in einem Kommentar wissen.
---