Heroes of the Storm CD Key | Top Deal!
Bereiten Euch auf unzählige Stunden Spaß mit Heroes of the Storm vor, einem MOBA wie kein anderes. Heroes of the Storm bietet außerdem eine Vielzahl von Champion Rollen und jede Menge Kartenspiele. Darüber hinaus, ist das Spiel sehr schön und hat viele nette kleine Extras.  Wie etwa, einen Meister vor dem Kauf zu testen, verschiedene Farbschemata und tägliche Quests, an denen Ihr beteiligt werdet. Und vergessen wir nicht: Hier habt ihr die Chance, Euren  Lieblings Blizzard Helden zu spielen!
Die Entwickler beschreiben dieses Spiel als sehr erfrischend im  MOBA-Genre. Das ist bis zu einem gewissen Grad wahr, es verfügt über verschiedene Stufen mit unterschiedlichen Zielen. Es ist ein kürzeres Spiel im Vergleich zu anderen MOBAs. Wenn Ihr also keine Fans von langen Kämpfen seid,  ist dies ein perfektes Quick-Pick-up-Spiel. Die einzelnen Spiele nehmen in der Regel nicht mehr als 15-20 Minuten in Anspruch und sind ein guter Weg, um die Spieler in  MOBAs, wegen ihrem einfachen, aber einzigartigen Gameplay einzuführen. Im Gegensatz zu früheren MOBA Spielen fördert Heroes of the Storm gemeinsame Erfahrungen, große Teamarbeit unter den Spielern, damit es mehr Spaß macht, mit Freunden zu spielen.
Features:
BLIZZARD HEROES in neuem Licht
Die Helden repräsentieren mehr als 20 Jahre Blizzard Gaming-Geschichte, Einstellungen und ikonische Zeichen, bis hin zu  epischen Geschichten. Man kann klassische Showdowns wie Tyrael gegen Diablo und Arthas vs. Uther ausfechten, oder sich solche nächtlichen Debatten widmen, wie  der Stärkere Führer-Raynor oder Thralls sie hatten? Könnte Zeratul Illidan in einem Kampf schlagen? Wer ist mehr Boss. . . Kerrigan oder Dämonenjäger aus Diablo III? Die Kombinationen von Blizzard Helden und Universen sind endlos.
Dein Held – DEIN WEG
Heroes of the Storm bietet viele Möglichkeiten, um euch euren Held anzupassen und nach euren Vorstellungen kämpfen zu lassen.  Wählt  aus einer Vielzahl von einzigartigen Meisterschaften, heroischen Fähigkeiten und Kampfstilen, die den Weg jedes kämpfenden Helden  grundlegend verändern können. Skins runden das Aussehen eures Helden ab, während diese Reittiere bekommen, um auf dem Schlachtfeld Geschwindigkeit zu bekommen. Welche Art Eures ist?  Vielleicht reitet Raynor auf einem Regenbogen Pony?
Der RAUFER bringt frischen Wind ins Team
Heroes of the Storm konzentriert sich die intensiven Schlachten und überrascht im Gameplay mit Streithähnen, die schnell, actiongeladene Matches bringen. Obwohl ein paar Spiele recht schnell herausschlagen, werden Sie sich ständig zu wollen in "nur noch ein" Spiel zu springen.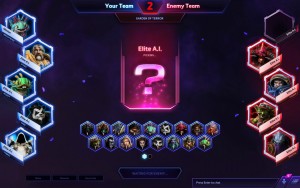 Es gibt kein "ich" im TEAM
Helden verfügten über ansprechende Team-basierte Spiele, ohne Tiefe oder Auswahl. Ob man mit Verbündeten in eine Gruppe kämpft, oder zusammen arbeitet, um einzigartige Herausforderungen, die jedes Schlachtfeld bereithält zu überwinden… Man wird für das Spielen im Team belohnt. Und ob es die Helden Rollen der Bogenschütze, der eiskalte Todeshändler, die  Spezialisten oder reine Heiler sind –jeder ist in der Lage, verschiedene, wertvolle Beiträge zur Kriegsanstrengungen ihres Teams hinzu zufügen. Das Spiel enthält auch einige sehr spezialisierte Helden, wie Abathur, der seinen Mangel an Kopf-an-Kopf Auswirkungen mit besonderen Fähigkeiten, die das gesamte Schlachtfeld beeinflussen ausgleicht.
SCHLACHTFELDER dieser Form GAMEPLAY
Heroes of the Storm hat eine Reihe von einzigartigen Schlachtfelder, von denen jeder durch einen Kern, legendäre Ereignisse besticht, die die Strategie für das gesamte Match Formen werden. Obwohl Schlachtfelder zur Verfügung  stehen, gibt es ein gespenstischen Piratenschiff, dessen Kapitän wird  euch für die Zahlung von Gold Dublonen akzeptieren um, auf seinem Schiff das in feindliche Stellungen bringen der Kanonen zu  trainieren.  Ein weiteres Schlachtfeld umfasst ein Untergeschoss, wo die Knochen gesammelt werden müssen, um einen furchterregenden Golem zu beschwören, der Eure Feinde oberirdisch angreifen wird.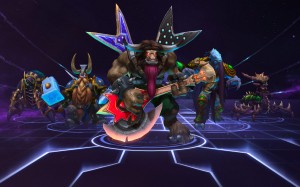 STÄDTE, nicht nur TÜRME
Verbündete und feindliche Städte säumen die Wege zwischen den einzelnen Basen und jede Stadt umfasst Strukturen, wie Tore, gegen Feinde und Heilbrunnen für die Gesundheit und Mana-Regeneration, zusätzlich zu einem schützenden Wachturm, um das Eindringen zu verhindern. Eroberte Wachtürme markieren auch wichtige Positionen auf vielen Schlachtfeldern und bietet Sicht auf die wichtigsten Bereiche.
Die Eingeborenen sind unruhig
Einzigartige Söldnerlager werden auch auf den Schlachtfeldern verstreut auftauchen; wer die Söldner bezahlt, an deren Seite  werden sie kämpfen und gegen die feindliche Basis anrücken. Auch die endlosen Horden von Schergen, die für jede Seite kämpfen können, werden ihre Fähigkeiten von Spiel zu Spiel variieren. Einige Gruppen umfassen Standard Nahkampf- und Distanz Angreifer, während andere Gruppen Heiler sind  und andere Überraschungen bereithalten.
Die Spannung steigt jetzt schon…
Systemanforderungen:
Minimum
CPU: Intel Core 2 Duo or AMD Athlon 64 X2 5600+
CPU Speed: Info
RAM: 2 GB
OS: Windows XP / Windows Vista / Windows 7 / Windows 8 with the latest service packVideo
Card: NVIDIA GeForce 7600 GT, ATI Radeon HD 2600 XT, or Intel HD Graphics 3000Free Disk Space: 10 GB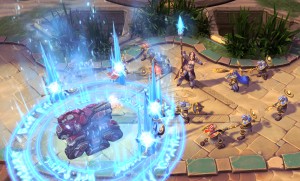 Empfehlung
CPU: Intel Core i5 or AMD FX Series Processor or better
CPU Speed: Info
RAM: 4 GB
OS: Windows 7 / Windows 8 64-bit with the latest service pack
Video Card: NVIDIA GeForce GTX 650 or AMD Radeon HD 7790 or better
Free Disk Space: 10 GB