God of War Review Zusammenfassung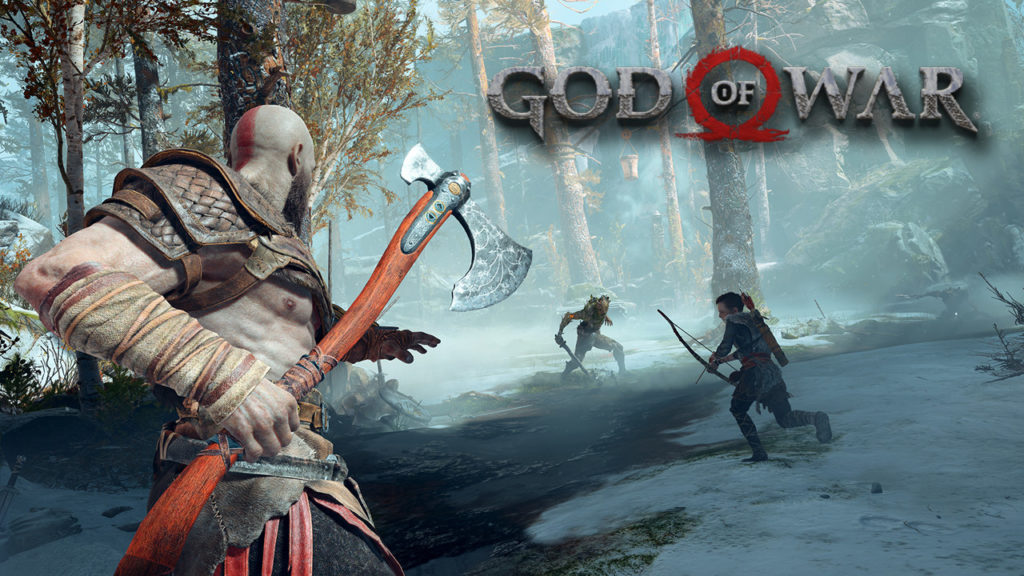 Sonys God of War ging fast einen Monat vor dem Start Gold und gab den Kritikern genügend Zeit, um in das Spiel einzutauchen und es zu überprüfen. Jetzt sind die Noten hoch und es scheint, dass das Spiel zu einem der besten Spiele dieser Generation wird. Also, gibt die PS4 exklusiv alles, was Gamer vom Spiel erhofft haben? Nun, hier haben die Kritiker das Sagen:
---
---
"So machen Sie einen Neustart. Nachdem sich Kratos verirrt hat, hat Sony Santa Monica den God of War auf einen neuen Weg gebracht. Ein besser bemessener, nuancierter Charakter, einen großartigen Nebendarsteller, ein exzellentes Kampfsystem und einige der besten Grafiken in einem bisherigen PlayStation 4-Spiel ergeben einen Gewinner. "
-Mike Williams
---
"Wie Kratos erinnert God of War an die Vergangenheit und erkennt gleichzeitig an, dass Verbesserungen nötig sind. Alles neue, was es hat, ist zum Besseren, und alles, was es als Ergebnis für Vorteile hält. Kratos ist kein berechenbares Tier mehr. God of War ist keine altmodische Aktionsserie mehr. Mit diesem Neustart geht es zuversichtlich einen neuen Weg, der hoffentlich zu weiteren aufregenden Abenteuern führen wird. "
-Peter Brown
---
"Es ist eine Abkehr von allem, was einmal God of War war … Aber fast alle diese Risiken zahlen sich aus. God of War ist ein aufregendes, wunderschönes Actionspiel, dass aus einer der größten PlayStation-Ikonen einen Charakter macht, der dir wichtig ist. "
-Mike Minotti
---
EGM – 9.5 / 10

"God of War zeigt uns, wie wichtig die Evolution einer Serie, egal wie populär sie in ihrem ursprünglichen Zustand ist, ist, um sie zu verbessern. Das Endspiel dehnt sich nicht so stark auf die Spielstärken aus, wie es möglich wäre, aber eine solche Unterlassung ist nur aufgrund der kompromisslosen Qualität von allem, was dazu führt, bemerkenswert. God of War macht genau das, was es vorhat, und wenn es nicht perfekt ist, ist es verdammt nahe. "
-Nick Plessas
---
IGN – 10/10
"Es ist ein Spiel, in dem Kratos, ein früherer -Zeichen Charakter, ein komplexer Vater, Krieger und Monster wird, kämpfte sowohl auf dem Feld als auch in seinem eigenen Herzen darüber, wie man seinen Sohn behandelt; eine, in der sich die Welt öffnet und verschiebt und sowohl im Gameplay als auch im Wissen um ihre Kenntnisse Belohnungen bietet, die ich mit jeder Leistung hochschätze. "
-Jonathon Dornbush
---
"Ob atemlos und blutig nach einem hartnäckigen Sieg oder wenn Kratos und sein Sohn Atreus einen wirklich menschlichen Moment teilen, das ist ein Spiel, das nicht oft passiert. In der letzten Frage geht es wirklich nicht darum, wo sie in den Diskussionen des Jahres stattfindet, sondern um ihren Platz im späteren Spiel der Generationengespräche. "
-Leon Hurley
---
"God Of War ist sicherlich nicht ohne Fehler, aber es ist leicht das Beste in der Serie und durch und durch unterhaltsam von Anfang bis Ende. Es ist auch eines der besten Story-basierten Action-Spiele, die wir jemals gespielt haben, und eine Figur, die wir bisher hassen, zu einem überraschend sympathischen Vorbild gemacht hat. "
-GameCentral
---
"God of War ist ein anderes Spiel für eine neue Ära des Mediums. Während ich ein Fan von hektischer Arcade-Action bin, gibt es viele Studios, die dieses Erbe weiterführen. Wenn Sony Santa Monica nicht etwas Katastrophales passiert, gibt es mehr zu erzählen, und ich hoffe, dass genau dasselbe Team es erzählen kann. "
-Chris Carter
---
"Ich werde Spoiler und Besonderheiten auslassen, aber selbst grundlegende mechanische Design-Entscheidungen, Dinge, die geistreich und unfassbar erscheinen, werden am Ende narrativen Zwecken gewidmet. God of War ist in einem einzigen Wort ganzheitlich. Jeder Aspekt ist für sich allein hervorragend, aber vor allem dient er der größeren Vision. "
-Chris Plante
---
"Kratos 'Neuerfindung dient als ein narrativer Haken, aber er entspricht auch der Entwicklung der Serie als Ganzes; Wo God of War einst auf Bombast und Blutlust angewiesen war, lässt er nun Raum für Strategie und Nuance. Es hat immer noch hervorragende Action und viele atemberaubende Momente, aber es unterstützt sie mit einem neuen Level an Tiefe und Reife. "
-Joe Juba
---
Und da hast du es! Es sieht so aus, als würde God of War am 20. April mit kritischem Beifall beginnen. Mit nahezu perfekten bis perfekten Ergebnissen ist es schwierig, an irgendwelche Gründe zu denken, warum dieses Spiel kein automatischer Kauf für jemanden mit einer PS4 wird. Verdammt, es ist definitiv verpflichtet, auch um den Umsatz der Konsole zu erhöhen.
---