Generation Zero bietet Tages- und Nachtzyklen sowie wechselndes Wetter

---
Avalanche Studios und THQ Nordic sind kürzlich zu Twitter gegangen, um eine der Kernfunktionen von Generation Zero zu präsentieren, die jeden Tag im Spiel von den letzten – Tag – und Nachtzyklen unterscheidet. Außerdem kann sich das Wetter jederzeit ändern. Die Behauptung, dass diese Funktionen dazu führen, dass "jeder Besuch der Welt von Generation Zero einzigartig ist".
---
---
Während Tag / Nacht-Zyklen nichts Neues sind, ist es interessant zu sehen, wie es das Gameplay beeinflusst. Wird es nachts einfacher, einen heimlichen Ansatz zu wählen? Dann ist das Wetter da. Wird der Schnee langsamer machen? Wird Regen die Maschinen irgendwie behindern? Wir Avalanche haben noch nicht wirklich enthüllt, aber sie haben eine Vorschau dessen, wie sie aussehen wird, in ihren Tweet aufgenommen.
[NO DAY IS THE SAME] With rotating day/night cycles, and weather that can change at any time, every visit to the world of Generation Zero feels unique. #GenerationZero #AvalancheStudios pic.twitter.com/n3DsItJ1eZ

— Generation Zero (@GenZeroGame) March 6, 2019
THQ Nordic hat außerdem angekündigt, dass die Dalecarlian-Pferdefigur, die Teil der Collector's Edition des Spiels sein sollte, nicht mehr auf Versorgungsprobleme zurückzuführen ist. Der Herausgeber wird die vorherige Collector's Edition aufheben und durch eine neue Version ersetzen. Du kannst den Inhalt der neuen Collector´s Edition unten sehen: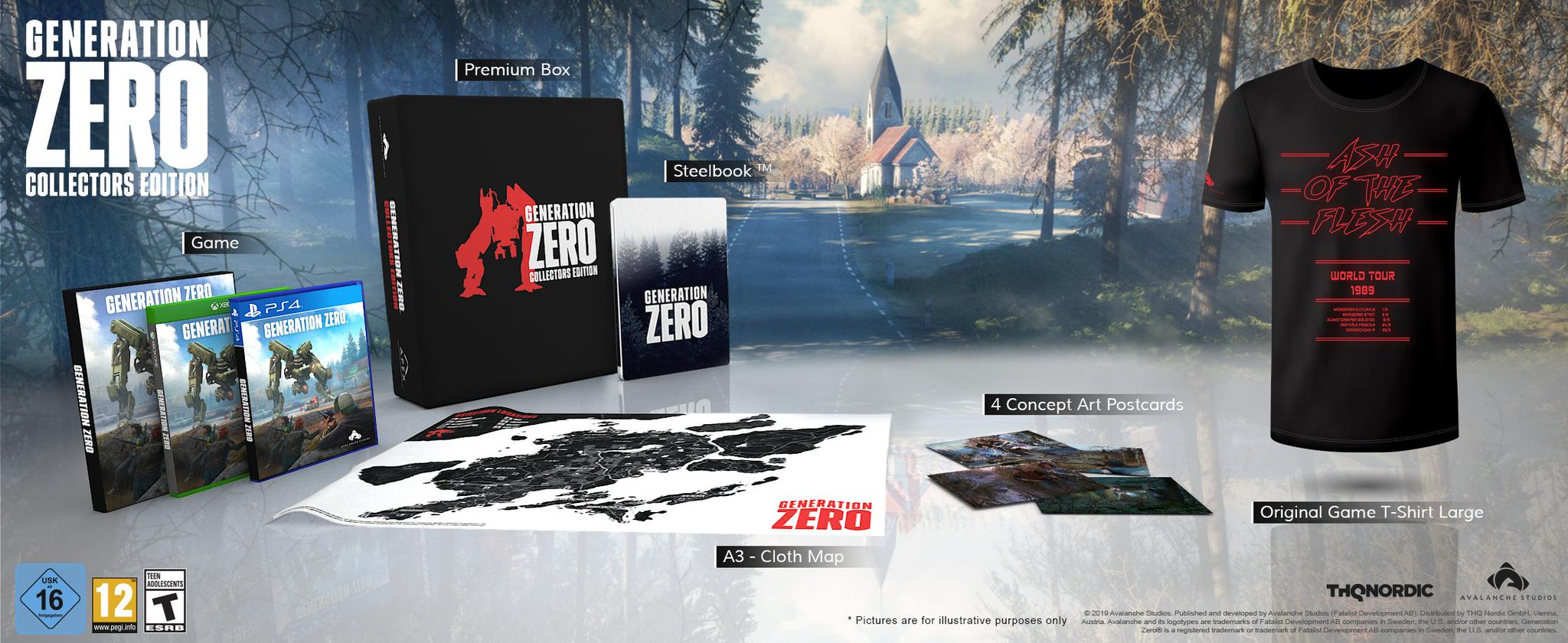 Der Verlag sagt, dass sie daran arbeiten, das Dala-Pferd einige Zeit später in diesem Frühjahr als Einzelkauf für Einzelhändler zu bringen. Mehr über die neue Collector's Edition erfährst du hier.
---
Die Generation Zero startet am 26. März für den PC, die Xbox One und PS4.
---