Gearbox gibt eine Tonne Borderlands 3 Details bekannt

---
Wie bei der Veröffentlichung des Spiels auf PAX East versprochen, hat Gearbox heute eine ganze Reihe von Informationen zu Borderlands 3 veröffentlicht. Es gibt eine Menge zu erledigen, aber wir werden sie in Stichpunkten durchgehen, um euch die Verdauung zu erleichtern.
---
---
Gameplay-Trailer
Um zu beginnen, hat Gearbox gerade einen neuen Trailer veröffentlicht, der uns eine kleine Vorschau auf das Gameplay bietet. Du kannst den Trailer unten ansehen:
Release Details
Zuallererst wird das Spiel beim Start nur über den Epic Games Store für PC-Spieler verfügbar sein. Dies gilt bis 6 Monate nach (April 2020), wenn es "über digitale PC-Shops von adiitiona" zur Verfügung gestellt wird. Das durchgesickerte Release Datum wurde ebenfalls bestätigt und die Spieler können damit rechnen, dass das Spiel am 13. September auf dem PC, der Xbox One und PS4 veröffentlicht wird.
Neue Vault-Hunter
Borderlands 3 bringt Charaktere aus allen drei vorangegangenen Spielen sowie Geschichten aus den Borderlands für eine Party zusammen. Die Spieler werden jedoch mit vier neuen Vault-Hunters spielen, die alle von 2K beschrieben werden:
Moze als THE GUNNER: Wenn Moze Unterstützung benötigt, baut sie ihren Mech – Iron Bear – für einen Trubel zusätzlicher Feuerkraft.
Amara als THE SIREN: Amara ist ein selbstbewusster, fähiger Brawler mit der Fähigkeit, ätherische Fäuste zu beschwören. Sie setzt ihre Sirenenkräfte ein, um ihre Feinde zu vernichten.
FL4K als DER BEASTMASTER: FL4K lebt für die Jagd. Ebenso die treuen Bestien, die jedem Befehl ihres Meisters folgen. Ihre bevorzugte Beute? Ahnungslose Banditen, diese armen Trottel.
Zane als DAS OPERATIVE: Zane ist ein Spezialist für Battlefield-Spielereien und kann sehr gut in den Kampf schlüpfen, Chaos erzeugen und sich zurückschleichen, als wäre er nie da gewesen.
Beyond  Pandora
Wie wir bei der Enthüllungsveranstaltung gesehen haben, werden die Spieler neue Planeten mit jeweils eigenen Umgebungen besuchen. Eine sehr teure Collector´s Edition wird eine physische "geschlossene-Galaxie-Karte" bereitstellen, in der die verschiedenen Welten dargestellt werden, die die Spieler erkunden können.
Verschiedene Editionen
Borderlands 3 wird, wie man es heute von einer Triple-A-Veröffentlichung erwartet, in verschiedenen Editionen erhältlich sein. Die Standard Edition enthält nur das Basisspiel. In der Deluxe Edition wird das Basisspiel mit "5 Inhaltspaketen mit Charakter- und Waffen-Skins, Schmucksachen, Modi und mehr!" Gebündelt. Die Super Deluxe Edition ist nur die Deluxe Edition mit dem Season Pass des Spiels.
Es gibt auch eine Diamond Loot Chest Collector's Edition, die alles in der Super Deluxe Edition sowie mehrere physische Sammlerstücke enthält. Es ist sehr teuer und wird wahrscheinlich nur hartgesottene Fans und Sammler ansprechen. Den vollständigen Inhalt dieser Ausgabe kannst du unten sehen: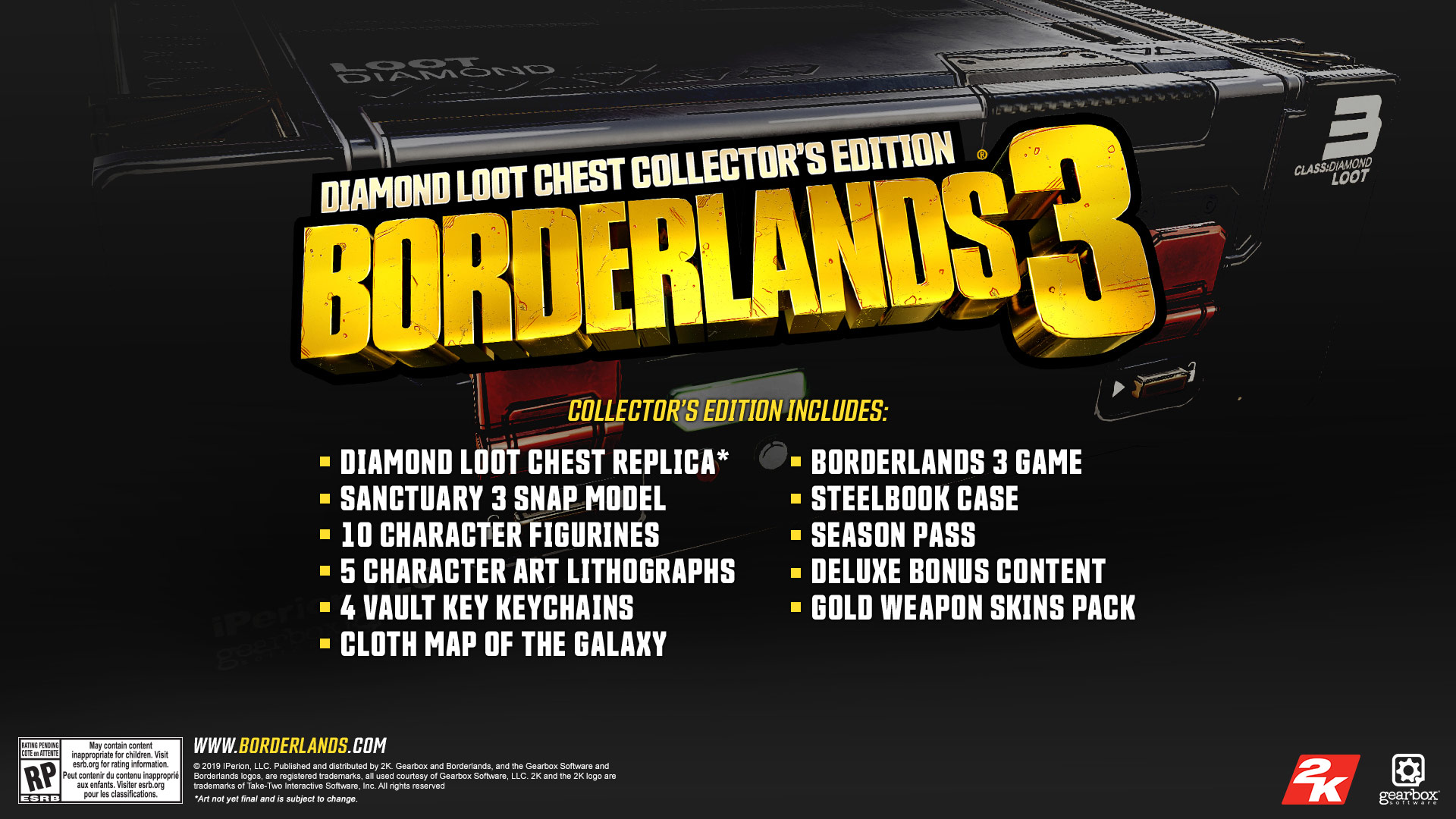 Vorbestellbonus und Saisonpass
Der Season Pass für das Spiel enthält 4 DLC-Packs für die Kampagne, die höchstwahrscheinlich im Laufe des ersten Jahres des Spiels einzeln veröffentlicht werden. Es gibt auch das exklusive Butt Stallion Cosmetic Pack als Bonus.
Wie bereits im vorzeitigen Tweet zu Beginn dieser Woche bekannt gegeben wurde, werden diejenigen, die eine Edition vorbestellen, das Golden Weapon Skins Pack als Bonus kaufen.
---
Das ist alles, was wir bis jetzt über Borderlands 3 wissen. Gearbox hat ein "erweitertes Gameplay-Album" versprochen, dass am 1. Mai live übertragen wird. In der Zwischenzeit halten wir dich auf dem Laufenden, wenn neue Details auftauchen.
---